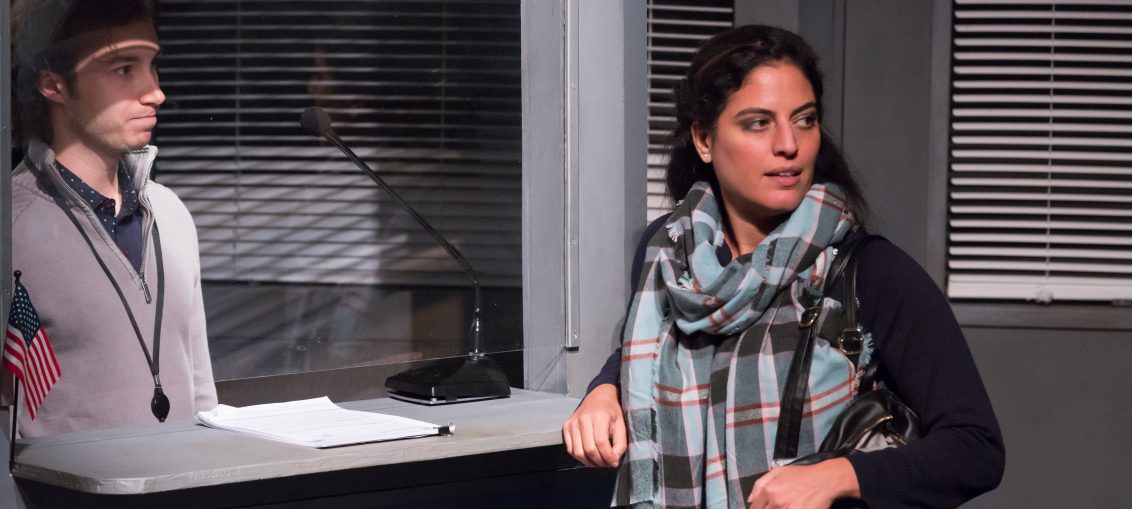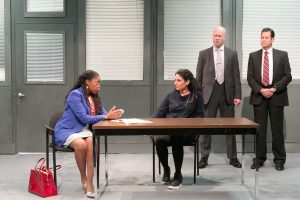 THE HOPE HYPOTHESIS is a super slick production – a place for everything and everything in it's place. It is a neat freaks nirvana. The whole show feels perfectly conceived and executed. We are looking straight into the face of the absurdity of the American immigration situation in this tight, fast-paced dark comedy. The audience were laughing on cue offering a constant laugh track to this sitcom styled theater piece. Yet, through the fog of witty repartee the cruel, cold, ruthless face of the fascist interrogator peeps out at you, making you squirm in your seat.
Cat Miller is both the playwright and director of the work, wearing both hats with ease. She tackles the harrowing hell of how a dominate, negative narrative about "others" can doom people to a living nightmare. Prejudice, fear, self preservation and self interest gets a lambasting from her pen as she explores what we are prepared to tolerate in our current political climate. The seven characters she has created are crafted to cause instant friction – as soon as they enter each others orbit they begin clashing, drowning out all common sense. It makes for great situational comedy but also inspires the desire to jump out of your seat and get involved. Amena, a law student, is thrown into quagmire of missteps when she goes to a government office to sort out her immigration papers. She is in possession of a rare birth certificate that sets off a journey into a bureaucratic abyss where the red tape investigators reign supreme in their tweedle dee and tweedle dum double act.
Miller has a real gift for creating tension. She knows exactly how to get you irritated and exasperated at the actions taken – it's like theatrical James Patterson – a compulsive "page turning" experience. There is nothing extraneous in her text, all of the excess fat is cut away so we get to the heart of each scene quickly and clearly. The same applies to her decisive direction – no gilding of the lily, but rather a series of potent snapshots that sum up each scenario in an instant.
THE HOPE HYPOTHESIS boasts a strong cast. Soraya Broukhim as Amena – the Syrian-born student, gives us a powerful woman railing against injustice with enough energy to jumpstart a Maserati. Her portrayal of incredulity and then defiance at the unfathomable situation is heartbreaking. Broukhim gets us immediately on Amena's side with a combination of authenticity of character and a hundred percent commitment to each shocking moment. It's like watching a trapped leopard encircled by fire frenetically looking for a clear way out – you want to send out a rescue team.
Wesley Zurick as the teller, commits to the path of the antagonist with the gusto of a contestant at Nathan's hotdog eating championship. He does not have an off switch. You just love to hate him. William Ragsdale and Greg Bostrom as the FBI agents are like accelerants to a fire – they can't help but inflame everyone and everything. They are both the harbingers of tragedy and the very darkest of comedy succeeding at making you feel really uncomfortable and anxious. Bostrom and Ragsdale are experts at comic timing.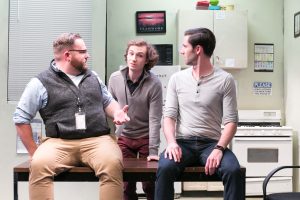 Charlie O'Rourke, as the boyfriend Brendan, is instantly lovable – he brings the heart and the charm. He gives us the archetypal good guy who quickly devolves into a self absorbed millennial who gets lost in his own desire to be part of the drama. O'Rourke played his complex plot arch brilliantly. Connor Carew as the supervisor is the flawed moral compass of the group. He is unwittingly thrust into the story and plays the bewilderment beautifully. He is the bearer of the "message" and is a worthy torch carrier – a great performance. Mary E Hodges as Carol is a stunning force on stage. She commands your attention with her vocal strength and exquisite ability to play high status.
I particularly enjoyed Zöe Hurwitz scenic design with its stark governmental rigidity and its ability to change locale seamlessly and swiftly keeping the pace of the show at top speed throughout. Bailey L.
Rosa created a perfectly emotionally triggering lighting design that enhanced each scene. It gives you the sense that are in the head lamps of a cop car, flashing on and off, highlighting the startling progression of the absurd scenarios that unfold faster than you can catch your breath. The sound design by M. Florian Staab provides the chilling underscore that facilitates the hair on your arms rising and a cold chill to run up your spine.
This Voyage Theater Company's world premiere of THE HOPE HYPOTHESIS is part of their seventh season and it is an essential work. I found it thought provoking and neccessary theater. I lived through the fascism of a police state during Apartheid in South Africa and my plus one grew up in the suffocation of Communism, so we were not able to laugh at this comedy as the scenarios were all too real for us. While not truly an absurdist piece in the form of Kafka, Havel or Alfred Jarry, it delivers it's message in a palatable form that many can digest – those who have not lived through a lifetime deprived of freedom. I hope the laughter did not distance the audience from the real horror people are enduring every minute at the hands of ICE and other immigration officers who relegate humans to cages?
Running Time: 90 Minutes without Intermission
Opening on Tuesday, October 29th, THE HOPE HYPOTHESIS plays a limited engagement
through November 15th at The Sheen Center for Thought & Culture (18 Bleecker Street).
Tickets, priced at $37 ($27 for students and seniors), can be purchased at
sheencenter.org/hope