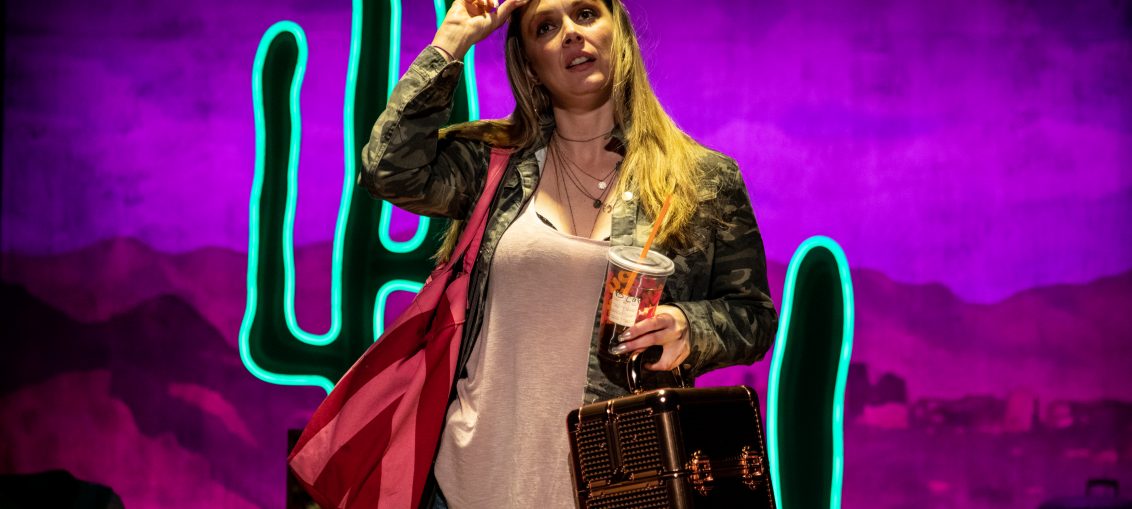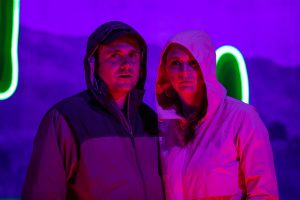 You get two riveting solo shows performed by two exceptional performers for the price of one! Monsoon Season is a great gift to give yourself in November – a pre-thanksgiving/festive season present.It's almost like watching a theatrical episode of The Affair or The Slap where we get two versions of the same moment told from the perspectives of each character – it is deeply satisfying to watch. There are many elements that make this production rewarding – an engrossing text, expert direction, masterfully crafted performances, magical stage design transformations, daring lighting and a gloriously jarring sound scape. And it all plays out at one of my most favorite theaters – The Rattlestick.
The press blurb describes the show as a "twisted love story', and a "demented romantic comedy". It certainly is a hilariously painful excavation of a couple on the verge of exploding. These two people find themselves on the precipice of the divorce cliff, chased there by the bloodhounds of regret and longing. They appear to be devolving without their "better" half around to keep them from their worst impulses. Without the reins of the other, they are skittish, broken birds that have recently flown unexpectedly into a glass window – left stunned and immobile in the face of danger. Playwright, Lizzie Vieh captures Danny and Julia's demise back into singledom with the precision of a dart throwing champion. She hits the pain spot bullseye with every character flaw revealed.
We are first introduced to husband Danny with all of his  palpable shock at being upended – coated with a "happy face" put on to wash all the troubles away. A charming, unravelling mess of a lovable, shattered human being -unhinged and obsessive. Vieh then introduces us to Julia, a self-absorbed, volatile party girl trying to hold onto her youth that escaped long ago when she wasn't looking. The two monologues are beautifully woven together in the final moments of the play where the narrative gets somersaulted and we get our "happy ending?"
Kristin McCarthy Parker's direction is intelligent with more laminated layers than an opera cake on week 7 of The Great British Bake show! She has worked each moment to sheer perfection to create a creation full of style and substance. Parker finds the ideal balance between the tragic and the comic in this clever, original play. Her skilled hand is evident in the detailed muscularity of the blocking and the emotional through lines of each character. You can see she had high expectations of the cast – who then rose to exceed them.
Therese Plaehn as Julia is a rogue pinball, shot out of its machine, bouncing off the walls trying to find an exit. Plaehn gives us a woman with too much energy, no off switch and a penchant for self destruction. You can't seem to look away as Julia blows up her universe with the inattentiveness of a teenager that burns down the house with an unguarded hair iron. And within all of this mayhem, Therese finds the kernels of redemption so that we finally warm to the kamikaze in Julia. She is a force on stage and a complete joy to watch work.
Richard Thieriot gives us a Danny that breaks your heart. His ability to simultaneously show an exuberant facade and a desperate, caged feral animal peeping out from behind the mask, is stunning. He has collaged a magnificent character -all of the fragmented parts of Danny sewn together in a technicolor dream coat of a highly skilled actor's detail and design. He is a riveting performer with the ability to make you the deer in his headlights. He gives a really great performance!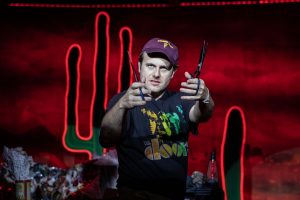 You-Shin Chen's scenic design manages to offer the actors a palette to define their self destruction, giving their untidy inner selves outward manifestation. It's chaotic yet ordered, wildly vibrant and desperately morose -it reveals surprises. Sarah Johnston's lighting design is like the personification of the fractured parts of Danny and Julia. It is like the lighting is exposing them, highlighting their dysfunction and making a loud statement about their mood and emotional states throughout the piece. The lighting gives you a front row seat to the madness in these characters minds. Sound designer Emma Wik echoes the light motif of "crazy pants" into a robust soundscape that keeps you dancing to the disco of these characters greatest life hits. Haydee Zelideth's costumes contain the lunacy beautifully – they both are wearing their hearts on their sleeve. All for One Theater (AFO) have a knack for ferreting out phenomenal solo shows – they just found another one (well, two in one).
As I left the theater a woman walked past, stopped and asked me what was running at the moment at The Rattlestick. I could honestly say to her, "a great show, I really recommend that you go and see it. I thoroughly enjoyed every single minute of it!"
This show has been extended to November 23!
Running time: 70 – 75 minutes
MONSOON SEASON opens Sunday, October 27th at Rattlestick Playwrights Theater (224 Waverly Place) for a limited engagement through November 23 Tickets, priced at $25, are available at
www.afo.nyc.
MONSOON SEASON began as a one-act solo play, qualifying as a finalist at the 2016 Samuel
French Off-Off-Broadway Festival. Playwright Lizzie Vieh subsequently developed the work in
2018 as part of All For One Theater's Solo Collective series