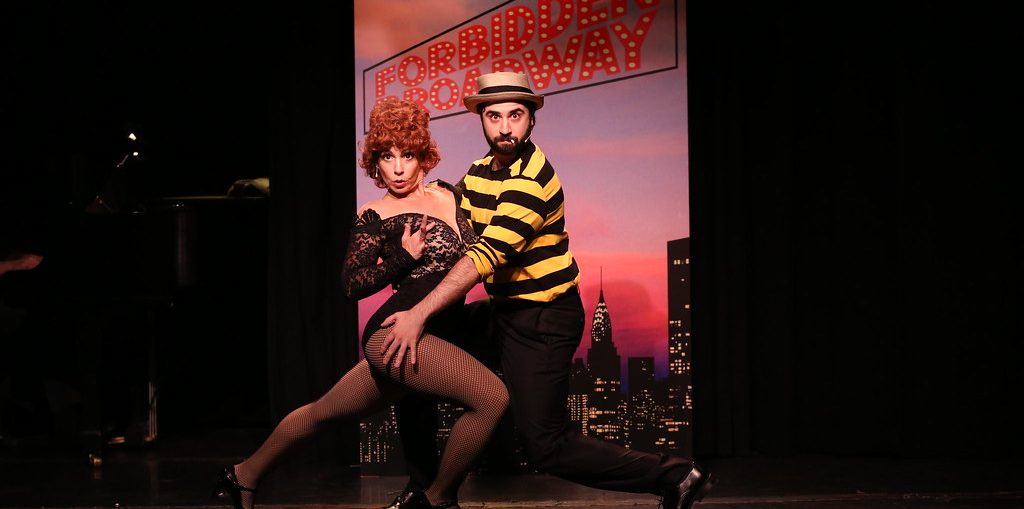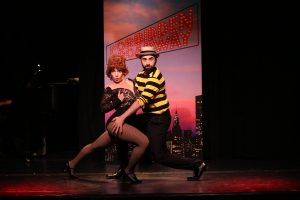 Forbidden Broadway: The Next Generation is review-proof.  Creator/Writer/Director Gerard Alessandrini started parodying The Great White Way in 1982, and The Triad Theatre (158 West 72nd Street) was packed with show-tune types for its first reincarnation in five years. Running through November 30, the 80-minute revue is the best kind of tried-and-true evening, matinee or celebratory time out with a great cast and Fred Barton at the piano.
Alessandrini didn't have to look hard for new material.  Most of the skewering is for movies turned into musicals – a formula with mixed creative and box office results.  Moulin Rouge!, Tootsie and Beetlejuice  all get theirs.  Frozen's  Elsa (Aline Mayagoitia) has a special message for Broadway's warlord (oh I mean landlord), The Walt Disney Company, set to the melody of her 11 o'clock number:
OVERBLOWN, OVERBLOWN
IS IMAGINATION DEAD?
OVERDONE, UNDER FUN
KIDS WOULD RATHER BE HOME IN BED
I GET LOST IN THE SEQUIN SNOW
SHOULD YOU SEE THIS SHOW?
RIP UP YOUR TICKET AND LET IT GO!
OVERBLOWN!  OVERBLOWN
Television also makes its way onstage.  Mary Poppins (Jenny Lee Stern) provides an "In Memoriam" segment dedicated to flops.  During "Everything Now is Inclusive" (melody courtesy of "Everything's Coming Up Roses") cross-over megastars Lin-Manuel Miranda (Chris Collins-Pisano) and Billy Porter (Immanuel Houston) compare their mutual good fortunes.  Hamiltonians know Miranda produced the FX miniseries Fosse/Verdon .  Stein and Collins-Pisano play the brilliant star-crossed couple stepped up with plenty of Fosse and Verdon attitude and choreography.
Broadway likes recycling itself.  There are reminders for an upcoming Henry VIII musical (two, Rex, written by no less Richard Rodgers and The Pirate Queen, with Elizabeth I channeling Riverdance, are failures of historic proportions) and Company with a female Bobby/Bobbie that might be future show material.  Therefore, it's no surprise Forbidden Broadway includes the Tony-winning revival of the show defining the Golden Age of the Broadway musical.  The extended Woke-Lahoma! skit adds a few twists to the darkly revisionist revival.  The sexual tension between Curly (Collins-Pisano) and Jud (Houston) reaches its peak when they look at "dirty" pictures of…Ethel Merman, Mary Martin and Shirley Jones as Mrs. Partridge.  The revival's controversial (wasn't it always there?) blood-soaked finale proves too much of anything brings laughs.  Then, there are lyrics like these:
WOKELAHOMA!
EVERY NIGHT WE MAKE OUR LAUREY CRY
WHILE THE LEFTISTS BALK
A RIGHT-WING HAWK
TELLS YOU WHY JUD FRY HAS GOTTA DIE!
These- Wait! Can't forget the Ferryman/Finian's Rainbow mashup that isn't too far off the mark and mega-voiced teenager Joshua Turchin who plays Evan Hanson AND The Phantom – are a few highlights.  The only thing to know about  Forbidden Broadway: The Next Generation is that it's fun.
Forbidden Broadway: The Next Generation opened Wednesday, October 16th, 2019 for a 10-week limited engagement through November 30th at The Triad Theatre (158 West 72nd Street).  For tickets and further information, please visit the show's website