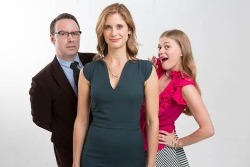 Romantic Trapezoid
Theatre Row — Lion Theatre
Snapshot Review: Deliciously Clever
Jacquelyn Claire, Reviewer
Rachel Reiner Productions presents "Romantic Trapezoid" – a deliciously clever theatrical romcom by Victor L. Cahn. As we left the theatre after the show, an enthralled audience member exclaimed, "that was charming, really charming". And it was. Three superb actors, one great text and a director with a strong eye for detail ensures a production that is deeply satisfying to watch.
It's rich in plot twists that one obviously doesn't want to give away. So perhaps I will say we have a woman, Melissa, who has a big slice of cake and she's eating it. She has a loving partner who gives her a long leash and bows to her expansive need for freedom to enjoy the company of other men. Melissa seemingly has the perfect set up. Her partner, Dave, is less enamored with the arrangement and wishes to have a more traditional relationship but can't seem to convince Melissa to consider marriage. A third character, Beth, shakes up their worlds with her youthful passion and unflagging ambition to have all of her ducks neatly in a row. Her infectious outlook and ultimatums disrupts the couple's relationship trajectory.
Victor L. Cahn's script is soaked in optimism. It feels like he is rooting for relationships. He unpacks the complexity of relationship compromise in an inventive, funny and creative way. He allows for marvelous character development and enjoyable slaloming through the winding twists of the plot. He has cut away any extraneous fat and allowed for a precise, lean offering that leaves you perfectly sated.
Elizabeth Inghram as Melissa is a powerhouse onstage. She exudes Wonder Woman confidence and has created an extremely likeable character. You want to grow up to be just like Melissa –fashionable, feisty, intelligent and playful. The plot pivots around this character and Inghram anchors the piece with her strong presence and wide emotional range.
Zack Calhoon as Dave gives us an adorable love struck boyfriend who is trying to walk upright as a tornado swirls around him. Calhoon has exquisite comic timing and has crafted a meticulous performance where every bit of stage business is executed brilliantly. You completely adore his 'Dave' and are cheering him on as he pursues happily ever after with such earnestness.
Joy Donze as Beth turns the halogen lights brighter. It feels like sunshine walks on to stage. Donze has created an instantaneously loveable character whose charisma has you grinning like a maniac. She's an oasis between two acts, the game changer, the one who ups the stakes, shakes life's can of soda and opens it onto us. An effervescent disruptor!
Director Alberta Bonilla ensures a tight, fast paced comedic delight. It's a crisp, clean production that is a total joy to experience.
The scenic design by Sheryl Liu makes clever use of the space giving us a great, multi-spaced NYC apartment. Viviane Galloway's costume design is vibrant and expertly conveys each character's personality at first glance. I really enjoyed Pamela Kupper's lighting design especially in the film noir moments.
"Romantic Trapezoid" is a sophisticated comedy that deals with the complexities of modern relationships with wit and intelligence.
Running time 80 minutes with no intermission
Romantic Trapezoid plays through November 25, 2017 at The Lion Theatre at Theatre Row
For more information, click HERE
May be inappropriate for 10 and under. Children under the age of 4 are not permitted in the theatre.
© Copyright 2017 by Jeff Myhre, PhD, Editor. No part of this publication may be reproduced without written consent. Produced using Ubuntu Linux.