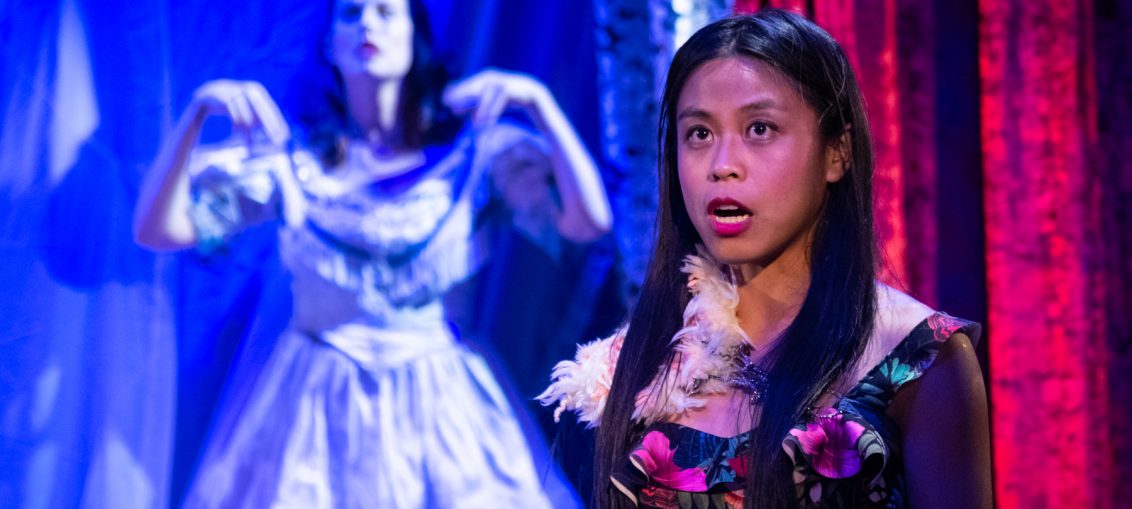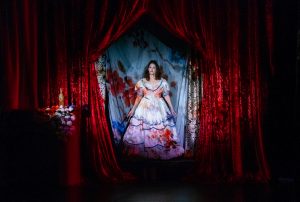 Madame Lynch is a buffet of bloodthirsty; maniacal madness, flavored  heavily with every theatrical device imaginable. It's quite simply delicious from start to end. The Drunkards Wife theater company espouse a maximalist design sense  -a core tenet of their mission, with a glorious over-the-top exuberance. It's superior theatrical eye candy.
Normandy Sherwood and Craig Flanagin exhume the legacy of Eliza Lynch  – the "Empress of Paraguay" to interrogate her influence on cultural imperialism. Her history is really worth a Google search – born Irish, fled to France to escape the potato famine, french courtesan turned mistress-wife to Paraguayan dictator  -Francisco Solano Lopez, falling from grace to lowly prisoner, outcast and then posthumously elevated to National Heroine of Paraguay. It's a meaty life story destined for the stage. Sherwood and Flanagin have crafted a lush, philosophical riff on a life lived large. As directors of the piece they have stitched together a beautiful, handmade Ñandutí (spider web) lace tablecloth that pulls your attention.
Here are 15 reasons why you should see this show:
Juliana Francis Kelly is a Stradivarius of an actor – gift to watch and listen to live. She is totally in command of her craft and gives us an unforgettable portrayal of Madame Lynch.
Ballet Panambi Vera festoons the stage like a flock of Toco Toucans. Iliana Gauto's elegant choreography brings the spirit of Paraguay onto the stage as the dancers glide through the space. As the Gold Comb Girls -Shirley Gonzalez, Jennyfer Recaldo, Ashlee Robledo, Jennifer Rojas and Gisselle Zalazar are a vibrant explosion of grace and effortless ease.
To experience the Bare throated Bellbird vocal agility and power of Lorena Cajes – I would have liked to have heard more from this songbird. Her singing electrifies a room with her open, heartfelt, robust sound. Along with fellow musicians Lisa Clair (sharing the role with Cajes), Rachel Swaner, Sana Nagano, Rachel Meiers, Max Maples, Kevin Shea, Oren Bloedow and Fredik Haake they bring a wild, passionate, live underscore to this carnival of creativity.
To laugh like hyenas at the flamboyant antics of the "two ugly sister" archetypes Braulio Cruz as Inocencia Lopez and Blaze Ferrer as Madame De Cochelet who bring a bit of  pantomime buffoonery to the story.
For Nikki Calonge's astounding performance as Paka. She is feral, physical and wise in the part and entirely mesmerizing. She steals the show with her magnificent presence.
To witness the avant-garde military fashion show that ramps up the commentary on the futility and excess of war.
To appreciate the focus,commitment and skill of the support cast actors of  Kevin Green ( Dictator Francisco Solano Lopez), Hannah Kallenbach (Isadora) and Mieko Gavia (Rafaela Lopez).
To hear the cacophony of 650 bird names rendered in choral chant and harmony – a stunning feat!
To see the future generation of performer in M.J. Kelly who confidently plays the young Eliza Lynch. A child actress with a natural affinity for the stage and who is a total joy to watch.
For Christina Tang's audacious lighting design, David Pym's ghostly, divine video design and Yung Oh Le Page's brilliant, epic stage design and sets and Nikki Luna Paz (along with Normandy & Craig) spectacular spectacular costumes. They have truly created a visually splendid work of art to watch.
To marvel at Kristin Worralls's confectionary design.
To have all of your senses prickled
To have your mind bent into new perspectives
To have your spirit lifted by a troupe of artists who do not shy aware from making monumental theater.
To support New Ohio Theatre that consistently produces outstanding, original new work, To delve into their productions supported by the Archive Residency program in collaboration with IRT theater
This is a show where you can't help but be super impressed by their visual, musical, choreographic, designer approach to making opulent, camp, feminist, anti capitalist, handmade and heartfelt theater.
Running time is approximately 80 minutes.
MADAME LYNCH runs May 26 – June 15 (opens May 29) at New Ohio Theatre (154 Christopher St.) in NYC.