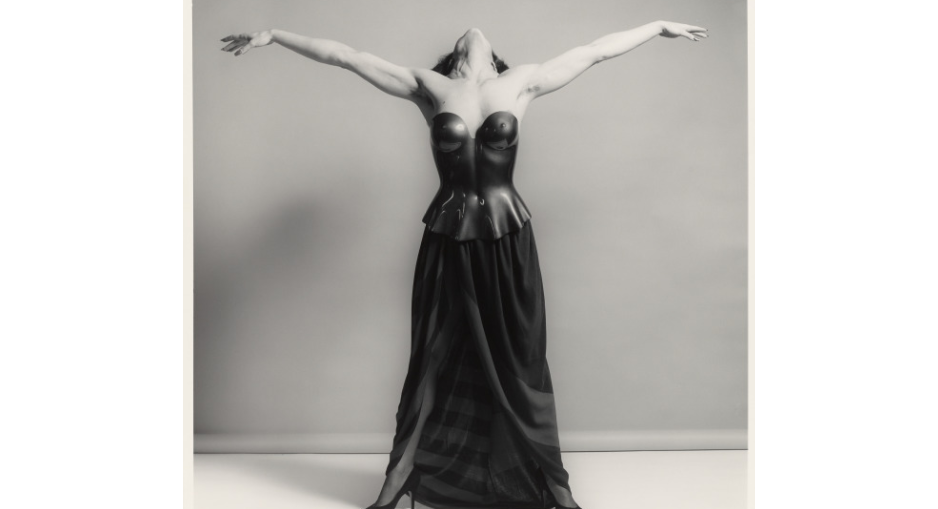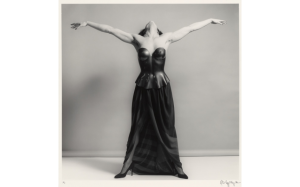 It's been 30 years since photographer  Robert Mapplethorpe (1946-1989) and choreographer Alvin Ailey (1931-1989) died from AIDS.  The June-long celebration of civil rights and respect is also a reminder that while there are now ways of controlling the disease, there remains no cure.
Two recent performances were timely reminders that both left indelible marks on art and society.
Triptych (Eyes of One on Another).  New York premiere. BAM Howard Gilman Opera House, June 6-8, 2019.
In 1989 when the Corcoran Gallery in Washington, D.C. caved to pressure from politicians and the Religious Right and cancelled the travelling Robert Mapplethorpe: The Perfect Moment exhibit, protesters aimed a high-power scenic projector and shined his photos on the Gallery's facade.  Triptych (Eyes of One on Another) also projected his now-iconic black-and-white portraits, nudes, and graphic depictions of sadomasochism on a white curtain.  Mapplethorpe's never intended his explicit homoerotic images for sensitive eyes or children – but as his autobiography, which Triptych convincingly presented.
Director Daniel Fish, composer Bryce Dessner, librettist Korde Arrington Tuttle and choreographer Martell Ruffin built an hour of song and creative movement around the photographer, his photographs and his subjects.  A young African-American man resembling frequent Mapplethorpe model Ken Moody (Ruffin) studied the blown-up images while listening to the vocal group Roomful of Teeth sing arrangements of poems by Essex Hemphill and Patti Smith.  Smith's Just Kids is a requiem to their friendship and his work that should be required reading regardless of sexual orientation or interest in artists' lives.   Moody's words are heard as well, making it clear that he never felt exploited or abused, describing the experience as "orgasmic."
The collaborators divided their Triptych into X for the photographer's life, Y for the controversy surrounding the 1989's exhibit National Endowment of Arts funding featuring audio of Senator Jesse Helms truly disgusting condemnation of Mapplethorpe and all AIDS victims, and Z for his aestheticism.  They succeeded in conveying that Robert Mapplethorpe was as multifaceted as he was talented.
But what really made Triptych (Eyes of One on Another) memorable were the only things that matter:  the photographs.  Regardless, an in-your-face reminder of someone whose work can never be imitated for its  beauty (sorry iPhone users, he knew how to use a light meter) and discomfort (no Vogue and Instagram, yours look cheap and self-involved rather than declarative) is necessary because the world is more hostile than it was 30 years ago.
To learn more about Robert Mapplethrope, please visit his Foundation's website.
Bold Visions.  Alvin Ailey American Dance Theater 2019 Season at Lincoln Center, David H. Koch Theater, June 15, 2019 matinee.
Before Alvin Ailey American Dance Theater began their brief (June 12-16) Lincoln Center season, the company announced that Academy Award winner Barry Jenkins is making a biopic about  their founder, working closely with Artistic Director Robert Battle and Artistic Director Emerita/Ailey muse Judith Jamison.  Mr. Ailey's story is in the good care of a director whose happiest childhood moment for Moonlight's Chiron dances to his own beat.
Choreographer Darrell Grand Moultrie shares in program notes for his Ounce of Faith that his life changed forever when his teacher, Ms. McCloud, took him to see Ailey's company.  It must be the best feeling in the world working with what you've loved so long.
The lack of live music was a plus for his buoyant brand-new ballet.  Separating herself from her cast mates, Khalia Campbell stepped onto the temporary flooring covering the orchestra pit for her sinewy solo of gratitude and hard work.  What followed were a series of modern (Ailey dancers specialize in Horton technique), jazz, and Afro-Caribbean styles, freeing the dancers from traditional formations and/or expectations.  Moultrie's voice is part of the score, not giving direction, but speaking about himself and his love of dance.  Not surprisingly in an Ailey performances, dancers and audience connected.
Jawole Willa Jo Zollar's voice is also heard on tape in her Shelter.  Created for the Ailey company in 1992 and revived in 2017, six women (Ghrai DeVore-Stokes, Samantha Figgins, Akua Noni Parker, Jacquelin Harris, Belén Indhira Pereyra, Constance Stamatiou) form tumultuous, temporary bonds among themselves because there is nothing and no one else on the dark stage.  Shelter is specifically about homelessness, but also encompasses the larger theme of mass destruction.  Zollar, founder of Urban Bush Women, makes it uncomfortable watching the dancers lash out – but the world outside the Koch is harsh for so many.
The final look at community came from Ailey's Revelations.  Like The Great Gatsby, Duke Ellington's music, Citizen Kane, the writings of James Baldwin, and whatever your own personal preferences, the 1960 masterpiece is essential for understanding America.  There is no "culture war" when the message is positive.  Also like any great work of art, there is always something new to see with each viewing.  On Saturday afternoon, it was how the pauses between each section act like book chapters, or watching Patrick Coker, Samantha Figgins, Christopher R. Wilson, and Solomon Dumas's beautiful ritualization of each step of The Processional, or how Ailey created a dance for women seated on stools and waiving their fans.