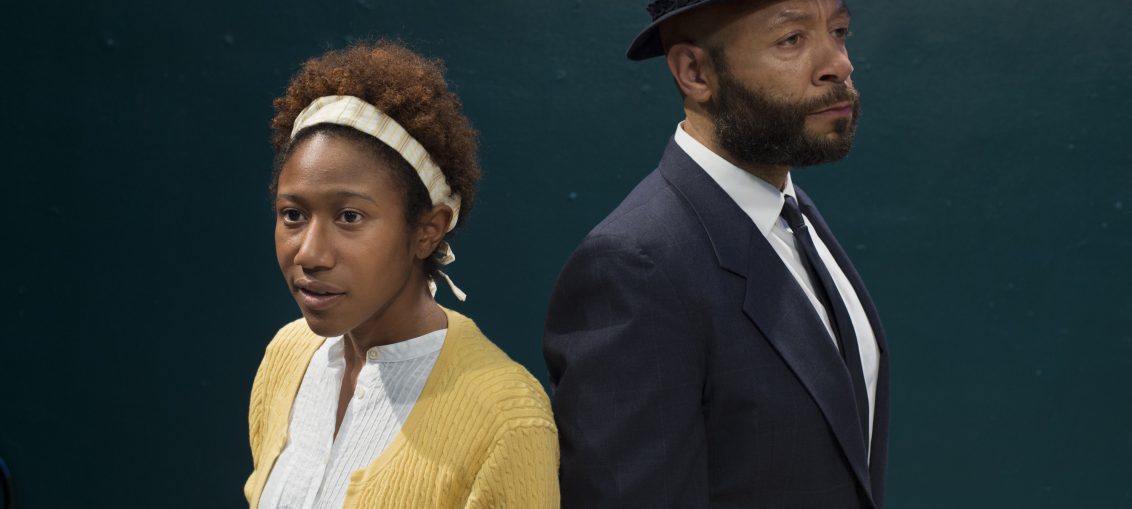 Vivian's Music, 1969 is a sensuous, intoxicating experience. It is inspired by a tragic true story that leaves you feeling bereft. This production doesn't require any additional bells and whistles. The text and the performances are so rich, complex, layered and absorbing you really don't need any further embellishments. This magical piece is on its way to the the Edinburgh festival where productions famously have about 8 minutes to "get-in" i.e. no time for elaborate sets, costumes, lightings etc. It is vital for a theater company to strip down the staging to its bare bones whilst maintaining a mighty punch. In this show, there may only be two bodies in space with one chair, but the actors quickly color in the environment with their exceptional visualization.
Monica Bauer's text has been adapted from her play, My Occasion of Sin and is based on the senseless killing of a young black girl, Vivian Strong in 1969. Her life ended due to a single bullet fired into the back of her head by a white cop. This incident sparked one of the worst race riots of the 1960's. Little information exists about Vivian Strong and Bauer's text strives to give the teenager a soulful elegy. Monica Bauer's text ignites your imagination so vividly that you can smell the pungent abattoir, the Kellogg factory and the strawberry sweat of the Youngblood 14-year-old Duane. You can easily "hear" the band at The Dreamland Ballroom and the LP's of The Dave Brubeck Quartet on Vivian's Mamas record player.
Bauer introduces us to two lovable characters. Vivian is an intelligent, observant girl who sees everything because she believes she is invisible. She is able to witness the goings on in her world from this cloaked vantage point and offer profound insights. Luigi is a charming rogue, a jazz musician whose drumming incites calamities and unbridled passions. When Luigi returns "home" after he inherits the Dreamland Ballroom, his presence heralds' upheaval.
Glory Kadigan has directed the piece like a series of musical movements with engaging verbal refrains, syncopations and rhythms. You feel the human jazz conversation where characters, Vivian and Luigi, add their signature "axes" into their dialogue to bring harmony to the "broken time." It's like a call and response "song" filled with dissonance, cross rhythms and impossible harmonies, without a note played,  that Kadigan has "conducted" with passion and pathos.
Kailah S. King is an exquisite performer and as Vivian Strong is full of irrepressible energy. It's like she is dancing internally to her own melodic monologue, physically accenting each turn of phrase, twirling around the colloquialisms and high kicking to her exuberant teenage attitude. King gives a mature, grounded performance that is soaked in honest emotionality and detailed characterization. She also exuded pure, undiluted sunshine.
Russell Jordan as Luigi Wells makes you truly believe he is a seasoned jazz musician who has just walked off stage after a gig with one of the greats. He is comfortable in his skin and makes you feel at ease every time he opens his mouth. Jordan imbues Luigi with a potent griot's charm. He is the traveling musician/poet brimming with the vitality that comes from being a powerful storyteller.  Jordan pulses on stage, drawing us into his magnetic musical conversation and we could listen to him all night. The two "soloists" have the chops to bring this heartbreaking riff to a crescendo leaving us emotionally exhausted after the journey.
Janet Mervin designed the beautiful costumes, Andy Evan Cohen crafted the atmospheric sound design and Benjamin Ehrenreich, the perfect lighting design – moody blues for Luigi Wells' space and the bright, bold, positivity of Vivian's outlook.
It's a dynamic show that is beautifully written, directed, designed and performed. This show could be performed anywhere, with only candles or the light from an open fire and still completely move you to tears with its truth.
Running time: 65 minutes with no intermission.
Vivian's Music, 1969 runs July 26 -29 at East to Edinburgh, 59E59 Theatre ) For more information and tickets visit http://www.59e59.org/moreinfo.php?showid=328