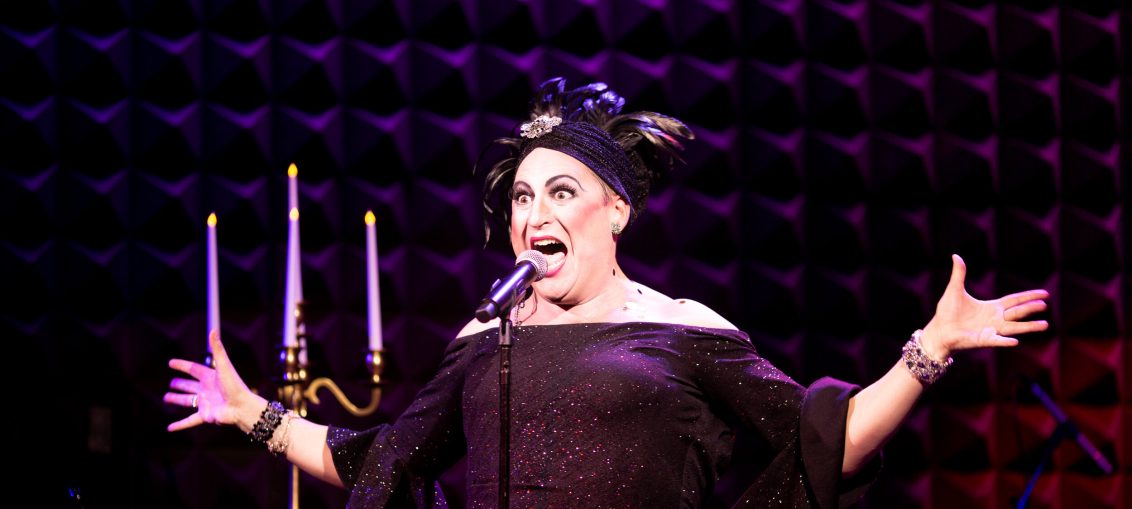 Lovers of avant-garde, cutting-edge performing arts in tune with the current pulse rejoice! The Public Theater's annual theater festival, Under the Radar, is back after a hiatus since its 2020 edition. This year brought some of the most exciting creators making new work locally, nationally, and globally. This year's UTR Festival sprawled out across various venues beyond the Public's Astor Place home, including the Brooklyn Academy of Music (BAM), The New York Public Library, and La MaMa, to name those I visited. My final show was a homecoming to Joe's Pub for New York cabaret artist Salty Brine's monstrously fun mashup of The Smiths album "The Queen is Dead" and Mary Shelley's Frankenstein. It was a fitting finale to the trip around the world and the city of New York through performance.
The sumptuous feast of offerings after years of hunger pangs and longing made it difficult to choose which ones to devour and let consume you. I opted for four remarkably different pieces, and each one reminded me of the urgency, creativity, vitality, and magic of theatre today. Here is a selection of standouts that started the 2023 theatre season with a bang!
ARE WE NOT DRAWN ONWARD TO A NEW ERA 
Are we not drawn onward to a new erA created by the Belgian company Ontroerend Goed is, like its title, a palindrome performance. For those unfamiliar with the term, a palindrome is a name, word, phrase, or sequence that reads the same backward as forward, like madam, Otto, Hannah, A Man A Plan A Canal Panama. But have you ever encountered a performance in reverse first? Ontroerend Goed invites the audience to consider what could happen if we could go backward in time and restore the innocence and purity of when humans lived in harmony with nature. It's wondrous and magical, simple yet poignant. 
The first "act" opens with a woman lying on the stage with nothing for a set but a lone tree with a lone shiny red apple dangling from a branch. She is greeted by a man, offering visual cues of Eve and Adam in the Garden of Eden before they took a bite from the tree of knowledge. They exchange a few words if you could call their gibberish dialogue. At first, it seems an indistinguishable made-up language, but once it's understood, the conversations take on a new, impactful meaning. Their broad gestures are also awkward at times, highly stylized and curious.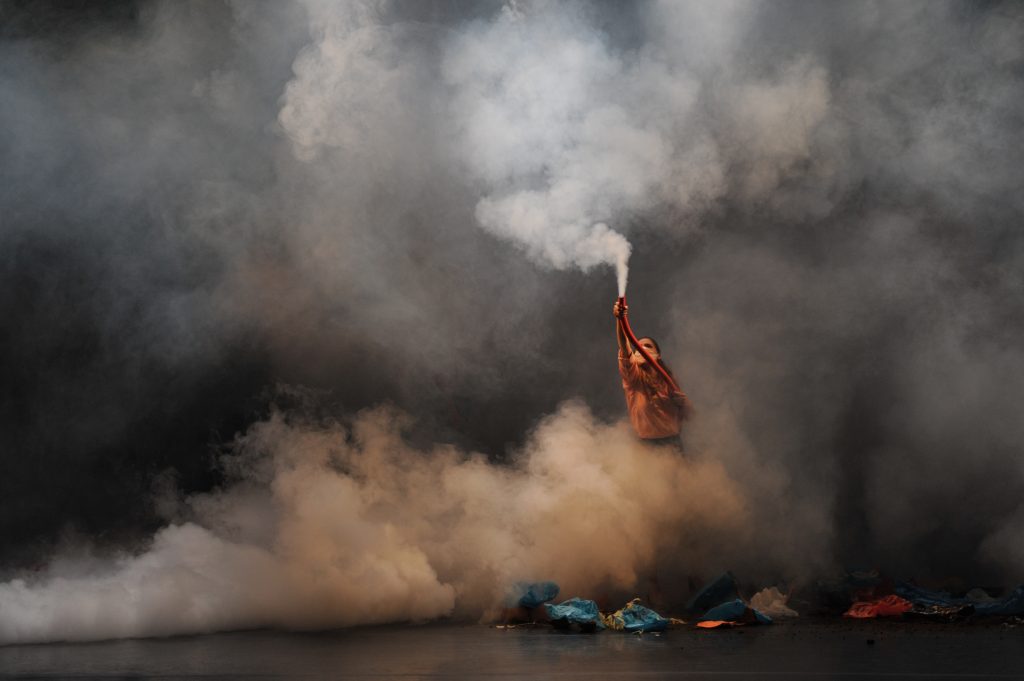 Other characters appear and begin to transform this small world the way that humans do by introducing "civilization." They eat the apple and release a balloon into the sky. Then more sinister, destructive activities occur. Hundreds of plastic bags are dropped from the sky, the tree is ripped apart (this was the hardest to watch), a clay pot is smashed, and a giant golden statue is erected as a "Monument to Man." Finally, with hoses in hand, they blanket the stage with thick clouds of gas. It's an unsightly scene. The play could end there, a visual metaphor for the havoc we have thrust upon the planet.
But it doesn't. Instead, Ontroerend Goed's Are we not drawn onward to a new erA offers an improbable and, at times, impossible option for us to fix the mess we made. What if we could go back in time and reverse the damage caused? For the second part, a screen is lowered, and the performance is played backward (audio and visual) from what was captured in real time. The gibberish turns into broken English; the gestures undo the destruction in outrageous ways. The golden statue is broken apart and removed, the slew of plastic bags is lifted into the air, the tree is restored to its vitality, and the apple is "uneaten." 
But of course, these things could never happen in real life, so what point are they trying to make if we can't magically reverse all the damage done? At the show's end, the screen lifts and reveals the remaining mess from the first act. There are no tricks to restore the planet's purity; we still have to do the work. And that's the purpose of Are we not drawn onward to a new erA. It doesn't offer a solution to our environmental crisis but an inspiration and an invitation to undo the past by doing better in the present. 
Are we not drawn onward to a new era played at Brooklyn Academy of Music (BAM) Fishman Space from January 4-8, 2023. For more information, visit bam.org and publictheater.org. 
A THOUSAND WAYS (PART THREE): AN ASSEMBLY 
The minds behind 600 HIGHWAYMEN (Abigail Browde & Michael Silverstone) are some of the most innovative and successful artists working today. They create simple yet poignant live experiences that are theatrical but based on real human connection, something we have grown to value on a different level since Covid shook up the world and shaped how we view strangers. And they step back and let the event unfold organically. 
The third and final installment of their series, A THOUSAND WAYS, also involved people unfamiliar with each other connecting. But, this time, instead of only two, sixteen participants braved a room where the only props were one chair per person and a stack of index cards with instructions. The trilogy's finale followed A THOUSAND WAYS (Part One): A Phone Call and A THOUSAND WAYS (Part Two): An Encounter, which I partook in and reviewed for StageBiz.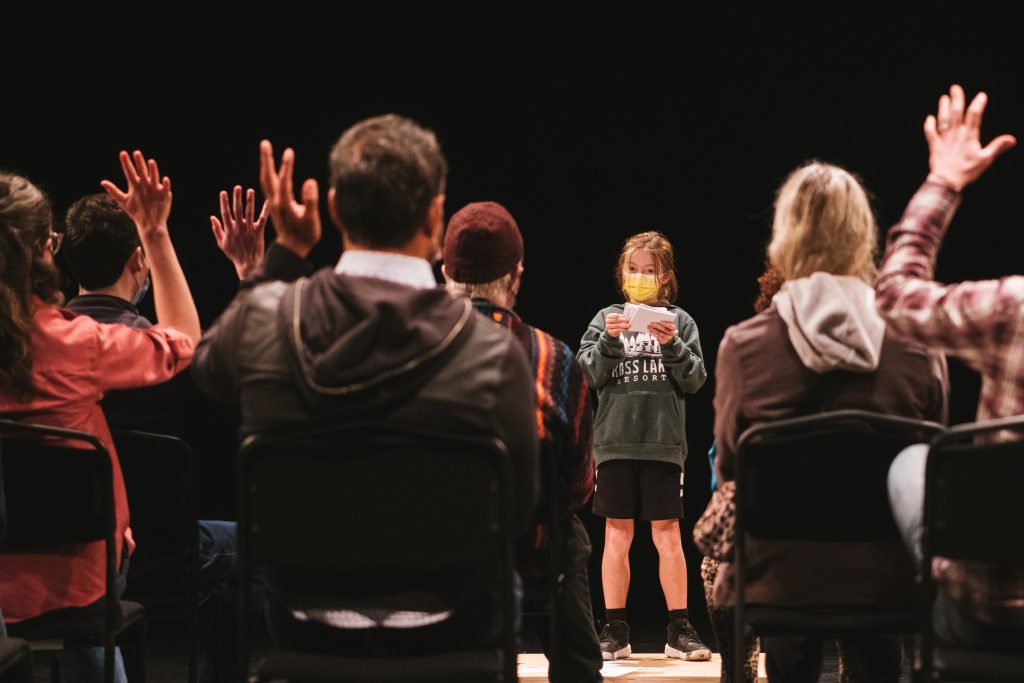 The first, A Phone Call, occurred during the ongoing pandemic panic for Under the Radar in January 2021, the first entirely virtual version of the festival. It was a curated call guided by a script where you and a stranger revealed secrets anonymously through prompts. In the privacy of your own home, free from judgment or distraction, audience participation became a heightened emotional and sensory experience. An Encounter was one of the first times I'd been back in a theater since they all shut down in March 2020. You sit across from an unknown participant, masked and separated by a piece of plexiglass and read instructions and questions from index cards that reveal personal truths. Both events seem utterly unenchanting when described but are thrilling to be a part of. That's the magic of 600 HIGHWAYMEN and the secret to their success. Nothing is more theatrically valuable than true connection. And the only way to create it is to set the conditions and let it happen.
In A THOUSAND WAYS (Part Three): An Assembly, there were more people and therefore more variables; more chances for magic and equally for mishaps. We gathered in a room in the New York Public Library, unsupervised like children when the teacher stepped out. The show itself is 100% audience participation. The participants are the show. For some reason, it seemed like everyone was an extrovert. The instructions on the stack were read and enacted perfectly, passed around as planned, and everyone partook. Only a few rogue comments and laughter here and there; the attendees were too engaged, and the content was too interesting. That's the other secret ingredient to 600 HIGHWAYMEN, Abigail Browde & Michael Silverstone's extraordinarily natural, quirky, charming, and incredibly human writing. At the end of the assembly, we were strangers no more but friends, even if we'd never meet again. I took the journey home feeling totally satisfied and deeply connected. 
A Thousand Ways (Part Three): An Assembly played at New York Public Library (Stavros Niarchos Foundation Library, 7th floor) from January 4-22, 2023. For more information, visit publictheater.org and 600highwaymen.org.
KING GILGAMESH & THE MAN OF THE WILD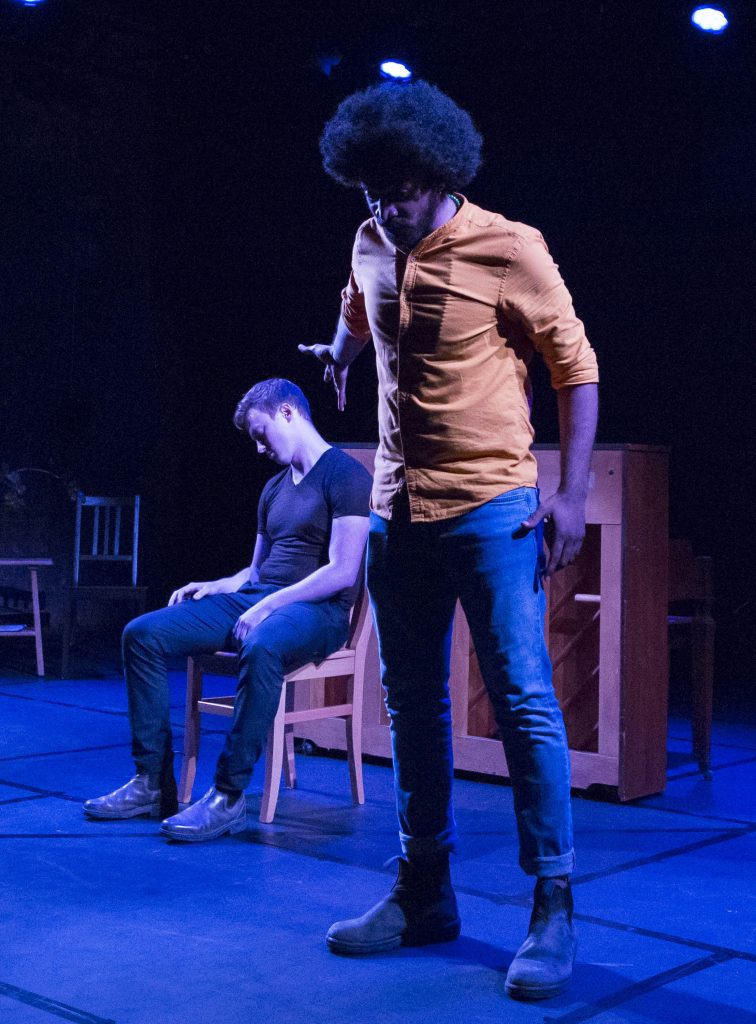 King Gilgamesh & The Man of the Wild is a modern-day hero's journey told through drama, comedy, adventure, and enchanting music inspired by a Mesopotamian epic poem written in the late second millennium B.C., predating the Odyssey and the Iliad. The two-hander one-act play takes place on a carpet (Peter Brook, the iconic director of the Mahabharata, would have been pleased) with simple props of a table, chairs, and lush potted greenery. It features Ahmed Moneka and Jesse LaVercombe accompanied by a live Arabic maqam/jazz band, Moneka Arabic Jazz, which transports the audience to another world with intoxicating, soul-stirring soundscapes. 
The U.S. and Canadian collaboration is co-created with director Seth Bockley and explores the heroic feats, grave trials, tragedy and mythic themes from The Epic of Gilgamesh. The ancient tale is intertwined with a touching story of a growing friendship between opposites searching for meaning and Moneka's real-life journey as an actor-refugee finding his footing in a new nation, then rising to success as a musician. The chemistry between Moneka (Gilgamesh) and LaVercombe (Enkidu, the Wild Man) in their archaic and present-day embodiments is palpable. Tension and bravado lead to vulnerability and kinship as they discover commonalities beyond surface differences and mature as men through their parallel challenges. The pair flow seamlessly between storylines that span multiple characters, continents, and centuries, guided by the wings of the glorious maqam melodies.
King Gilgamesh & The Man of the Wild is ultimately about the struggles young men face when finding themselves in epic circumstances, be they mere disappointment or unimaginable loss, as they confront ambition, sexuality, family, and the road to discovering one's identity and purpose. There were times when the epicness felt relentless. In the scene where they engage in hallucinogens, I felt so heady and overwhelmed with keeping up with the storylines that I wondered if I was getting an imaginary contact high. But when the show comes to a close, and the music soars, Ahmed Moneka, Jesse LaVercombe, and Moneka Arabic Jazz (Waleed Abdulhamid, Jessica Deutsch, Max Senitt, and Selcuk Suna) whip the audience into a frenzy, and one leaves the theater feeling euphoric as if you've returned home from a long journey.
King Gilgamesh & The Man of the Wild, produced by La MaMa in association with The Public Theater's Under the Radar Festiva, played January 12-15, and 19-22 at La MaMa (Downstairs Theatre). For more information, visit publictheater.org and lamama.org. 
BIGMOUTH STRIKES AGAIN: THE SMITHS SHOW
Bigmouth Strikes Again: The Smiths Show is a nostalgic and rapturous fever dream of monsters, mayhem, music, and Morrissey! Cabaret star Salty Brine captivated the jam-packed Joe's Pub crowd from the moment he sauntered onstage resplendent in glamorous garments, lacquered lips, and arched eyebrows to the final encore 90 minutes later. A true master of the intimate art form, Salty volleys fluidly between song and dance, poetry, personal anecdotes, literature, pop culture references, comedy, drama, horror, and intrigue, all on a tiny platform flanked by a highly capable band led by Jeff Cubeta. The subject: Mary Shelley's Frankenstein, told through the moody, broody post-punk English band The Smiths' iconic album The Queen is Dead. This magnificent musical mashup is part of Salty's The Living Record Collection series. 
As a fan of the book and the album, I had high hopes, but I wasn't expecting to be gobsmacked with utter delight by such an outstanding entertainer. The plot points of Frankenstein ricochet between Morrissey's alternatingly poetic, meta, clever and seriously absurd lyrics and Salty's own highly amusing (and often raunchy) prose. "Let's talk about the monster in the room — Morrissey!" Salty deadpans. And as much as I enjoy The Smiths, Salty is right — that particular "Bigmouth" is known to be a bit of a bigot and certainly someone who puts his foot in it. "For someone who sings, 'I am human, and I need to be loved, just like everybody else does,' he certainly hates a lot of people!" Salty observed.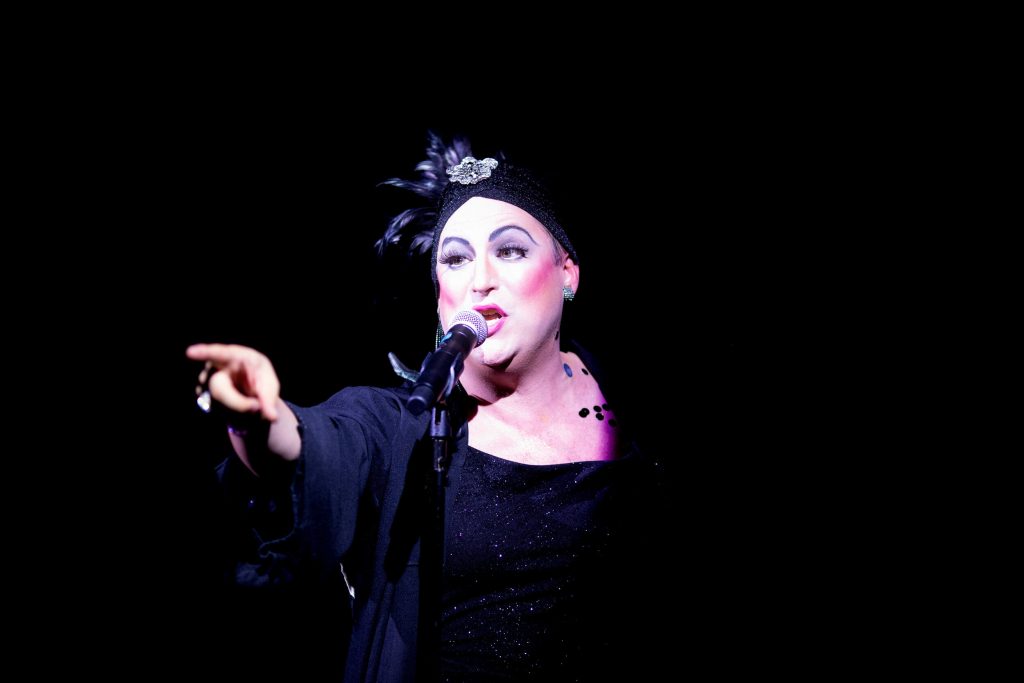 The show is playful, unpretentious and chock full of jokes and humor, but there is depth beneath the surface antics. Salty, like Shelley, examines how a man can be more monstrous than those he fears and uses The Smiths' most moving music and lyrics to create an emotional impact when exploring the more tragic parts of Shelley's novel and her life. 
Though the sonic focus is The Smiths' The Queen is Dead, Salty throws in a few bars from their other hits and sprinkles a bit of Tori Amos' "Precious Things" and They Might Be Giants' "Istanbul (Not Constantinople)" at poignant moments. The versatility of his voice is matched by the sharpness of his wit and gargantuan stage presence. Cabaret is best enjoyed up-close and personal (I was front row and could not contain my glee when Salty landed in my lap), but I reckon that someone of Salty Brine's caliber could be appreciated from the back row of the balcony at a Broadway theater. Another inspiration for Bigmouth Strikes Again: The Smiths Show is Rocky Horror Picture Show, and Salty's got a lot of Tim Curry's Frank-n-Furter essence in his heels. 
The music climaxes, and so does the story. It's time to say goodbye. But I'm not ready for it to end. It felt like closing-time music at the end of a great night when you're getting kicked out of the bar and begging for "just one more" because you're simply having too much fun. Ninety minutes flew by and left me thirsty for another round. That's the mark of a great showman and extraordinary entertainer. To me, Bigmouth Strikes Again: The Smiths Show was by far the most fun show of Under the Radar 2023 and a fabulous way to usher in a new year. Anything dipped in Salty Brine certainly is a sweet treat! 
Bigmouth Strikes Again: The Smiths Show played January 12, 15, 18, and 20 at Joe's Pub at the Public Theater. For more information, visit publictheater.org.