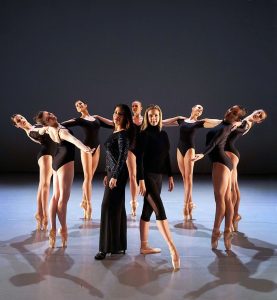 If New York City is considered "The Dance Capital of the World," than Utah is "The United State of Dance".  For 50+ years it's been home to Ballet West, who made a very strong impression on their last Fall 2016 visit to the Joyce.  December 2018 saw the premiere at New York Live Arts of Bears Ears, a thoughtful collaboration between NYC's ZviDance and Repertory Dance Theater of Utah.  From February 19-23, New York Live Arts hosted sold-out performances by BalletNext, a dynamic chamber company comprised of University of Utah School of Dance students led by former ABT Principal Michelle Wiles.  They are yet another reminder that opportunities for serious ballet students don't have to happen here.  
Artistic Director Wiles presented her accomplished student body – Emma Anjali, Danielle Dries, Julian Godlewski, Amy McMaster, Tia Sandman, Sydney May, Sarah Murphy and Lauren Wattenburg – with her own choreography.   Wiles newest piece opening the program, Birds of a Feather, loosens up ballet tradition without sacrificing technique or maturity.  The dancers' lyrical response to the curly flourishes of Haydn's late piano sonatas was infectious.  Her finale, 2018's Hey Wait, is a solid teaching ballet.  That is not a knock.  Whatever their future careers, these dancers have already experienced performing substantive dances made for them good enough for a professional troupe. The eight dancers must move together as a tight unit, with the reward of getting some quality time center stage.  They also receive super support from jazz trumpeter Tom Harrell's score and his Trio.
The two duets on the program were by Mauro Bigonzetti, an edgy modernist.  Danielle Dries and Julian Godlewski were La Follia's Giacometti statues, if the sculptor's sinewy figures came to life.  They more than met the challenge of not only mirroring each other but dancing to one of classical music's Top 20.  (Stanley Kubrick used Vivaldi's tune for Barry Lyndon's main theme.)  Bachground, too, is set to Bach's familiar Sheep May Safely Graze.  Michelle Wiles, who appeared briefly in Birds of a Feather, returned.  She is always going to be a great ballerina.
The dancers got another life lesson on their NYC visit.  Wiles' partner was former NYCB Principal Amar Ramasar.  Last year, NYCB dismissed one of their best dancers over allegations (lawsuits are pending) of sexting.  Last week, The New York Times reported that former Artistic Director Peter Martins, who took early retirement because of physical and verbal abuse charges leveled by former and current dancers, still has backstage access and makes casting decisions – specifically, humiliating Ashley Bouder for having her own opinions.  Adding the the public relations nightmare of their own making, NYCB's Board of Trustees sanctifies his involvement.
As with Marcelo Gomes' appearance with Sarasota Ballet a few months ago and whenever this issue is raised…how to separate onstage and offstage?  Unfortunately, things are get more complicated here because Bigonzetti's choreography, Bachground included, involves roughhousing.  Wiles got in her shoves, but so did Ramasar.  The duet ends with his foot on her back.
It's hard guessing the message, but whatever it is it's unreviewable.  Apologies to Wiles and her dancers for taking attention away from their wonderful dancing.
 New York Live Arts is located on 219 West 19th Street, NYC.
Visit BalletNext's and University of Utah's School of Dance  websites for program information.