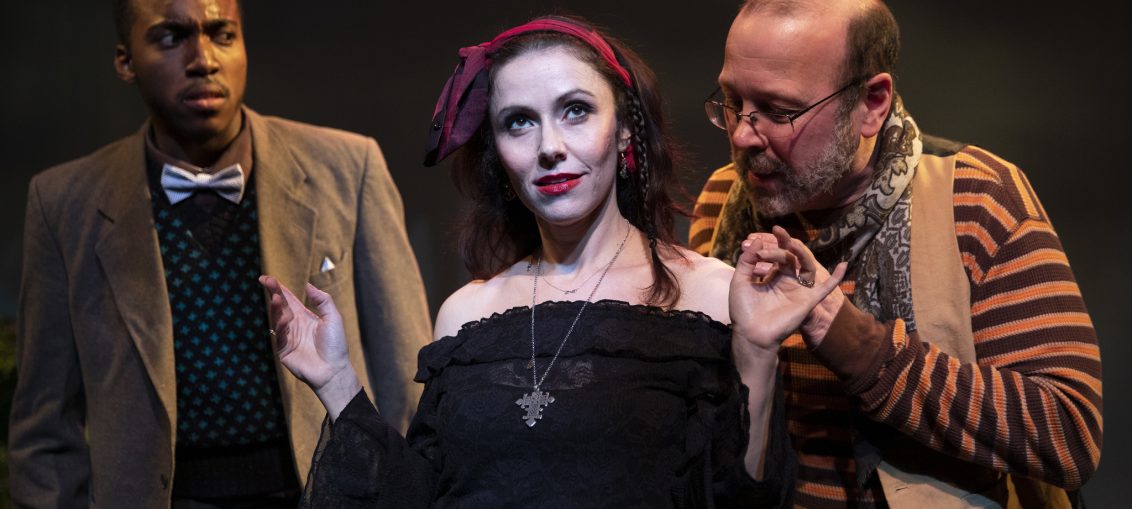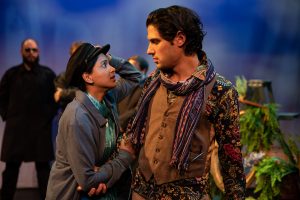 Frog and Peach Theatre Company presents an accessible Twelfth Night stripped of any artifice or extraneous "concept" to deliver an enthusiastic romp through one of Shakespeare's most hilarious comedies. We have all of the ingredients for an attention grabbing show – mistaken identity, gender bender complexities, pranks, fools, bawdy drunkenness, witty repartee, plot twists, disguises and satisfying reveals – all culminating in marriages. This whirlwind is underscored by Ted Zurkowski's glorious, original music. It's a fast-paced hurtle through the text, almost as if the cast are on a revolve and swivel onto stage to drop their plot turn before being whisked off again on a roundabout of shenanigans.
We're in Illyria. A shipwreck has separated twins – Viola and Sebastian. They both presume the other sibling has died in the storm. For the next two hours they unwittingly make their way back to each other encountering a delicious concoction of characters along the way that will change their lives forever. The style of the show is almost Growtowski-esque "Poor Theater", where the emphasis is not on the excesses of lavish sets, costumes and props but more focused on the skill of the actor and the strength of the word. This production could basically be performed anywhere – if a field, in a parking lot, in a classroom, without electricity or special effects and still captivate an audience . It allows for a production that could easily travel and reach a large audience. It is not bound by complex technical requirements.
The biggest success of this production is the sense of the ensembles joy in performing it. They look like they are having a great time, enjoying every second of being on the stage and delivering the story. Their optimism is infectious. That being said, the production does feel like an amateur theater company show. You feel the commitment and earnestness of the performers but they don't all necessarily have the skills to raise the production to a professional standard. The eagerness of all of the actors spills into a lot of split focus and distraction from the text as the actors play out their mini drama's in the background – detracting from the key plot points. The director, Lynnea Benson, ensures a tight, electric pace for the work with some lovely moments, but needs to ensure the audience are able to stay focused on the main storyline. The smaller parts sometimes upstaged the central action and moved into the realm of "ham" acting. Benson ensured a great use of the Sheen Center's black box space in which the 16 cast members could explore the majesty of Shakespeare's work.
I particularly enjoyed Alyssa Diamond's performance as Viola. She perfectly captured the humor of playing a love smitten women disguised as a young man. Karoline Patrick has a good grasp on speaking verse and gave her Olivia a strong, stately stage presence that was a pleasure to watch. Jamar Braithwaite is a powerful performer and commands the stage with his great vocal quality. His Sir Andrew Aguecheek exudes an impressive intensity and a bold physicality.  Amy Frances Quint as Maria is a fireball of energy, igniting the stage with her well-crafted character.
I appreciated the exuberance of the cast as they took a stab at wrestling with Shakespeare's iambic pentameter. I think it is the hardest task for any actor.  It's like going on point shoes for the first time for ballet dancers or violinists playing Shostakovich's Trio No. 2 resulting in bleeding fingers. Shakespeare demands it's pound of performance flesh – you can't mug your way through it.
Running time: 1 hr 50 minutes with one 10-minute intermission.
TWELFTH NIGHT will play a limited engagement through Sunday, March 17th. Tickets are $24.95-$29.95 and can be purchased at sheencenter.org/shows/twelfthnight.
FOLLOW AND LIKE
Instagram: @frogandpeachtheatreco
Facebook: @frogpeach
Twitter: @frog_and_peach
The cast of TWELFTH NIGHT includes Martin Bodenheimer, Jamar Brathwaite,  Alyssa Diamond, Dani Franco, Daniel Garcia, Shashwat Gupta, Kevin Hauver, Steve Mazzoccone, Karoline Patrick, John L. Payne, Richard James Porter, Blake Kelton Prentiss, Kyle Primack, Amy Frances Quint, Steven Ungar, and Jonathan Reed Wexler. Lighting Design is by three-time tony nominee and Drama Desk Award winner Dennis Parichy.  Sets and costumes are by Asa Benally. Choreography is by Geneva Jenkins with fight direction by Marcus Watson. Rafaella Rossi serves as stage manager.