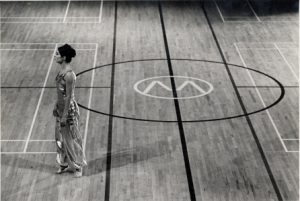 With Nutcrackers, Rockettes and Viennese waltzers, Thanksgiving to New Year's is the solitary time of the year when the general public shows an interest in dance.  Before the holiday rush there were two dance celebrations – one marking an anniversary and the other a look into the beginnings of extraordinary career – with varying success.
Balanchine: The City Center Years
Starting on Halloween and ending on November 4, 2018, New York City Center jointly commemorated their 75th Anniversary and the prolific 15 years (1948-1963) George Balanchine and New York City Ballet were there.  In 1943, Mayor Fiorello La Guardia created the New York City Center for Music and Drama at the former Mecca Shiners Temple on 131 West 55th Street in 1943 with the intention of making it artistic and affordable.  Five years later, New York City Ballet became City Center's resident dance company under its co-directors and co-founders, Filene's Department Store heir and culture essayist Lincoln Kirstein and Russian-born choreographer George Balanchine.  Soon joining them was choreographer and dancer Jerome Robbins.
During their 15 years at City Center, Balanchine and NYCB became the center of the ballet world – a distinction they still maintain in spite of the dumbing-down/dressing up of their legacy with fashion influencers and celebrities, and the more troubling disclosures of sexual harassment, physical assault, verbal abuse, bullying and board of trustees complacency.  Balanchine and Robbins were no saints – ballet history is filled with ugly offstage behavior that at last is seriously and openly being discussed.
Too bad a lot of why Balanchine will always matter, especially because of those City Center years – were ignored.
NYCB did not appear on November 2, 2018 program.  Pacific Northwest Ballet, the company with best non-NYCB Balanchine dancers guided by former NYCB Principal Peter Boal, did not appear at all.  Four companies with ties to Balanchine displayed how his technique honed at the company-affiliated School of American Ballet is adapted did.  San Francisco Ballet has an affiliation with NYCB going back from previous SFB director Lew Christensen (a dancer with Ballet Caravan, an early incarnation of NYCB, and later became a ballet master)  to current Artistic Director and Chief Choreographer Helgi Tomasson.
As on past tours, SFB is well-rehearsed and comfortable with Balanchine.  The problem was that Scotch Symphony didn't give them enough to do.  The 1952 ballet set to Mendelssohn's symphony of the same name is a tribute to the winged Scot sylph (Mathilde Froustey, a Duchess Meghan look-alike) who causes so much trouble for her Lad (Joseph Walsh) in two Romantic era ballets.  Balanchine also added a second female lead (Dores André) common in story ballets.  It's always disappointing that the role known as "The Little Scotch Girl"  never comes back after leading the opening clan dance.
All of this is nice, but doesn't demonstrate how Balanchine re-wrote the steps.  It seemed that Scotch Symphony's inclusion was to placate those who like pretty costumes.  Why else would the Divertissement Pas de Deux be included from 1962 A Midsummer Night's Dream?  The Christian Lacroix Art Deco pastel costumes were gorgeous and Sae-Eun Park and Hugo Marchand danced the brief excerpt with delicate precision. Yet it looked out-of-place because it was out-of-context.  Balanchine removed the unintentionally comic Pyramus and Thisbe play celebrating the triple weddings because on his stage, dancers are more important than Shakespeare.
As a child, Balanchine entered Saint Petersburg's Imperial Ballet School and graduated from the Leningrad State Choreographic Institute.  When he returned to The Soviet Union in 1962 with NYCB, the school was and is still known as The Vaganova Academy (Madame Agrippina Vaganova preserved the Russian Ballet style through two World Wars, the Revolution and Stalin's purges).  Balanchine ballets entered the Mariinsky (formerly the Imperial and then Kirov) Ballet during Perestroika.  It's no surprise the Mariinsky was invited, but Vikotoria Tereshkina and Kimin Kim's performance of the Tchaikovsky Pas de Duex was vulgar.  The 1960 duet is bravura and flashy – the music is a discarded section of Swan Lake – because the choreography is.  Both dancers were so busy showing off that they never connected with each other or Balanchine's homage to Russian Ballet.  Kim's impressive jumping and turning left the sold-out audience in gasping hysterics, but he almost dropped her during the running catches that the end the duet.  Tereshkina paid more attention to the audience than her whipping fouetté turns (the same ones the Black Swan does 32x) finishing turned-in.  Mistakes happen onstage…hers was avoidable.
After NYCB left City Center for Lincoln Center, The Joffrey Ballet became its home dance company, where they remained until the 1980s and the disastrous bi-coastal NYC/LA residencies.  Now larger and financially solvent, The Joffrey Ballet of Chicago's repertory includes works by Balanchine, former NYCB Soloist/Tony Winner Christopher Wheeldon and current Soloist/Choreographer in Residence/Tony Winner/Interim Artistic Team Member Justin Peck.  Therefore, it was fitting that the Joffrey ended the deeply disappointing evening with a joyous performance of The Four Temperaments.  
Like any great work of art, there is always something new to see in Balanchine and composer Paul Hindemith's 1946 personification of Melancholic, Sanguine, Phlegmatic, and Choleric – along with the Three opening musical and choreographic  Here, The Joffrey added confident pacing from section to section.  They also enjoyed the "unballetic" Balanchine prancing on pointe, the fantastic exaggerated high kicks (grand battements) and the partering suggesting a harp being plucked or double bass being spun and legs turning in and out in sync to a Neo-Classic jazz string beat.
Despite the strong performances, particularly Jeraldine Mendoza and Edson Barbosa's Third Theme, Greig Matthews' Phlegmatic and the entire corps de ballet, the audience remained undemonstrative.  Were local audiences more responsive to Balanchine's "black-and-white" leotard ballets when they were new?  Must everything now "pop" like a text message?
Twyla Tharp's 'In the Upper Room' at ABT and 'Minimalism and Me' at the Joyce
When American Ballet Theatre returns to the Metropolitan Opera in May 2019, they will perform Twyla Tharp's Deuce Coupe, her 1973 ballet set to the Beach Boys on The Joffrey Ballet, for the first time.  During their brief Fall Season at the Koch, ABT offered a sneak preview of their all-Tharp evening with the revival of In the Upper Room that Tharp made for ABT in 1986.  The printed program and company advertising overused the word "Endurance" describing her collaboration with Philip Glass.  Again, some audience members would agree, vocalizing their displeasure with the newly-minted Kennedy Center Honoree composer's music during the dancing.  (Tharp's Kennedy Center Honor came in 2008.)  The pointe is that Tharp's stage patterns and Glass' music create a dazzling harmonic visual and sound architecture.  She makes no distinction between rank: everyone enters from the fog and dance front and center – anchored by the potent duo of Christine Shevchenko and Skylar Brandt.   Plus there's getting to wear Norma Kamali's stylish, functional red and black-and-white striped dance wear.
Several weeks later from November 14-December 19, 2019 at the Joyce, Tharp presented Minimalism and Me, a vigorously intelligent and enjoyable autobiographical lecture.  Without condescension or scaling back descriptive language, she reminisced about her start as a dancemaker in 1963, going up to 1971 with Eight Jelly Rolls performed after intermission.  The only sentimentality expressed was that the downtown Manhattan providing her artistic work space is long gone.
In addition to illustrating with live dancers (Matthew Dibble, Ron Todorowski, Reed Tankersley, Kara Chan, Kellie Drobnic, Mary Beth Hansohn) and those projected on archival footage, Tharp shared enlarged Powerpoints of her notebooks.  Tharp literally wrote the book on The Creative Habit, and hearing her describe how lines on a page became moving bodies…well, this one time it was better than the book.
The Beach Boys, Milos Forman, Baryshnikov, Billy Joel and many awards including the MacArthur "Genius" came later.  Hopefully Tharp will continue talking and dancing (!) about the rest of her career. Non-artists would also benefit from what she has to say because of her persuasiveness regarding the rewards of hard work.
Thus far, she's already provided the best complementary definition of minimalism as a "vigorous housecleaning."
Details of New York City Center's Anniversary are on their website
Twyla Tharp has a home page
Tickets are available for the second half of the Joyce's season.