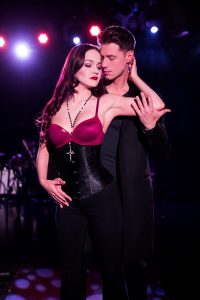 Sit back, grab a drink and strap yourself in for a ride on this sonically brilliant, delightfully cheeky romp through '90s nostalgia that's easily the most fun you'll have on or Off Broadway all year!
With the current conditions of the world, it's no surprise and perhaps even the responsibility of the arts to portray and reflect upon where we are and how we got here. The result is (or can be) impactful and deep yet often heavy work laden with meaning and statements on our state of affairs. Even in comedic or satirical efforts such as Mankind or Jerry Springer the Opera, it's hard not to contextualize what's represented on stage with the socio-political climate. But sometimes with such a bitter pill to constantly swallow, one longs for a saccharin-sweet lemon-drop shot to chase it down with.
Thankfully, there's Cruel Intentions: The '90s Musical Experience, playing now through its unfortunately final extension April 8th, featuring the larger-than-life personality and charisma of multi-talented actor, producer and star of small screen and social media – Frankie J Grande – as Blaine, the queer, puckish mischief-maker. From the opening chords of The Verve's "Bitter Sweet Symphony" followed by the full cast introduction via Placebo's "Every Me and Every You," we are transported to a more sugar-crusted era.
Cruel Intentions, the 1999 film, was (loosely) based on the 1782 French novel by Pierre Choderlos de Laclos: Les Liaisons Dangereuses – and the plays, ballets, operas and film adaptations which followed. The novel depicts the height of the decadence of the French aristocracy before their inevitable fall during the French Revolution, and the misadventures and manipulations of the ex-lovers and rivals Vicomte de Valmont and Marquise de Merteuil, represented entirely in letters exchanged between the various characters. What could be a more ideal modern setting than the exploits of the spoiled, trust-fund private school brats of the Upper East Side of Manhattan? The over-the-top pretension of these bored, rich adolescents makes the musical, nearly 20 years later, delightfully non-pretentious.
For who doesn't long for a time before Facebook, Instagram, Twitter or YouTube could dictate taste or had the power to create or destroy? This gem is a throwback to an era where even email, as Sebastian, the leading malevolently intentioned man, played with slick seduction and diabolical desire by Constantine Rousouli, croons – was for "geeks and pedophiles." The late '90s were the teenage years and incubation period for early Millennials, so you can blame the influence of films like Cruel Intentions, She's All That and the music of grown-up Mouseketeers such as Britney Spears, Cristina Aguilera and *NSYNC for the "Me Me Me" generation's posturing and behaviors.
While the French novel and its succeeding incarnations focused more on seduction and battles of wit, Cruel Intentions, like any good teen drama, is all about sex and status. For anyone who has been a teen, these are truly life-and-death concerns. Do you think that Romeo and Juliet would have died for each other if they were in their 30s? Highly unlikely!
The superb cast knows this truth and plays the high stakes with aplomb. The chemistry between forbidden-fruit step siblings, Kathryn (Lauren Zakrin) and Sebastian (Constantine Rousouli), absolutely sizzles. And though innocent Annette (Carrie St. Louis, played by Amanda Schehtman at this performance) who gets the guy in the end yet laments her conflicted position in No Doubt's "I'm Just A Girl," and Natalie Imbruglia's "Torn," appears to be the ultimate feminist, it's Kathryn's unwavering confidence in herself and her desires, powerfully proclaimed by Zakrin's astounding pipes in "I'm The Only One" by Melissa Etheridge, "Spiderwebs" by No Doubt and "Bitch" by Meredith Brooks that secures her spot as the modern feminist of this generation – flaws and all!
More depth and dimension is given to mere foil characters in the film – Greg – the hapless closeted jock played with spot-on sincerity by Brian Muller and Blaine, who, when helmed by Grande, take on the persona of the out-and-proud teen (a specific choice by Grande) which might be more accepted in today's high schools than two decades ago, but is never-the-less refreshing to see so brazenly and playfully portrayed on stage. This couple's twisted tango of love songs, such as "Sex and Candy," by Marcy Playground, "I Want It That Way," by Backstreet Boys and "Sometimes," by Britney Spears are some of the most hilarious yet tender and charming moments in this non-stop joyride of a show.
The affections and connection of the interracial pair, Cecile (Emma Hutton, played by Stephanie Brown at this performance) and Ronald (Matthew Griffin) who, if the story continued, would probably end up married and living in a brownstone in Park Slope, are portrayed with pre-hipster "adorkability" in a duet of "Breakfast at Tiffany's" by Deep Blue Something with dance moves more befitting Carlton Banks than the Fresh Prince of Bel Air himself. While the objection to their union by her racist and controlling mother who's outrageous languish in "Scrubs," by TLC (performed with such intensity by Jenn Harris that it caused her fellow actor to break character, a la SNL style, by bursting into laughter mid-scene), might seem outdated, sadly such bigotry still exists as was echoed in Jordan Peele's Get Out for a contemporary comparison.
Of course when the fickle lovers, Sebastian and Annette, finally unite, the iconic ballad, "Colorblind," by Counting Crows is sung in an angelic chorale by the entire cast as their silhouettes, obscured by a sheet and shadow, intertwine. The phenomenal band, spearheaded by music supervisor, arranger and orchestrator, Zach Spound, could be awarded the title of "Best Cover Band Ever," as they leap seamlessly across a decade worth of hits.
Fans of the film will appreciate that their favorite quotable one-liners are all present, thanks to the involvement of the original creator – Roger Kumble, with assistance of co-creators Jordan Ross and Lindsey Rosin, but the show is not bogged down by dialogue, clever as it may be. Like any good musical, it's the songs that tell the story and propel the action, and this flawlessly curated '90s mixtape is a breath of fresh CK One!
Running time: 1 hour and 45 minutes including intermission
For tickets and more information: www.cruelmusical.com