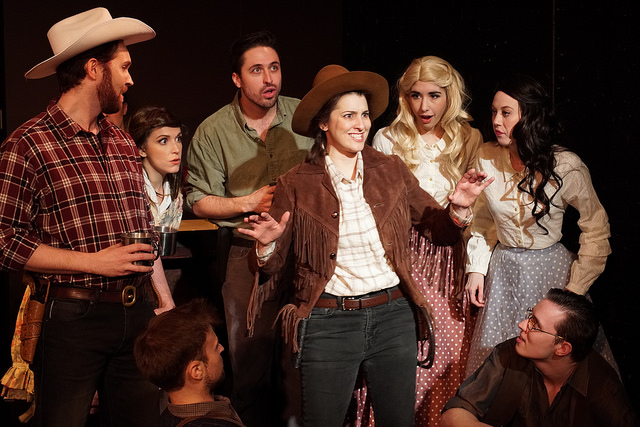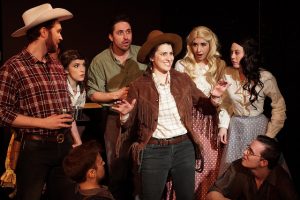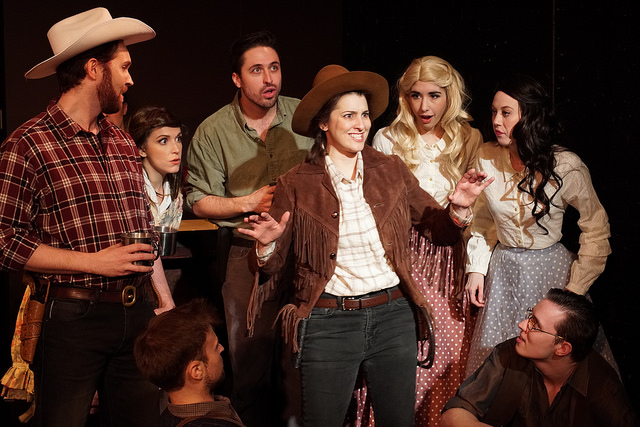 This will serve as both a review and a testimonial. Mel Miller, the artistic director of Musicals Tonight!, has announced that "Calamity Jane," his hundredth production, will be Musicals Tonight!'s last. For two decades he's produced vest-pocket versions of musicals ranging in original size from intimate to enormous, and ranging in fame from household-word to incredibly obscure. He's given us operetta ("Mlle. Modiste," "Naughty Marietta"), New York premieres of good West End shows ("Hoi Polloi," "Love from Judy"), Broadway flops that improved on his small stage ("My Favorite Year"), out-of-town casualties by major writers ("That's the Ticket"), and musicals we thought we'd never see again (the Gershwins' "For Goodness Sake," Mel Brooks's "Shinbone Alley," Rodgers and Hart's fascinating and bewildering "Chee-Chee"). Some worked better than others, and some would have benefited from recasting or more rehearsal. But every Musicals Tonight! offering, preceded by Miller's context-setting verbal introductions, reflected his undying love of musical theater and faith in its ability to charm, delight, and tickle the ear. Encores! does far more elaborate productions, of course, and Musicals in Mufti got to worthy titles Miller didn't (its recent "Subways Are for Sleeping" was a pip). But a New York without Musicals Tonight! is a diminished New York. It's like seeing your favorite neighborhood restaurant go under.
 Now, on to "Calamity." It's another Musicals Tonight! first: a stage adaptation of a popular '50s movie musical, previously produced elsewhere but hitherto unseen in these parts. The 1953 Warner Brothers western was one of the studio's few musicals at the time to measure up to the best of MGM, whose Freed Unit was busy turning out "Singin' in the Rain" and "The Band Wagon." Its chief assets: a superb score, certainly the finest Sammy Fain (music) and Paul Francis Webster (lyrics) ever wrote, forwarding plot and establishing character as well as the best of Broadway; and a never-better Doris Day in the title role, breaking out of the dull nice-girl parts Warners had been corseting her into, and showing Betty Hutton how "Annie Get Your Gun," this movie's obvious template, should have been played. Opposite a manly, rich-voiced Howard Keel, on loan from MGM, Day sputters and fumes as the real-life Martha Jane Canary, and transitions captivatingly from tomboy to the feminine Day we know and love, persuasively playing out an utterly fictional romance with Keel's Wild Bill Hickock.
James O'Hanlon's screenplay was no masterpiece to begin with, and librettists Ronald Hanmer and Phil Park did it no favors in their stage adaptation. Once again, Calamity (Kristin Wetherington) ventures from Deadwood City to Chicago ("Chicoggy," in contrived local parlance) to secure the services of stage siren Adelaide Adams (Emily Larger) for her saloon-owner friend Henry Miller (Brandon Grimes); instead, she mistakenly gets Adelaide's stagestruck maid, Katie (Rosalie Burke), who masquerades as her boss and falls instantly in love with Lieutenant Danny Gilmartin (Jimmy Nicholas), whom Calamity had set her sights on, not realizing that she and Wild Bill (Peter Gosik) were meant for each other. Not much of a plot, is it? Fortunately, another Fain-Webster evergreen is never far away. The movie score has been bolstered with more songs from the team, some of them from lesser and frequently out-of-left-field Warners titles, some written expressly for this stage adaptation. There's also a lot of dancing, most of it about absolutely nothing; luckily, this company really can dance, especially Christian Brown, who co-choreographed with director Devin Vogel, and even when the steps are irrelevant, they're fun to watch.
Kristin Wetherington works hard, very hard, and does honorably by the Oscar-winning "Secret Love." But her Calamity hasn't a lot of range—it's shout, bluster, shout, bluster—and she doesn't approach Day's sparkle or star quality (but who does?). Gosik has a deep, virile baritone, and I could listen to him sing Fain and Webster's beautiful "Higher Than a Hawk" all night, but he can't make Hickock's last-minute love confession plausible (but who could?). Burke is a pretty, spirited Katie, Nicholas a handsome though light-voiced Gilmartin, and there are also worthy contributions from Jordan Bell, Alexis Kinney, and a crowded ensemble. Jennifer-Elizabeth Cooper bathes the small Lion stage and Hope Salvan's costumes-of-many-eras in attractive light, and if Nevada Lozano's three-piece ensemble isn't as luscious as the Warner Brothers orchestra, it brings out the best in Fain's lively western melodies.
I wish Musicals Tonight! had picked a less rickety vehicle to ring down on, but that said, they've largely done splendidly by it. Vogel's direction not only keeps the voluminous stage traffic efficiently routed, but he gives the Deadwood townsfolk individual personalities, and he makes us care about the several subsidiary romantic couplings making their unlikely way to the altar. If this "Calamity Jane" isn't Musicals Tonight!'s strongest two and a half hours, it leaves us nostalgic for the many good times the company has given us. It runs through March 25, and you are urged to see it. And thank you, Mel.
Running time:  2 hours and 20 minutes with one intermission.
Musicals Tonight! presents "Calamity Jane" through March 25, 2018 at the Lion Theatre located in Theatre Row (410 West 42nd Street, NYC).  For tickets and further information, please visit Telecharge.com or call (212) 239-6200.