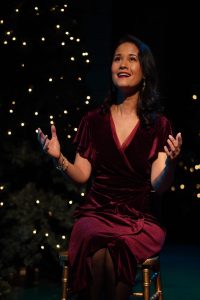 Performer Ali Ewoldt has spent the past month as one of the featured performers at Irish Repertory Theatre's production of A Child's Christmas in Wales, Charlotte Moore's musical adaptation of Dylan Thomas' prose memoir running through New Year's Eve.
The production marks Ewoldt's first performance with Irish Rep since she appeared as Rose in a late 2020 virtual production of Meet Me in St. Louis, filmed remotely with each performer getting direction over Zoom. Two years later, Ewoldt has reunited with several of the cast members of the musical to reinterpret Dylan Thomas' story in a new way, with director Moore and music director John Bell adjusting the show—now in its sixth year—for the talents of the cast. "They choose songs that really showcase us and highlight us," Ewoldt said. "That's been so fabulous—watching how the Dylan Thomas text is woven throughout all of these fabulous songs." The cast found ways to bring their own personalities to the production, adding handbells to some numbers for a distinctive sound than in years past.
Ewoldt describes Thomas' words as "magical," particularly in the way he evokes his memories in a way that is both specific and yet universal. "So each night I listen to [costars] Ashley Robinson or Kerry Conte say something and it reminds me of something from my childhood from my experience with family or food or singing carols or getting to tell stories by the fire and that reminds me of how much I loved the holidays as a child—and I hope we get to bring that to the audience as well."
By making each iteration of the holiday production unique, Ewoldt hopes more audiences will come to Irish Rep shows. "They do such incredible work," she said. "They really discovered that, though their mission is to celebrate Irish playwrights, that doesn't necessarily mean they have to be exclusively using actors of Irish descent. They can diversify their performers on stage. And I think that that's been a wonderful gift for all of us."
Diversity Onstage
Ewoldt is familiar with efforts to diversify casting, having made history in 2016 as the first Asian-American performer to play the role of Christine in the Broadway production of The Phantom of the Opera. "To get to be the first was such an honor—and also felt very much like a responsibility," she recalled. "I wanted to make sure that I wouldn't be the last."
Once she was onstage at the Majestic Theatre, Ewoldt was particularly moved by the response from the Asian American community at large—"people of all different backgrounds who were kind enough to write to me or message me or come to the stage door and tell me that now they believed that something they thought was maybe impossible was possible." She was familiar with that feeling, having seen Tony-winner Lea Salonga play Eponine in Les Miserables more than 20 years earlier. "As a half-Filipino myself, seeing a Filipino woman getting to play this part completely made me believe that it was possible to have a career in this business, to get to play a variety of different roles. And so then to get to turn it around and give that gift to other people was really, really meaningful."
While Ewoldt emphasized that it is "wonderful … when people see themselves represented on stage," she also acknowledged that the lack of diversity on Broadway is a problem that needs addressing. "Traditionally, everyone behind the table—casting directors, creatives, writers—have looked the same or have come from similar backgrounds, and that means that the storytelling then has to come from just one perspective." These efforts, she added, have to come from everyone involved in bringing a project to life, from casting to directing to producers of different backgrounds who will take a chance on what might bring in new audiences.
The recent challenges faced by the Broadway run of KPOP, she added, drive home the need for a wider range of voices in the industry: "We need diversity in our theater critics and people that are talking about shows," she said. "We've been so trapped in this one idea of what theater can be or what one idea of what voices that make theater sound like that perhaps our minds are not open enough to these amazing stories that are coming from people of different backgrounds."
Ewoldt highlighted the work by composer Jason Ma, particularly his musical Gold Mountain, which she starred in as part of the Utah Shakespeare Festival last year. Much like KPOP, the production had an all Asian American creative team. "It was so exciting and empowering to get to tell our stories from our perspective and to get to bring that into the world," she recalled. "And we found that those stories are incredibly universal in their specificity. There's nothing that keeps people out. Instead, we get to learn more about our American history, our world history, about different cultures—and connect to different people and create this wonderful sense of empathy and understanding."
Ultimately, Ewoldt said, "I think that the more that diversity exists in the storytelling, the better our world is, the better we behave as human beings."