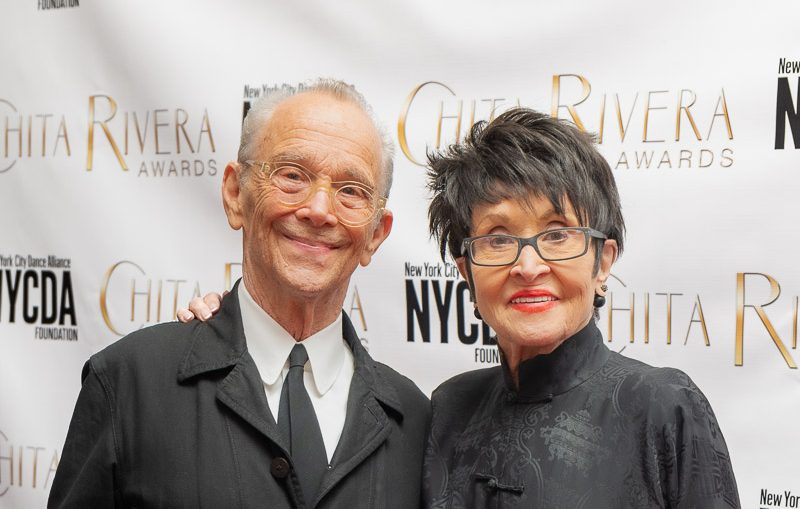 (For the Full List of 2022 CHITA RIVERA AWARD WINNERS and Red Carpet Photos, see below)
The stars with the highest kicks, swishiest hips, dynamite tap skills, and the slickest moves were out for the 2022 edition of the Chita Awards on Monday, June 20. It was the first "Chitas" since 2019 and honored outstanding dance performances and choreography on Broadway, Off-Broadway, and film for the 2020-2022 seasons. Selecting the creme de la dance is never an easy task, but this year the committee had to make their selections from several years and a very dance-heavy return season for Broadway. The Chita Awards aren't just about showcasing the top talent from a year (or, in this case, several) in dance but paying it forward to the next generation of dancers and choreographers. Proceeds from the event benefit the NYC Dance Alliance Foundation College Scholarship Program, offering life-changing opportunities to budding dancer stars.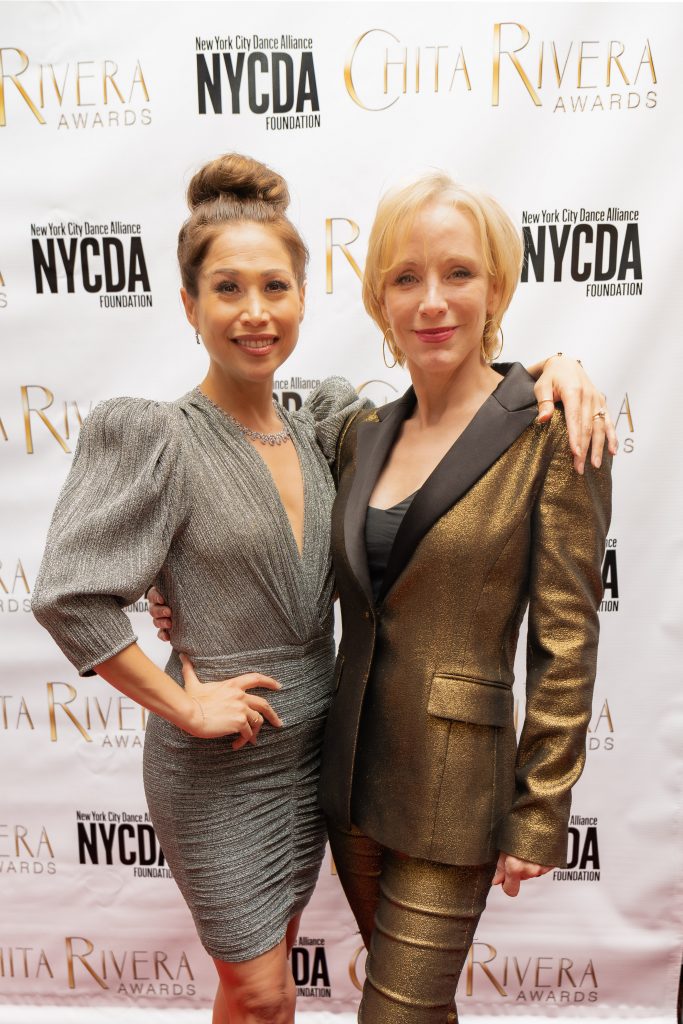 The red carpet was on fire with exuberant enthusiasm from the nominees, performers, presenters, and guests of honor, thrilled to gather together again and celebrate achievements in dance. I got a chance to chat with a few of them and get their insight on what excites them most about the Chita Awards and this dance season.
Hosts Charlotte d'Amboise and Bianca Marroquin could hardly contain their glee to be supporting their beloved muse and mentor, Chita Rivera and their fellow dancers. "We adore her work as fans, for our whole lives, so it's a privilege to be here and to support dance, our community and to host together is really fun," d'Amboise told me. It's lovely because we haven't been here since the pandemic. So it's really special to be back live and in person." Marroquin chimed in about her thoughts on the new wave of dance on and Off-Broadway. "Right now, it's full of great shows that incorporate everything, including dance throughout. And that's what I love. Many styles too. There's a lot of diversity in what's happening, and all of them have a modern touch too. So it's really interesting choreography these days. There are so many new choreographers, and that's what I love."
Presenters Dylis Croman and previous Chita Award-winner Ashley Fitzgerald are enthused about gearing up for the revival of Bob Fosse's Dancin'. "This season of dance is super eclectic," Fitzgerald observed, "It's got literally so many things across the board. I think it's breathing new life into this new world that we're living in." Another presenter, co-choreographer and co-artistic director of Complexions Contemporary Ballet, Desmond Richardson, is about to depart for an international tour including Israel and Europe. And D. Woods, from the cast of the Broadway revival of for colored girls who have considered suicide/ When The Rainbow Is Enuf, explained how Camille A. Brown's movement choices propelled the choreo poem. "She utilized all of our very different but uniquely amazing assets and capabilities to bring out the expressive freedom of the piece. And she got my body together for the summertime!" Woods added with a wink.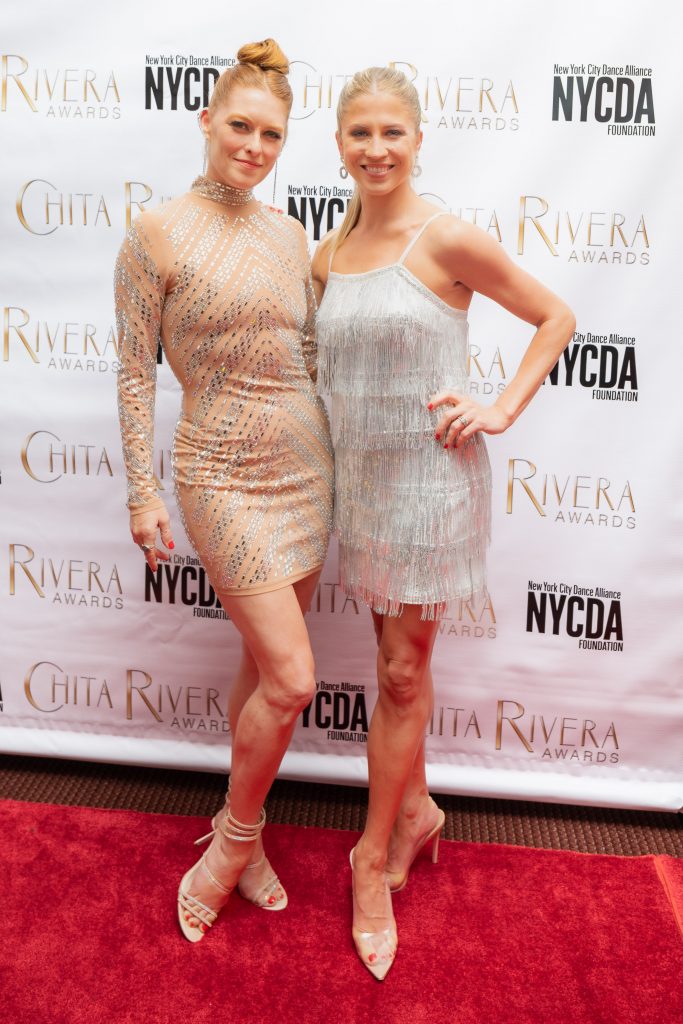 Funny lady and triple-threat Jackie Hoffman was there to celebrate Lifetime Achievement Award-winner Joel Grey, who directed her in the Yiddish Fiddler on the Roof. When asked what got her through the pandemic, she confessed, "Vaping and wine helped a lot. The theater community helped a lot. My husband getting sick but not dying helped." Jackie, who seems to make a memorable, scene-stealing appearance in every series filmed in NYC, was dressed in pink. The color choice is a subtle nod to her upcoming role in the Grease prequel on Paramount+ this fall that features, "Big musical numbers and it's gonna be fabulous, gorgeous! I'm dancing for a hot minute too."
Filmmakers who showcase dance were represented too. Director John Carluccio and writer/producer Tracy Hopkins were delighted that their documentary about Maurice Hines, Maurice Hines: Bring Them Back, is getting seen and recognized. They filmed the famous tap dancer and Broadway legend at the Chitas in 2018 when he was a presenter, so to have the film nominated (spoiler, it won in a tie with First Try, directed by Josh Prince) felt full circle. Directors Tom Hurwitz and Rosalynde LeBlanc were equally smitten with their muse for Can You Bring It: Bill T. Jones and D-Man in the Waters. Bill T. Jones is receiving high recognition in the Broadway dance world for his choreography in Paradise Square alongside Garrett Coleman and Jason Oremus (who accepted the Chita Award for Outstanding Choreography in a Broadway Show). But Hurwitz says their film "Is about the importance of art in the face of catastrophe in the face of crisis." and calls Jones "A prophet." 
I caught a whisper from Joel Grey to Chita Rivera as they posed under a flurry of flashes, "Did you see 'MJ' yet?" he asked as she shook her head then proclaimed, "It's brilliant!" The humble star of that show, Myles Frost, who steps into the shoes of one of the greatest and most iconic dancers of all time, Michael Jackson, is still buzzing from the show's (and his) success. "I had some champagne with my mom and sister," he amidst with a megawatt grin. The recent Tony-Award winner shares an intriguing commonality with Joel Grey and some of the other dancers I spoke to that night — he's not professionally trained. His savant skills were seen by MJ's creative team online, arguably the most significant and accessible audition room today. "It makes me feel golden. Golden is a feeling."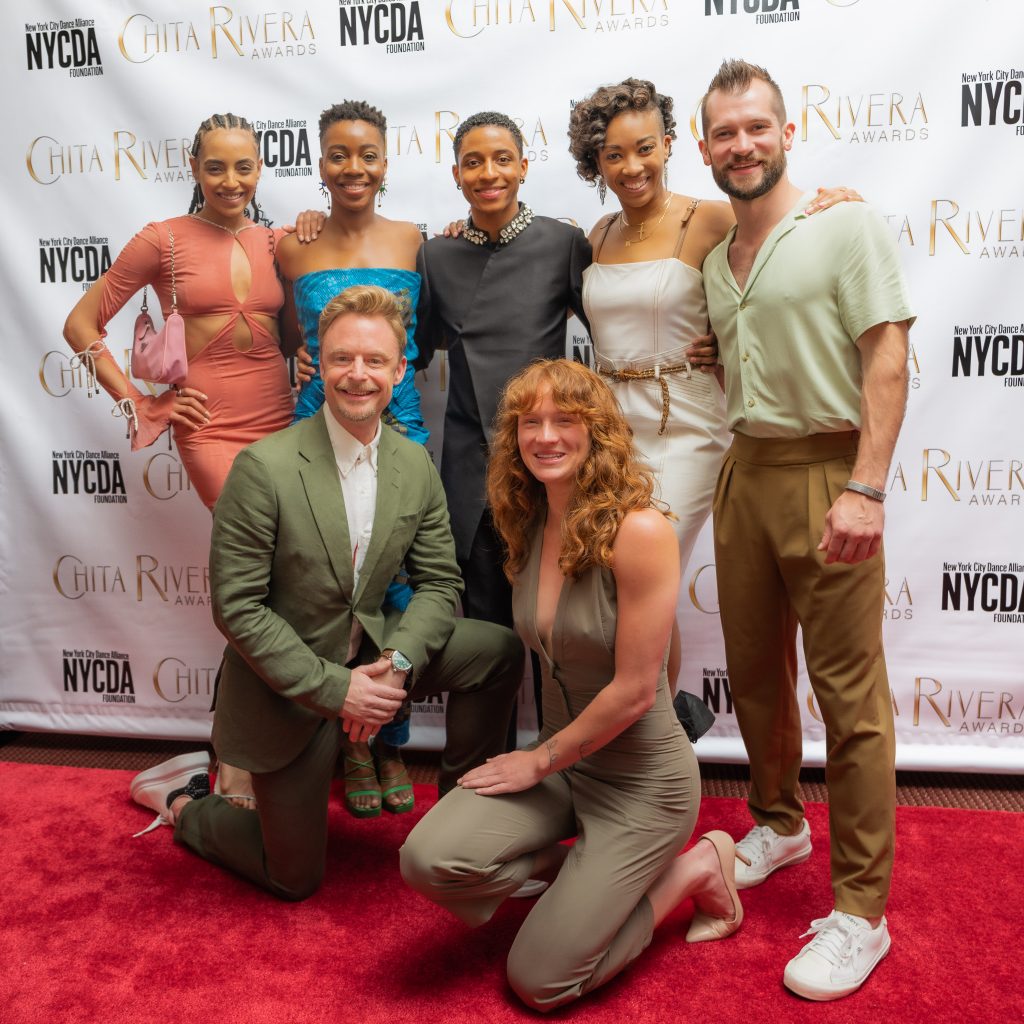 The world-renowned choreographer Christopher Wheeldon has some interesting things to say about his journey with MJ. When the offer for MJ came to him, he recalled thinking, "Are you sure you have the right guy? I'm a white, British ballet choreographer who's had some experience in the world, fine, granted. But, you know, I think it was essential to have a vision." I then asked about his current approach during a time when people are more aware and sensitive to the intensity of the methods used by famed choreographers such as Jerome Robbins (who Chita worked with and defends for doing what was necessary to get the best out of his dancers). Wheeldon responded, "I don't think you'll ever find anyone who's worked with me that doesn't feel pushed. But I think what's important about this moment in time, in particular, is the agency. We, as creators, are asked to be a little more aware of how we schedule the time and how late we rehearse into the night. I know my show is incredibly demanding on a nightly basis, and we have to take care of these great artists delivering these performances every night." When asked what his biggest challenge was for MJ, the choreographer replied, "Michael's movement language doesn't live in my body naturally, and I usually dance all my work. So, it was much about shaping and seeing Michael's language through my lens. And I've never done that before. I am very physical in the room usually. So it was just coming at it from a different perspective. Really interesting. But those limits were a challenge."
The ceremony began with a rousing performance by STOMP, the NYC-born international sensation with explosive energy and entrancing rhythms. I asked Stompers Desmond Howard and Alan Asuncion the secret to STOMP's recipe for keeping it fresh three decades after the show's debut. They credited Luke Cresswell and Steve McNicholas' innovative approach that allows for individuality and improvisation, ensuring that no two performances are the same and the "X factor" that each performer brings to the stage is given a spotlight. "We throw each other curve balls all the time, so it's not only fresh for the audiences but also for the performers," Howard notes, adding that it's not about dance or drumming training that makes a good Stomper, but adaptability and personality.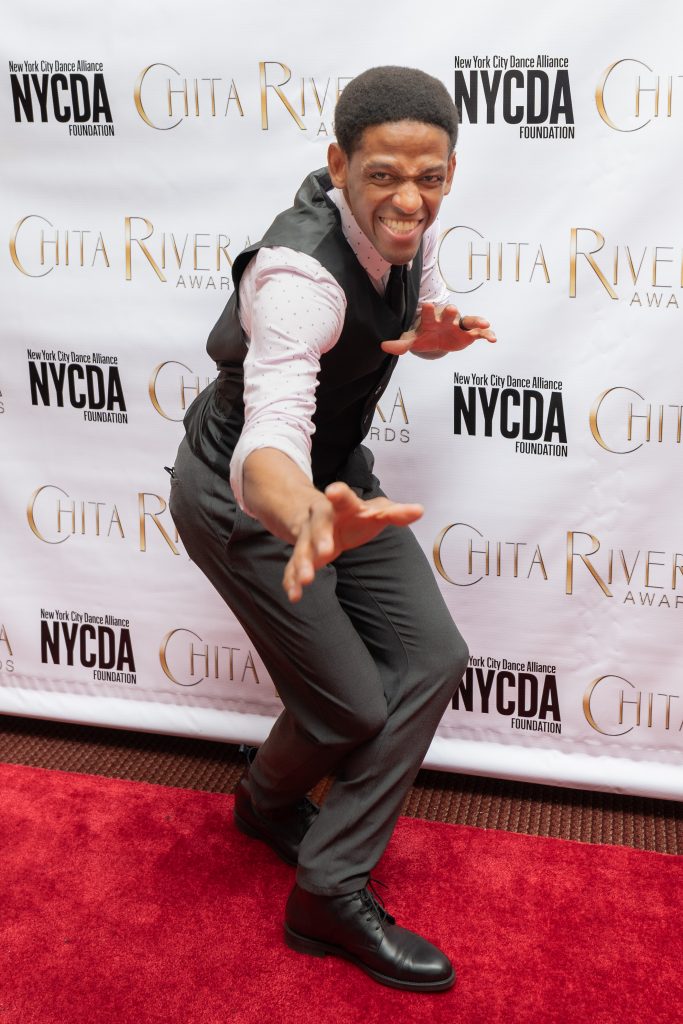 American Dance Machine presented an energetic rendition of "Moses Supposes" from Singing in the Rain, combining clips from the massive archives they are building and a live performance by Caleb Teicher and John Manzari that featured Gene Kelly's iconic choreography. Tap skills reigned supreme that night. Outstanding Male Dancer in a Broadway Show nominee, Jared Grimes (and the winner — tied with MJ's Myles Frost) performed a piece from his Broadway show, Funny Girl, that started in silhouette and showed off his formidable talent, inexhaustible energy, and undeniable charisma. When Grimes won the award (shared with Frost), he noted that "No one in NYC would put me onstage," so he took to dancing in the subways, parks, and street corners. "My mission was to get the busy people of New York to give me the time of day, be it even one person." He shared his excitement for the opportunity a Broadway show has provided him and eluded that there's plenty more to see from him.
Awards for Outstanding Choreography of a Theatrical Release went to tick… tick… Boom! featuring cameo appearances from Chita Rivera, Joel Grey, and other Broadway legends. Outstanding Direction of a Documentary Release was a tie (one of two) with John Carluccio for Maurice Hines: Bring Them Back and Josh Prince taking home an award for First Try, the first of two. Prince's second was for Outstanding Choreography in an Off-Broadway Show for Trevor, soon to be viewable on Disney+). The Wrong Man, a show that seeks to shed light on injustices in the prison system, with choreography by Travis Wall, was recognized for their Outstanding Ensemble in an Off-Broadway Show.
Annie-B Parson was given a special Critic's Choice Award for her innovative approach to movement throughout David Byrne's American Utopia, where the entire company, including the musicians, became dancers. She credited Byrne for the inspiration and demonstrated a sense of wonder and curiosity reflected in her choreography. 
The SDC Director Award was presented to Jack O'Brien, the choreographer's director, by fellow Michigonian Marcia Milgrom Dodge. A real "Gentleman Jack," the director oozed charisma, humor, and kindness as he credited his eleven choreographer collaborators, including another Michigan boy, Jerry Mitchell, who has worked with him numerous times. As a non-dancer and larger man, O'Brien would shock his choreographers with his sharp observation skills and perfect execution of the show's dance moves. Known for building morale when spirits are low, Jack once wore a pink unicorn costume to lighten the mood while delivering one of his famous curtain speeches.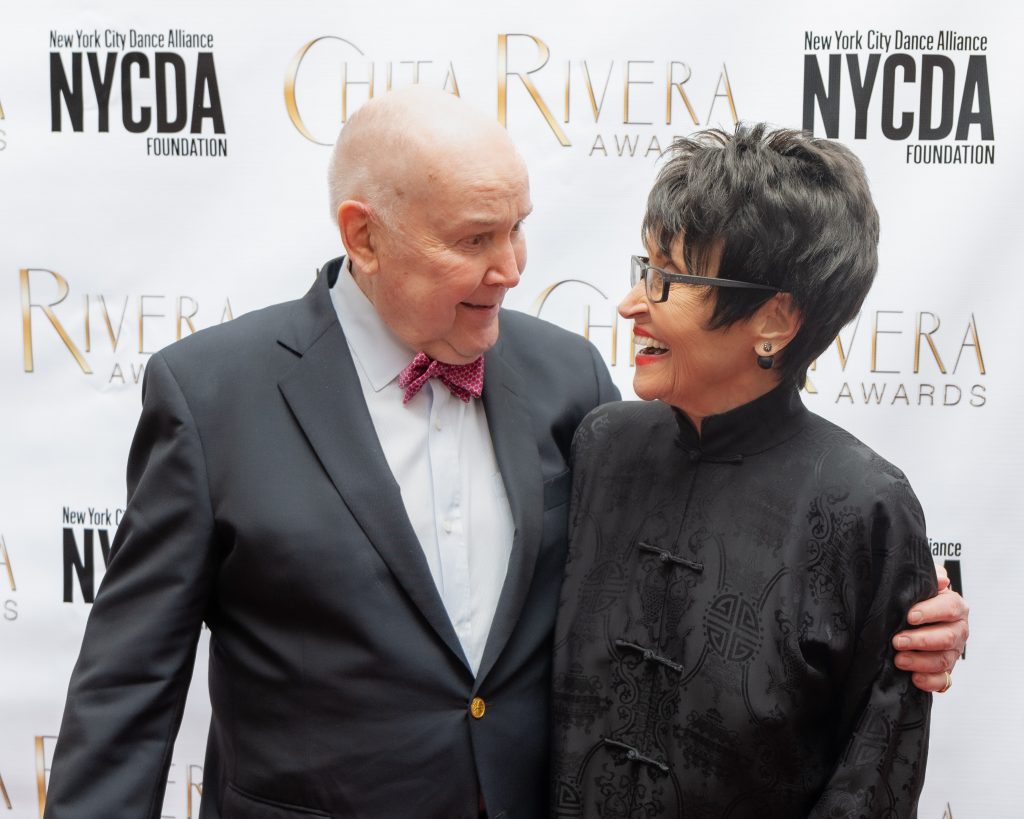 The hosts, Charlotte d'Amboise and Bianca Marroquin, gave them the ol' razzle-dazzle 'em throughout the evening. Both have starred as Roxie Hart in Chicago on Broadway, and Marroquin has played Velma Kelly (the role originated by Chita Rivera in 1975) and portrayed a young Chita on FX's TV series FOSSE. (According to Marroquin, when offered the role, she asked her muse and hero Chita for permission). They made a charming duo and delighted all in attendance with a lively performance of "Nowadays/Hot Honey Rag," the Velma and Roxy duet and a vibrant dance number.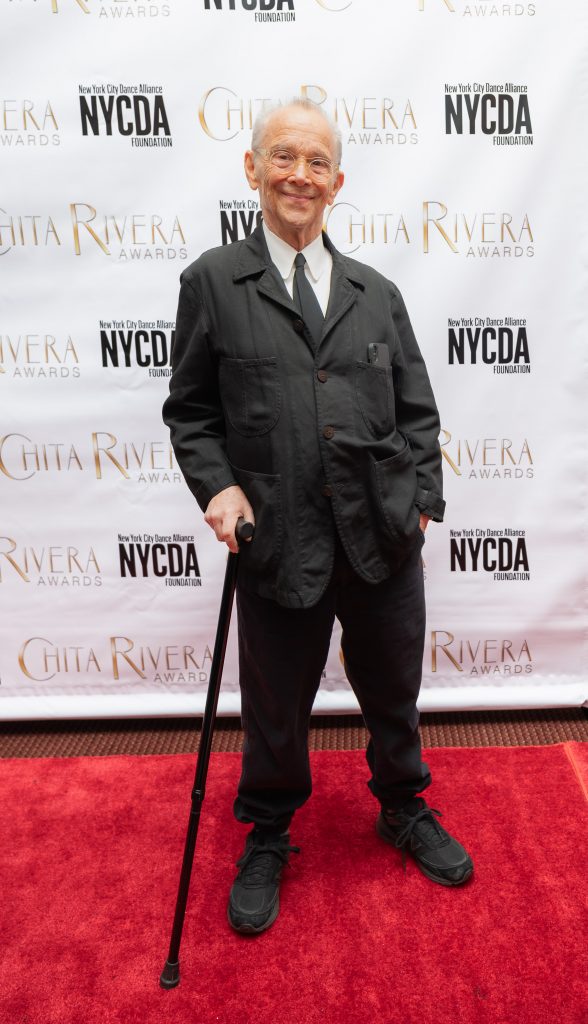 The two hosts weren't the only Chicago alumni to perform a piece from the iconic show. Bebe Newirth (who earned a Tony Award for playing Velma in the 1996 revival and later returned to give Roxie a go) offered an intriguing interpretation of "Mister Cellophane" to honor and introduce the Lifetime Achievement Award winner, Joel Grey. Grey originated the role of the husband who feels "invisible" on Broadway. While the character may feel unseen, Grey's brilliant career is anything but! He began performing professionally in the early 1950s, and the nonagenarian shows no signs of stopping. The cast of his acclaimed and awarded Yiddish adaptation of Fiddler on the Roof was present to celebrate and perform "Itst Hob Ikh Di Gantse Velt (Now I Have Everything)" with Stephanie Lynn Mason as Hodl and Drew Seigla as Perchik. When Chita presented her old pal Joel Grey with his Lifetime Achievement Award, their history as friends onstage and off was palpable. 
Outstanding Ensemble and Outstanding Female Dancer in a Broadway Show went to the cast of for colored girls… and the show's standout amid queens, Tendayi Kuumba. Shaking and holding back tears, Kuumba confessed, "I've never been nominated for anything. I never expected to win." She quickly composed herself, then thanked her mother for taking her to "all those dance classes," her partner, her castmates in American Utopia and for colored girls…, Camille A. Brown for "lifting the names of important women," and "beautiful Black bodies onstage and dance that represents downtown, Brooklyn, and the African dance world." 
The ensemble award was presented by the ever-charming dashing dancing man, Ben Vereen, a previous host of the Chitas with fellow Fosse alumni, Ann Reinking, who the community lost at age 71 in 2020. The Outstanding Ensemble award was accepted by Amara Granderson, wearing her character's signature orange color. She proclaimed, "We are here because of sisterhood and Camille A. Brown, the fiercest Saggitarius in the business. For 75 performances, we shared the author's words and affected people. We have been changed, and we hope you have too."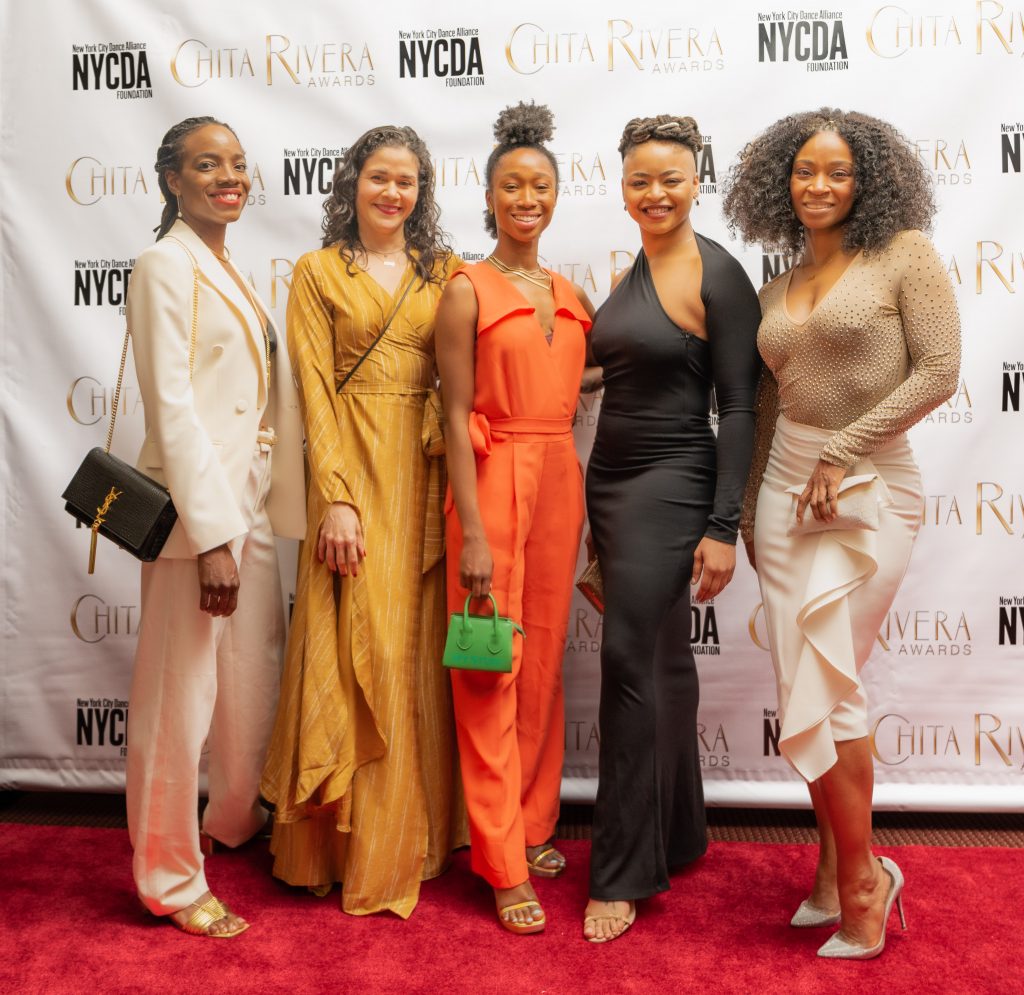 After such a celebratory evening, the final performance was gleeful and dazzling. Two-time 2022 Chita Award-winner (for the Off-Broadway show, Trevor, and the documentary film First Try), Josh Prince choreographed a playful piece performed by a talented team of young artists from Dance Lab. Set to the Overture from Gypsy by Jules Styne, the dancers' bodies (and baton props) paid tribute to Broadway conductors, the unsung heroes of the pit who acts as a sort of "orchestra choreographer." The spirited performance gave subtle nods to the styles of Christopher Wheeldon and Jerome Robbins, with expressive leaps, twirls, and flying limbs. Music and movement go side by side, and this number accurately animated the delicate dance executed by the conductor's hands.
2022 CHITA RIVERA AWARD WINNERS (Full List and Red Carpet Photos)
OUTSTANDING CHOREOGRAPHY IN A BROADWAY SHOW
WINNER: **Bill T. Jones, Garrett Coleman, Jason Oremus, Paradise Square    
Camille A. Brown, for colored girls who have considered suicide/ when the rainbow is enuf
Warren Carlyle, The Music Man                        
Annie-B Parson, American Utopia                                             
Sonya Tayeh, Moulin Rouge                                         
Christopher Wheeldon, MJ, The Musical            
OUTSTANDING MALE DANCER IN A BROADWAY SHOW (tie)
WINNER: **Myles Frost, MJ the Musical
WINNER: **Jared Grimes, Funny Girl                                         
Hugh Jackman, The Music Man                                                                        
AJ Shively, Paradise Square
Tony Yazbeck, Flying Over Sunset
Sidney DuPont, Paradise Square
 OUTSTANDING FEMALE DANCER IN A BROADWAY SHOW
WINNER: **Tendayi Kuumba, for colored girls who have considered suicide/ When The Rainbow Is Enuf
Sutton Foster, The Music Man
Robyn Hurder, Moulin Rouge
Heather Lang, Jagged Little Pill             
Adrienne Warren, Tina: The Tina Turner Musical                                                                         
OUTSTANDING ENSEMBLE IN A BROADWAY SHOW
WINNER: **for colored girls who have considered suicide/ when the rainbow is enuf
MJ, The Musical
Moulin Rouge
Paradise Square
The Music Man
American Utopia
OUTSTANDING CHOREOGRAPHY IN AN OFF-BROADWAY SHOW
**Josh Prince, Trevor 
OUTSTANDING ENSEMBLE IN AN OFF-BROADWAY SHOW
**The Wrong Man 
OUTSTANDING CHOREOGRAPHY FOR A THEATRICAL RELEASE
WINNER: **tick… tick… Boom!
Choreographer: Ryan Heffington; (Associate Choreographer: Ryan Spencer)
 Cinderella
Choreographer: Ashley Wallen; (Assistant Choreographer: Jenny Griffin)
 Everyone's Talking About Jamie
Choreographer: Kate Prince; (Assistant Choreographer: Tommy Franzen)
 In The Heights
Choreographer: Christopher Scott; (3 Associate and 3 Assistant Choreographers)
 West Side Story
Choreographer: Justin Peck; (Associate Choreographer: Craig Salstein)
(Original choreography by: Jerome Robbins; Original Broadway Production co-choreographed by Peter Gennaro)
OUTSTANDING DIRECTION OF A DOCUMENTARY RELEASE (tie)
WINNER: **First Try, Director: Josh Prince
WINNER: **Maurice Hines: Bring Them Back, Director: John Carluccio 
 Ballerina Boys – The Trocaderos
Directors: Chana Gazit and Martie Barylick
 Can You Bring It: Bill T. Jones and D-Man in the Waters
Directors: Tom Hurwitz and Rosalynde LeBlanc
 Dance Dreams: Hot Chocolate Nutcracker
Director: Oliver Bokelberg