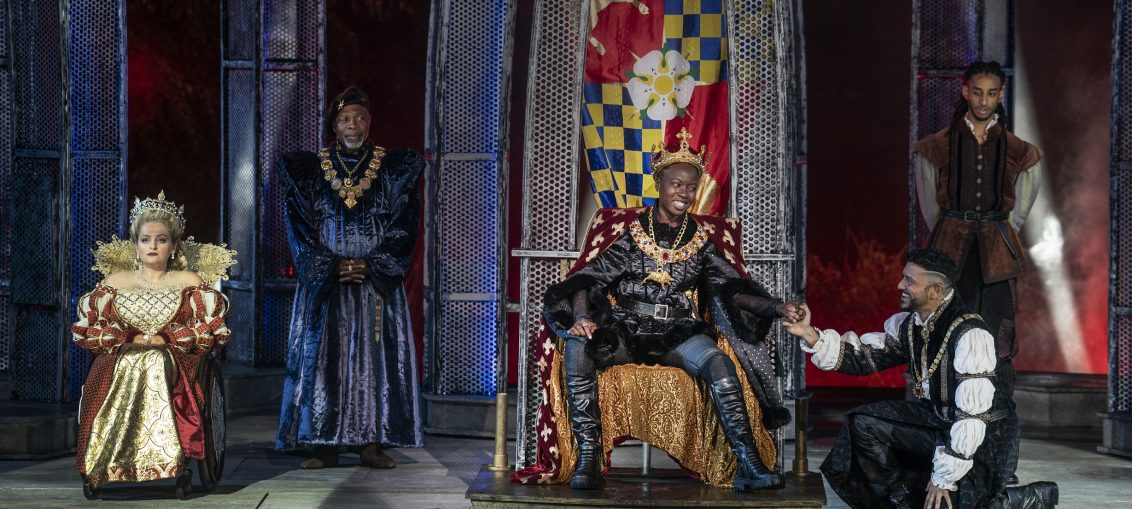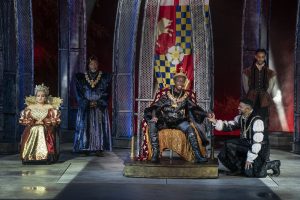 This summer, the Public Theater is celebrating the 60th season of Shakespeare in the Park, and it is one of the events that makes living in New York City a privilege. The first of the plays presented this year is the history play, "Richard III."
Cards on the table right up front, "Richard III" is my favorite Shakespeare play, and the Wars of the Roses is a period in history I studied at some length. In short, I am an enthusiast, and readers deserve to know from whence these remarks come.
Above all, this play is about power, its uses and mostly abuses. At the very beginning, Richard tells us "I am determined to prove a villain." In the course of the play, he proves it time and again, leaving a trail of bodies as he goes. If one wishes to draw parallels with more contemporary politicians, there are hundreds from which to choose. Richard is the archetype of a modern political plotter.
This particular production will offend the traditionalists who insist that Shakespeare is a museum piece fit only to be spoken by aging graduates of RADA. Laurence Olivier's 1955 film is their standard.
The Public has given us, instead, as diverse a cast as I have ever seen. Richard is played by Danai Gurira ("Walking Dead," "Black Panther," "Eclipsed"), a black woman who ranks among the finest actors, playwrights and artists of our generation. Anne is delivered wonderfully by Ali Stroker, who performs from her wheelchair, the roles of Lord Rivers and James Tyrell are played by Matthew August Jeffers who stands just over 4 feet tall and the Duchess of York is performed in American Sign Language by Monique Holt. And it all works. Rarely do casting directors get much attention, but Heidi Griffiths and Jordan Thaler merit special mention for their work here.
While the play is about Richard, his foils are many. Ariel Shafir as Hastings, Sanjit de Silva as Buckingham and Michael Potts as Stanley are remarkably good. I found Daniel J. Watts as Catesby and Ratcliffe to be better than many in those roles. I was impressed with the two young men who play the Prince of Wales (Wyatt Cirbus) and the Duke of York (Sam Duncan), who are only child actors in the sense that they are not legally adults. As actors, they are grown men.
Ms. Stroker and Ms. Gurira have a rather difficult scene to perform, when Richard successfully woos Anne having killed both her husband. That they wed is historically accurate, but Shakespeare's scene is just not that strong (not everything he wrote was good). Yet they manage to make it work as much as it needs to.
And that brings us to Ms. Gurira as Richard. The role is plain wonderful in that it allows an actor to delve into evil and cunning with constant asides to the audience that magnify Richard's lack of scruples. She shines in that exploration, making sure that the audience is in on the joke with smirks and sneers and minor gestures while others speak. Her energy, even when she is sitting quietly, is intense.
As usual with the Public Theater's productions of Shakespeare, the costumes (Dede Ayite), scenic design (Myung Hee Cho) and lighting (Alex Jainchill) are exceptionally well integrated into the production so that they encourage that all important verisimilitude and suspension of disbelief that make or break a production.
Director Robert O'Hara has given New York a gift of great value – a new take on a classic that works.
Running Time: 2 Hours 40 minutes, including a 20 minute intermission
Richard III is playing at the Delacorte Theater in Central Park through July 17, 2022. For more information and tickets, visit the Public Theater website.