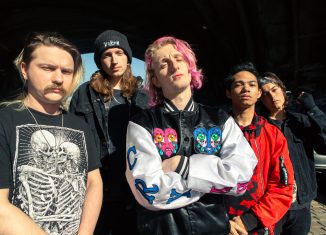 Back in L.A. for the first time in a while as my presence was requested at Blackrose L.A. I couldn't resist the opportunity at seeing a live musical event. Blackrose LA is a new venue and will soon rival The Viper Room as the preeminant music venue in Los Angeles
As the Pandemic eases up and quietude passes, more and more opportunities to write about live events are rearing their opportunistic heads. A random call in New York brought me here to check out this dramatic, eye-catching and dazzling event at Blackrose LA. headlined by LA mainstay, Loveghost.
The entertainment for the evening was forever changing. We had a DJ, two rap acts and a contortionist act that was so haunting my nightmares are now having nightmares in triplicate and our headliner Loveghost. Produced by Dan Bell & Sam Garfield owner of Blackrose brought so much to the table. You can check out what's coming up at Blackrose LA on IG @blackrose_la
Brynn Route opened the event with some seriously frightening contortionism. Looking like a zombie goddess of sorts Brynn came out twice and it was not unlike watching all the best moments from every horror movie from the last 22 years. I can only imagine she's shown up in some horror films in the past few years. Mesmerizing, one could not take their eyes off of her. Brynn had the room in awe. As if hypnotized by The Queen of the Damned herself. Check out her IG @brynnroute. Her make up and costumes were done by @MMCustomA
Big Boss Mulaa had a seriously cathy sound in all his tracks. The audience truly took to his energy as he toyed with the dancing crowd. Big Boss Mulaa is this great cross between rap and punk rock. As if Fall Out Boy and Lil Wayne had a kid and raised it with a more innovative sound. I see the future of music here. You can check Big Boss Mulaa out on IG @bigbossmulaa.
Bali Baby has a dare I say, a early Little Kim vibe. Her energy brought the house down several times during this production. She definitely doesnt "Give A F#$k" as her featured song repeatedly reminded us. A cathy tune that will legitimately leave you, "not giving a f#$k". I havent given one f$#k since hearing it. I can still give two sh#$s though.  I perused some of Bali Baby's Youtube and she hits with her lyrics and sound every opportunity. One "bad ass b#$&h" as she's referred to herself and others in her lyrics. You can go "give a f#$k" about Bali Baby her on IG @balionabeat.
The headliner for the evening was LoveGhost. When they first arrived on the stage I got a "Wild Stallions" feel from "Bill and Teds Excellent Adventure". This band is Nirvana meets Trap music meets 1980s hair band band feel. The music itself is nothing like that though. Their music is more like riding a cloud full of lightning not unlike a hurricane of sound. I was brought back to that moment Axl Rose gets on the bus in the video for "Welcome The Jungle", though we weren't getting the same power chords, their sound suggested we were witnessing the elvolution of something huge. Loveghost is reminiscent of so many 1980's bands. That retro feel gives Loveghost a perfect fit in the lexicon of Los Angeles music. Check them out on IG @loveghost_official
A fantastic night of dancing and music. I haven't had this much fun at an intimate concert since pre pandemic.