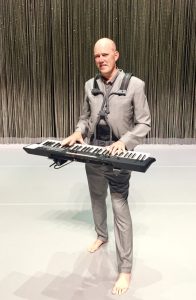 David Byrne's American Utopia has had an interesting, pandemic-interrupted run on Broadway, and it will be closing at the St. James Theatre April 3. This seemed an appropriate time to reflect on the way the show has developed and played. Karl Mansfield, the show's musical director, has been kind enough to talk to Stagebiz.com about the project.
Stagebiz: How did you get involved in the development of American Utopia?
KM: I was conductor, keyboardist, and synthesizer programmer for David's Joan of Arc at the Public Theater, in 2017. When he needed someone to perform those same duties for his 2018 American Utopia tour, he gave me a shot at it. The tour show was already in development when I came onboard. But I joined early enough to help design the music and do a lot of the arranging. One of the early highlights for me was traveling in 2017 with David to Rock Lititz, in rural Pennsylvania, to test some of the music, chain, and lighting systems in their gigantic production warehouse, set amid the cornfields. Even then I had a sense that we were trying something new and potentially awesome.
Stagebiz: How has the project evolved from its initial conception to the show now performed on Broadway?
KM: Once we (David, choreographer Annie-B Parson, FOH mixer Pete Keppler) had road-tested the show for a few months, Annie-B began giving us more exacting and challenging choreography. Throughout the tour, she continued to refine and raise the bar. We learned several new songs while on the road, and continued experimenting with the set list. By the time we reached Boston for the pre-Broadway tryout, we had trimmed the set list considerably, partly to give David more time for stories. The initial conception was a touring rock concert with some movement. Broadway ended up being more of a narrative show, with a ton of movement.
Stagebiz: What challenges did this show present to you as the musical director?
KM: When I asked David what he was looking for in the musical arrangements, he said he'd like to come as close as possible to the sound of the American Utopia album. Besides featuring a ton of percussion, the album is also very sophisticated in terms of keyboards, synthesis, and overall electronic music palette. David also stated he would prefer to avoid using backing tracks and recorded music for the live show. So my challenge was how to approximate that sophisticated electronic soundscape, using a tiny keyboard strapped around my body, as I hustle around stage. The Talking Heads numbers were relatively easier to emulate, though they always have many layers of keyboards going on at once! It was a challenge to create layers and zones on the keyboard, so that I could sound like two (or maybe one and a half) keyboard players. Vocally, a lot of the Talking Heads material needs more singers than we have. So it was a challenge to come up with vocal arrangements that sounded sort of like Talking Heads, but that we could do with three to five singers, while running around out of breath. There are a few moments where everyone sings, and those were fun to arrange.
Stagebiz: Complete the following sentence – Working with David Byrne is ________? Why?
KM: Working with David Byrne on American Utopia is a constant physical, mental, and artistic workout. On the road, David sets the tone by leading strenuous bike rides every day, often ending moments before our sound checks and concerts. Some of us were late to sound check in Salt Lake after spending the day climbing peaks in the Wasatch mountains. The show itself is a two-hour workout. Mentally, we are challenged by David's example to deliver an excellent show every time. Artistically, David leads by example, showing us it's possible, and necessary, to stand one's creative ground. I think we have all become better, more committed artists by being around David.
Stagebiz: How did the cast come together? Was it open auditions or did you have an idea of whom you wanted?
KM: Mauro Refosco, my co-music-director, hired the drummers from his own contacts. David had given Mauro carte blanche in that respect. One of our drummers from tour unfortunately had to leave the show before the first Broadway run, and at that point Mauro held auditions for the replacement. David and Annie-B both had strong ideas of whom they wanted as dancers and singers. We did some auditions for the guitarist chair, but it became instantly obvious we wanted Angie Swan after hearing her audition. I'm pretty sure I was hired on the strength of my work on Joan of Arc; or maybe it was my cherubic good looks. Kidding.
Stagebiz: Are there any funny stories you can share about American Utopia?
KM: So many stories from tour: Bobby impersonating Bruno Mars to get us entrance to an exclusive restaurant in Buenos Aires (it worked); Hustling offstage after the final note of our outdoor show in Trieste, as a violent lightning storm broke overhead; riding bikes in Zagreb, Berlin, Vienna, Wellington, Glasgow, etc; the time a bee landed on my keyboard, I shouted "BEE!" in my conductor mic, and the band thought I wanted to modulate to the key of B; encountering someone's fart-cloud onstage, and trying to work out whose it might be….
Stagebiz: How is American Utopia different from the other stage productions you have done?
KM: It is different in almost every way. I feel that American Utopia allows me to use all of the skills I've picked up along the way in my career, in a way that no other show has ever done. I get to use my skills as keyboardist, arranger, bandleader, synth programmer, audio editor, sound designer, and singer. I'll leave dancer off the list.
Stagebiz: With the show ending April 3, what is next for you?
KM: I'm releasing a set of instrumental music that I wrote and produced during pandemic. I was lucky to employ a few of my bandmates on the recordings, plus other players from the New York and West Coast scenes. And I'll have more time to hang out with my wife and kids — if they're still interested.
American Utopia is playing now through April 3 at the St. James Theatre in New York City.
Running time: 1 hour 40 minutes without intermission.
For more information and tickets visit American Utopia.