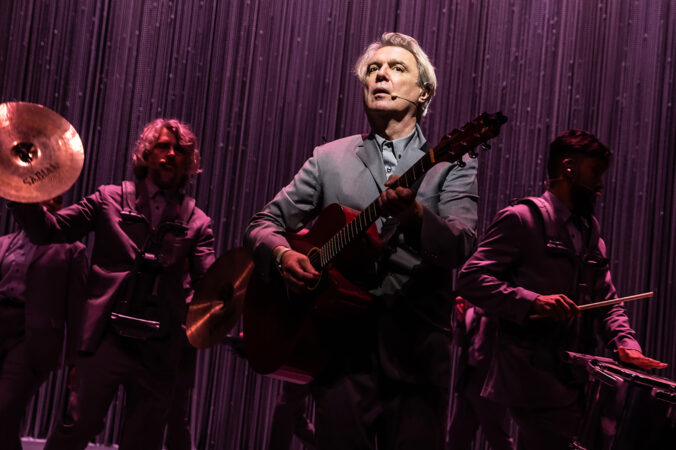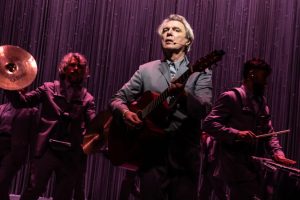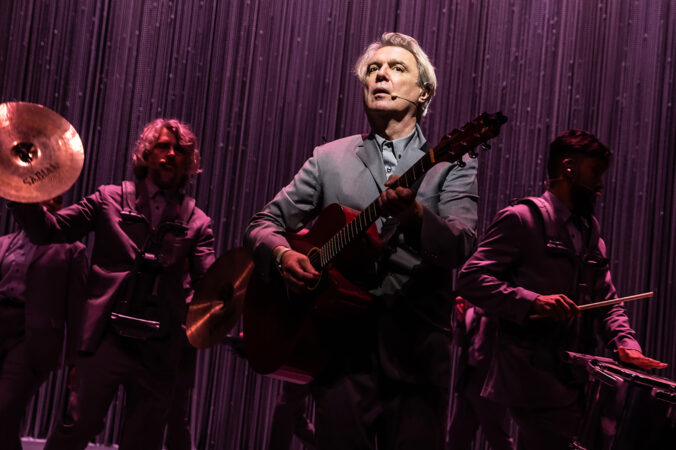 David Byrne is far from your typical rock star. The fast car, fast women, drug-addled stereotype just doesn't fit him. It should not be a surprise, therefore, that his show on Broadway is not a typical musical. America Utopia is more of a deconstruction of a rock show than anything else. From the grey set and grey suits the cast wear to Byrne's remarks between songs, this is a different entertainment and philosophical experience.
Rock 'n' roll has always had a theatrical side to it. From Elvis and his hips to Alice Cooper's snakes and guillotine to David Bowie's characters and elaborate stages, there has always been some overlap. American Utopia occupies a new place within that territory.
This is most certainly not a jukebox musical. There is no story per se, but rather Byrne speaks to the audience directly much as musicians do between songs at a concert. Byrne, naturally, is more cerebral than most, quite literally beginning the show talking and singing about the connected between neurons in the human brain.
The recent viral unpleasantness enters into things quite early and necessarily. "Thank you for leaving your homes," he said to start things off. "I used to say that in the old world and it had a different meaning. But many things have changed."
The songs from his album American Utopia do figure in this production, but they make up only a quarter of the numbers. Oldies are included such as "I Zimbra" from the Fear of Music album. In the chat leading up to that, he treats the audience to a brief recitation of Dada-ist poetry, cracks a joke, and then plays. Moreover, while most of the songs match closely with the recorded versions with which we are familiar, some of the harmonies are more detailed and subtle. The energy of live performance is definitely there as well.
Byrne does not shy away from politics both electoral and otherwise. He makes a pitch during the show for Headcount.org, a volunteer group that exists to get people registered to vote. He explains that 67% of the registered voters turned out for the 2020 presidential election but about 23% in the primaries the following year. "I think they're smiling under their masks – because that 23% just decided the future for you and your children."
Then, there is his cover of Janelle Monae's "Hell You Talmbout," lyrically based on the names of those non-white victims of trigger happy police: George Floyd, Brianna Taylor, Amadou Diallo, Eric Garner, Trayvon Martin, Atatiana Jefferson and Emmett Till. He introduces that by noting he sent Monae an email asking how she would feel if "white gentleman of a certain age performed it; she said she'd be delighted."
What distinguishes the production from the typical concert, however, is the choreography of the musicians on stage. Byrne, a man who seems to have a calculated awkwardness about himself, has them moving almost constantly throughout the show. It will never be confused with the kind of dancing Beyonce might do, but it is clean, effective and precise. The closest I can come to describing the style is marching band, but that does not do justice to its intricacies. Annie-B Parson scored with this choreography and musical staging.
Unlike other Broadway musicals, American Utopia is very much a vehicle for David Byrne. I cannot imagine another musician taking the "starring role" with any success. That is something of a shame, but at the same time, it would not be far removed from seeing a Talking Heads tribute band. A nice night out, but not the real thing either.
Given the current troubles in eastern Europe, "Life During Wartime" would have worked well as a finale. However, American Utopia ends with one of Byrne's biggest commercial and artistic successes "Road to Nowhere," which probably is a more enduring message.
American Utopia is playing now through April 3 at the St. James Theatre in New York City.
Running time: 1 hour 40 minutes without intermission.
For more information and tickets visit American Utopia.