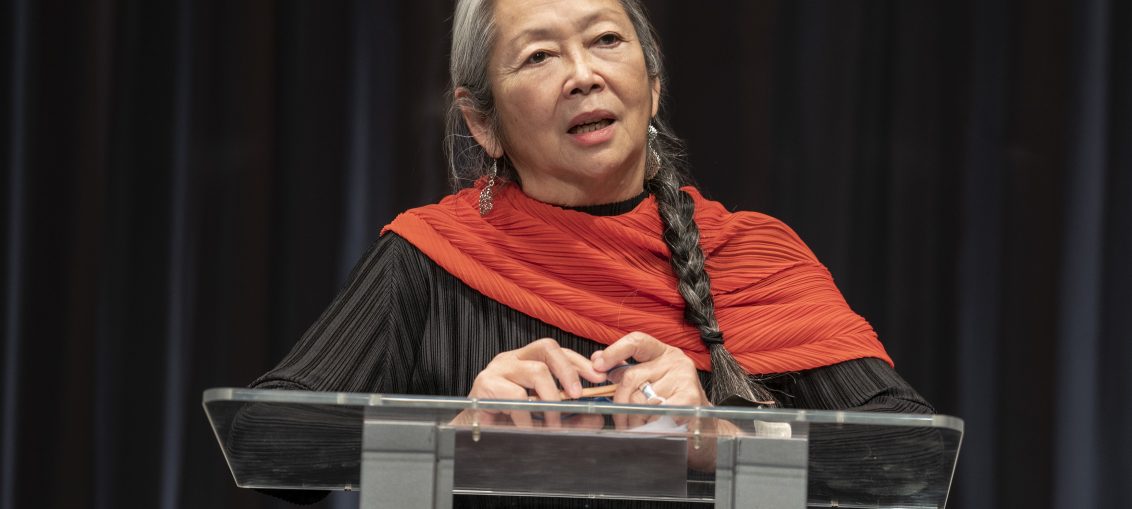 OUT OF TIME, a collection of five brand-new monologues by five award-winning Asian American playwrights could have been titled "Long Overdue." Now playing at the Public Theater through Sunday, March 13, OUT OF TIME was commissioned by NAATCO (National Asian American Theatre Company), conceived and directed by Obie Award-winning director Les Waters, and stars five Asian American actors over the age of 60. The pieces were written especially for them, and it shows. 
While over two hours of monologues can feel exhausting and more like an actor's showcase than a full production, when done well (Eve Ensler aka V's Vagina Monologues, anyone?), viewers are treated to multiple plays in one. In OUT OF TIME, attendees are introduced to five vibrant lives in small portions, which tends to be more palatable for today's short attention spans. The challenge is getting the audience to connect with the characters quickly to feel interested and invested in their stories. This was achieved brilliantly by the writers, actors, direction, set and staging working together so well that it was impossible not to feel personally connected with each person and performance.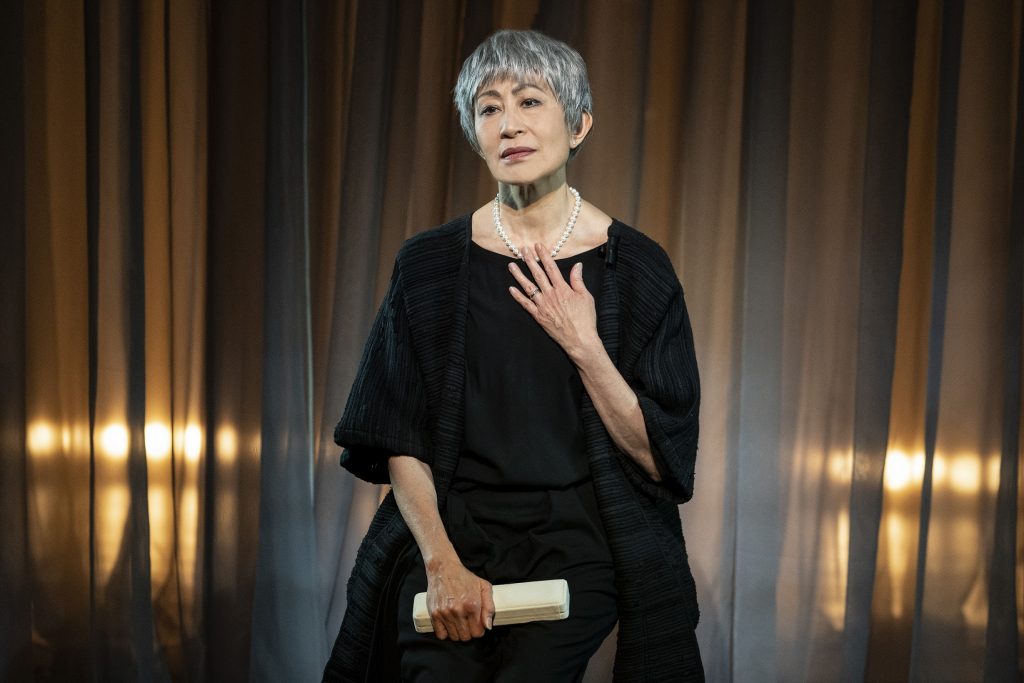 Each of the monologues had themes that emerged as the stories unfolded. An element of mystery permeated through the end of every piece and offered a sense of mystery that made one compelled to know more. The stories meander but come back to the main point with impact like a friend who says, "Have I got something to tell you!" but chooses to get to the meat of the story an antsy hour later after much buildup. The monologues from OUT OF TIME feel honest and natural. That speaks to the skill of the writers. Every piece is unique as the actors themselves, but they all feature that same sense of curiosity and discovery as the characters' lives and missions are unveiled.
Another thing that ties the monologues together is the quality of the writing and the charisma of the performers. Every piece is masterfully written, alternates between humor and intensity and is rich with the dimensionality of the human experience. Each actor is utterly charming in their own way, like someone you want to get to know better and are sad to see leave when the stage goes dark. 
The first piece, My Documentary by Anna Ouyang Moench, features Page Leong as a sophisticated, elegant and sharp-witted documentary filmmaker. Leong's interpretation of the filmmaker's wry, dry humor suits the description that she is often perceived as, "The chilly Asian woman with the acerbic British accent." Clearly used to being the smartest person in the room, she offers commentary on how her "posh" accent masks the fact that she's "just another immigrant looking for opportunities." She notes that Americans' fascination with documentaries is in order to feel "a little guilt," but not too much, explaining that "Documentaries exist to bring America back to reality." When her husband's sudden, unexpected passing inspires her to make a film that explores grief and her longtime producer turns down the idea, she makes it herself. "There's more than one way to grieve, and none of them are wrong," she reflects and offers an invitation to the viewer. "Maybe you're grieving too. Let's do this together."
In Mia Chung's Ball in the Air, actress Mia Katigbak uses flashbacks, a magic trick and the deceptive power of illusion to demonstrate the paralysis of fear and anger that comes from a traumatic or shocking moment where you are betrayed by someone you thought you knew well. It is worthy to note that Katigbak is also NAATCO Co-Founder and Actor-Manager. It's clear she's knows something about making magic look effortless.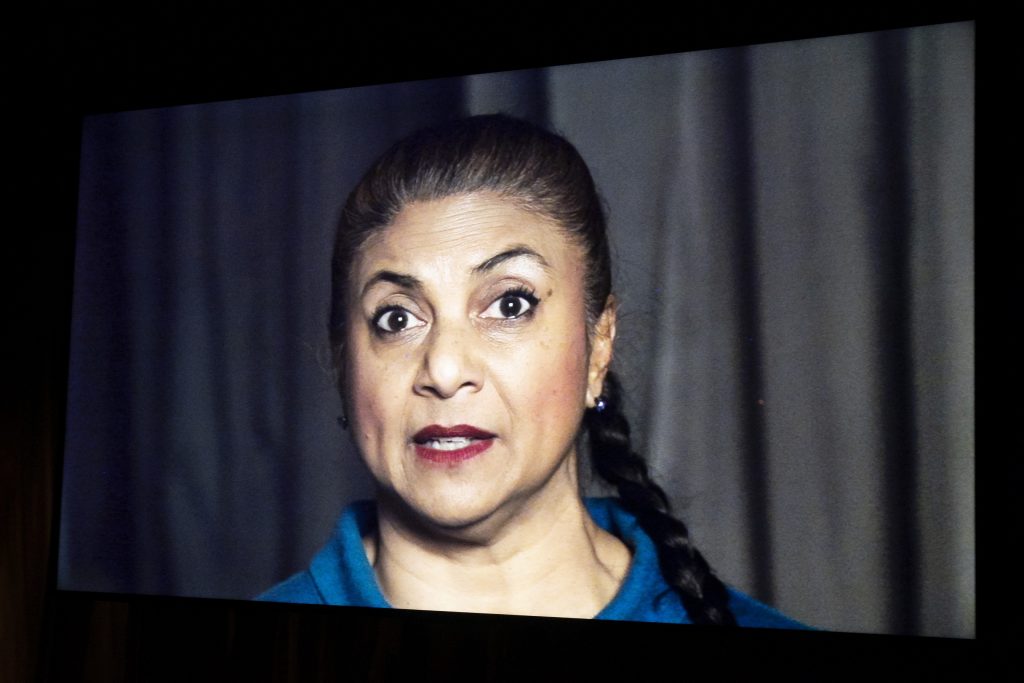 The third monologue, Black Market Caviar by Jaclyn Backhaus, offered a surprisingly refreshing twist to the other presentations of one actor on stage with a simple setup, good lighting and minimal props. Rita Wolf's Carla was recorded in real-time, barely visible through a semi-sheer curtain with her face projected on a screen facing the audience. In the days of zoom fatigue (which goes double for performances on zoom), I was surprised at how captivating and effective this choice was. The character is reporting from the future in a time capsule video. Wolf is a compelling actor with an animated face with dark eyes and an intensity that reaches your soul. Beyond those dynamics, she possesses an earthiness and relatability that is only unveiled toward the end. 
Glenn Kubota plays an older Japanese "salaryman" type called Taki in Naomi Iizuka's Japanese Folk Song, though he claims to be "An imitation Taki. Like pleather, but better!" Kubota is utterly charming, and it's impossible not to be smitten with Taki as he speaks to the viewer, his daughter, about memories, mishaps, and how he "almost died every decade" of his life. Yet despite his jovial good nature, there is a sort of sadness and longing that overcomes him when his stories turn to musings on ghosts. The memory of a Thelonious Monk tune with the undertones of an old Japanese folk song reminds him of the tale of Yuki Ono, the Snow Woman who disappears along with her child when her identity is revealed.
The final monologue is Disturbance Specialist by Sam Chanse, performed by Natsuko Ohama as Leonie, a famous author who was recently "canceled" due to an "injudicious tweet." She stands at a podium addressing a crowd at her alma mater despite the awareness that she recognizes, "This distinguished alumnus has become problematic." Ohama's Leonie is a force of nature that Chanse has provided with so many brilliant one-liners and quotes. My pen couldn't keep up with writing them all down, but there were several times that the words and her delivery were so potent I wanted to spontaneously yell, "Amen!" 
Leonie compares herself to a rodent that lives amid active volcanos as one of the only creatures that have found a way to thrive in unstable or downright dangerous environments. They're called "disturbance specialists." She uses the forum as a soapbox to unleash her feelings and opinions about "the dog-whistle of cancel culture" and her disdain and contempt for certain young people. "It feels like the tactic of a bully," she accuses, "This BIPOC woman who fought all of her life is now not welcome." She speaks of the iconic autobiographic book that shot her to fame and the book she wrote before it but never published. The unpublished book, she says forebodingly, comes from "the mind of a monster." We never discover more about the tweet that destroyed her career or this dangerous book, but I wanted to know more about Leonie, read all of her books and get inside the monstrous mind of this fascinating disturbance specialist.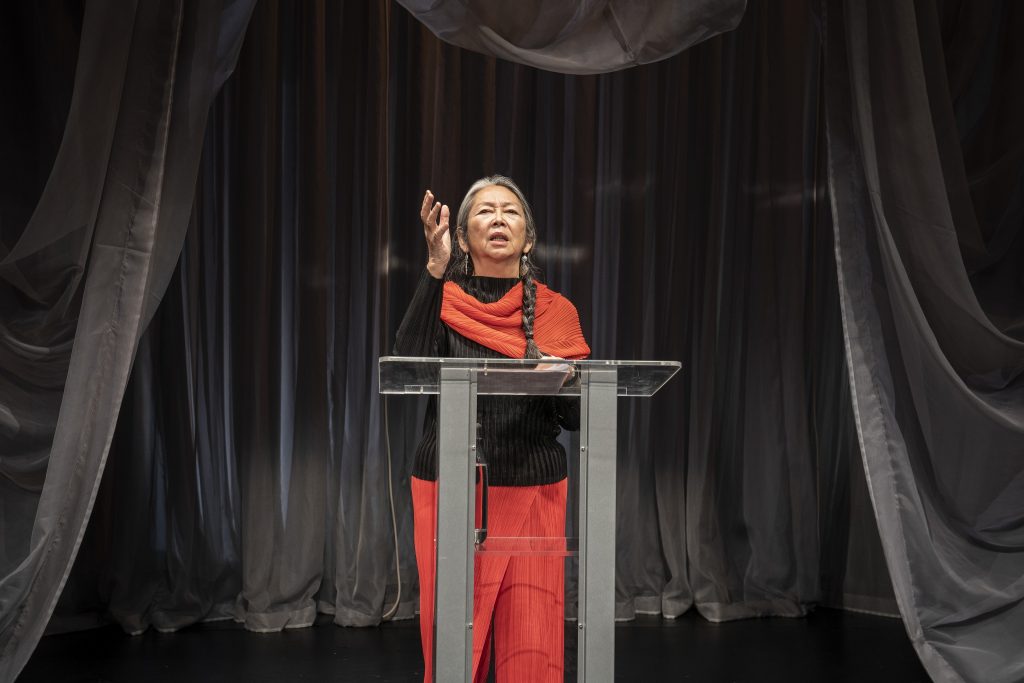 The selection of five pieces was very well-curated. Each monologue in OUT OF TIME has a specific flow, style, and impact. They stand alone yet fit together strikingly well. But, Sam Chanse's Disturbance Specialist was certainly the crescendo that brought down the house, especially with Natsuko Ohama at the helm. It was a wise choice to save for last.
OUT OF TIME is commissioned by NAATCO, an organization founded in 1989 committed to asserting the presence and significance of Asian American theatre in the United States to demonstrate the vital contributions of Asian-Americans to the fabric of American culture. NAATCO's value system, history of excellence, and ability to showcase the Asian American experience without resorting to stereotypes are what make the monologues both universal and distinctly Asian simultaneously. Page Leong's documentary filmmaker in Anna Ouyang Moench's My Documentary laments being seen as "a thrilling piece of exotic erotica" as a child of Chinese immigrants raised in the UK. In Jaclyn Backhaus's Black Market Caviar, Rita Wolf's character Carla speaks of the women in her Indian family's long history of cancer that lives within their DNA but was kept hidden and secret until it was too late. And Glenn Kubota's Taki from Japanese Folk Song tells stories of bombs dropping in Japan from a child's eyes that remind me of those I've heard from my 81-year-old Japanese father-in-law. 
The need for diversity in theatre regarding stories told, who is telling them, and how is a red-hot topic. But OUT OF TIME is much more than a showcase of diversity created to appease a trend. It is a remarkable group of stories that are timeless and timely because of the skill of the writers and the sincerity of the marvelous performers.
OUT OF TIME is a perfect example of the magic of theatre when a team of seasoned collaborators believes in themselves and the power of universal truths of humanity enough to keep it simple, get out of their own way and trust that the audience will join them for the ride. The craft on display was riveting in its subtleness and potency. In addition to being a compelling piece of theatre, OUT OF TIME could also serve as a masterclass in acting, writing and direction. 
OUT OF TIME begins performances in The Public's Martinson Hall on Tuesday, February 15 and will run through Sunday, March 13. Public Theater Partner, Supporter, and full-price single tickets can be accessed by visiting publictheater.org, calling 212.967.7555, or in person at the Taub Box Office at The Public Theater at 425 Lafayette Street. The performance schedule is Tuesday through Saturday at 7:00 p.m., and Saturday and Sunday at 1:00 p.m. The Audio Described performance will be at 1:00 p.m. on Saturday, March 12. The full performance calendar and complete ticket distribution details can be found at publictheater.org.