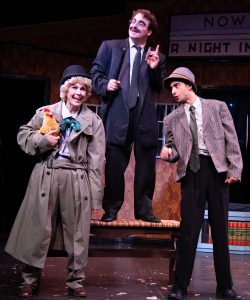 It was hard not thinking about what was happening in Ukraine (the "The" was dropped when independence was declared in 1991) when J2 Spotlight Theater's captivating revival of A Day in Hollywood/A Night in the Ukraine opened last weekend and finishing up its sold out run at Theatre Row on March 6.  However, it's important to remember that the infrequently seen 1980 Dick Vosburgh, Frank Lazarus and Jerry Herman musical doesn't have a Marx named Karl, but those named Groucho (David B. Friedman), Harpo (Suzanne Slade) and Chico (Mike Cefalo).  This love letter to 1930s Hollywood is about as far from the myopic disaster Carnegie Hall narrowly avoided as one could get.
Director Robert W. Schneider has the wealth of early American film and multi-talented singers/dancers to make movie magic.  The first act Day in Hollywood introduces the cast as ushers at Grauman's Chinese Theatre.  (Now called GCL Chinese Theatre, the Hollywood movie palace was given its name because of its architecture.  Current owner GCL is a Chinese television company.)  They are aspiring movie stars living, breathing and dancing the business.  Since the musical takes place in during the 1930s, they are tap dancers.  Lauren Luckacek dresses up and sings amazingly like Jeanette MacDonald articulating her feelings for frequent co-star "Nelson", a fantasy movie-magazine tell-all cut from the original Broadway production.  For "Famous Feet", a song combining the history of Grauman's famous hand-and-footprint collection with their daily programming, choreographer Diedre Goodwin has ushers open the center set doors revealing movie stars such as Mickey and Minnie, Dorothy and the Wicked Witch and Shirley Temple from the ankles up.  Then after Stephanie Israelson and Mark Cefalo's poignant duet of the original arrangement within the original context for Bob Hope's  theme song "Thanks for the Memories", an explanation of the original lyric's revision leads to a recitation of the Hays Hollywood Production Code marched out in taps.
Day in Hollywood is the short before the main reel, A Night in the Ukraine.  An adaptation of Anton Chekhov's The Bear starring the 3 Marx Brothers. The Russian playwright's familiar plot points – property, currency, firearms, relations between the pre-Revolutionary Russian upper-middle class and their servants – are liberally lampooned, allowing the brothers to cause their trademark trouble.   A Night in the Ukraine is also an affectionate send-up of the time-honored Hollywood practice of adapting "classic" or "classy" material  that exists to this day – Don't Look Up's dark comedy has its roots in Duck Soup and Idiot's Delight. 
Harpo wrote in his autobiography that as successful as their movies were, the chaos and mania they created in front of a live audience could never be replicated.  That's a big reason why the musical is so much fun.  References to the Brothers' work are cleverly referenced.  Groucho's solo, "Samovar the Lawyer" is the same melody of "Lydia the Tattooed Lady" from  At the Circus, something not lost on David B. Friedman and making it all the more uproarious. The trio do an interpretive dance to Verdi's Anvil Chorus, which they gleefully destroyed in A Night at the Opera. Chico gets the routine piano solos he performed in every film, as does Harpo on his harp, played here on the spokes of a tricycle wheel.  Thanks to A Day in Hollywood/A Night in the Ukraine, audiences now a century removed can have an idea of what first made them famous.
As their shows sell out quickly, visit J2 Spotlight Musical Theater Company's website to sign up for emails and ticket information.  
Ukraine is facing a deepening humanitarian crisis.  A list of charitable organizations offering assistance can be found here.