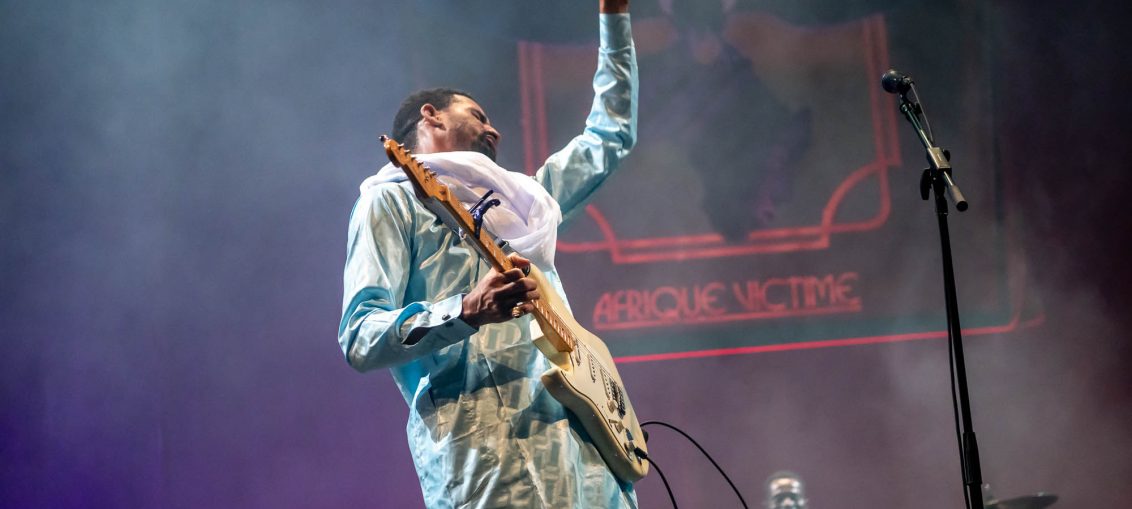 There are moments when music can break down all borders and boundaries to touch something deep within the soul. Those rare experiences make an individual recognize their place in their collective community and within humanity as a whole. This is not an intellectual process but requires the heart's opening. It is a possession of sorts that takes you over as if seized by some supernatural force. That was the feeling that permeated BAM's Howard Gilman Opera House when Mdou Moctar and Bartees Strange kicked off Music at BAM, a series programmed by Hanif Abdurraqib, Guest Curator-at-Large.
The vast space was jam-packed with an audience so varied in age, race, gender, and attire that they accurately reflected the rich diversity of New York City, especially Brooklyn.
UK-born, Oklahoma-bred producer and songwriter Bartees Strange began the three-act evening. Niger's guitar-shredding savant Mdou Moctar was the headliner, and Brooklyn's own Kaleta and Super Yamba Band provided a rousing Afrofunk set to re-open BAM Cafe for those craving a musical dessert after the appetizer and the main course had been devoured. 
Such an eclectic, electric, and utterly congruent lineup could only have been curated by music and cultural connoisseur Hanif Abdurraqib, arguably one of BAM's smartest investments to bring on board to triumphantly welcome its audiences back.
Abdurraqib is an author, essayist, poet, and cultural critic from Columbus, Ohio, whose passion for music is so palpable it can change one's perspective on almost a cellular level. From Carley Rae Jepson to Michael Jackson and Sun Ra to A Tribe Called Quest, Abdurraqib probes the depths of artists and their performances and peppers it with personal reflections to change the way one thinks and feels about the significance of music and its makers. It's a heart-opening experience to read his works. So it's no wonder that any acts he selects would be both top-notch performers and deeply affecting artists.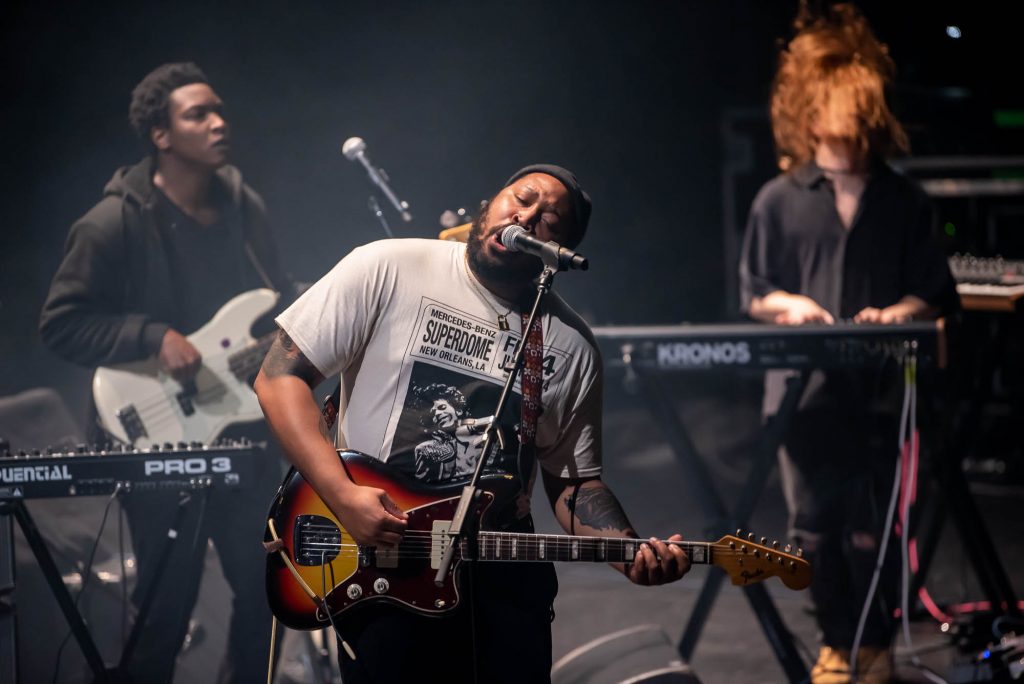 Bartees Strange and his band warmed up the eager audience with a multidimensional sound that speaks to his eclectic roots. Hard to pinpoint, the aptly named Strange's genre-bending music borrows bits and pieces from his various influences, including rural Oklahoma church choirs, an opera singer mother, country music, hardcore, and indie rock. He's an emerging artist that's undoubtedly one to watch, balancing soulfulness and emotional depth with a playful quirkiness and well-crafted songwriting skills.
After intermission, Mdou Moctar entered the stage and opened the listeners' hearts with beautiful, warm and enchantingly meditative songs. "Ya Habibi," Arabic for "Oh my love," is about the sultry summer night when he first encountered his wife. His opening set is poetic, ethereal and sumptuous, creating a soporific effect that urges you to sway in your seat with closed eyes.
Moctar remains seated while masterfully picking chords on an amplified acoustic guitar, flanked by his bassist (Brooklyn-based Mikey Coltun, also the band's road manager and recording engineer), rhythm guitarist (Ahmoudou Madassane, Moctar's collaborator since 2008) and the versatile young percussionist Souleymane Ibrahim on a djembe drum.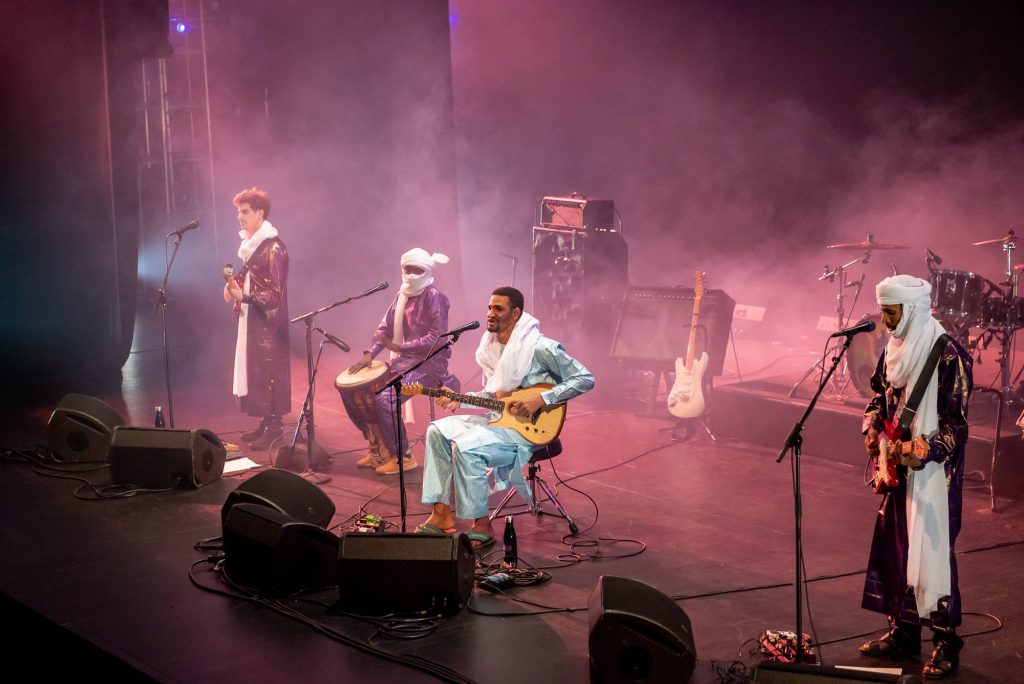 A song ends, the energy shifts suddenly, and Moctar rises to his feet while Ibrahim moves to the kit drumset. Moctar is an impressive, commanding presence when standing at his full height. His sky-skimming stature and extra-long fingers give him a slightly god-like or alien appearance which compliments his otherworldly guitar playing. He commands the audience to rise along with him, and the thousands of attendees in the at-capacity Opera House stood in unison. A banner with an ominous vulture grasping the weeping continent of Africa in its talons drops from the sky behind the band, announcing the songs from Afrique Victime, his album that graced multiple "Best of 2021" lists, are about to be played. This kind of music demands you to stand at full attention and shows their respect. Passive participation is not an option.
The gentle raga-like tunes from his first set transform into a frenzy of psychedelic sounds wailing from his Fender that are almost mystical and certainly spiritual. A spell is cast over the Howard Gilman Opera House as attendees enter into a trance-like state. Naturally, one can't help but swish their hips and heads to the intoxicating soundscapes. 
Mdou Moctar is a self-taught guitarist from Abalak, Niger, whose mentorship and inspiration came in the form of observing videos of Eddie Van Halen's relentless shredding. He blends that dynamic psych-rock with traditional Tuareg melodies and sings almost entirely in the Tamasheq language. His virtuosic fingering skills are acrobatic in nature yet strikingly precise. Fortunately, Moctar has found a team of collaborators that can keep up with him. 
The songs touch on topics as vast and varied as tender feelings for his wife and hometown to a pointed "j'accuse" aimed at the French colonizers whose empty promises have left Niger in extreme poverty and lack. The sincerity and fearlessness of his storytelling through song calls to mind another extraordinary talent from Western Africa, Youssou N'Dour (who has also played at BAM).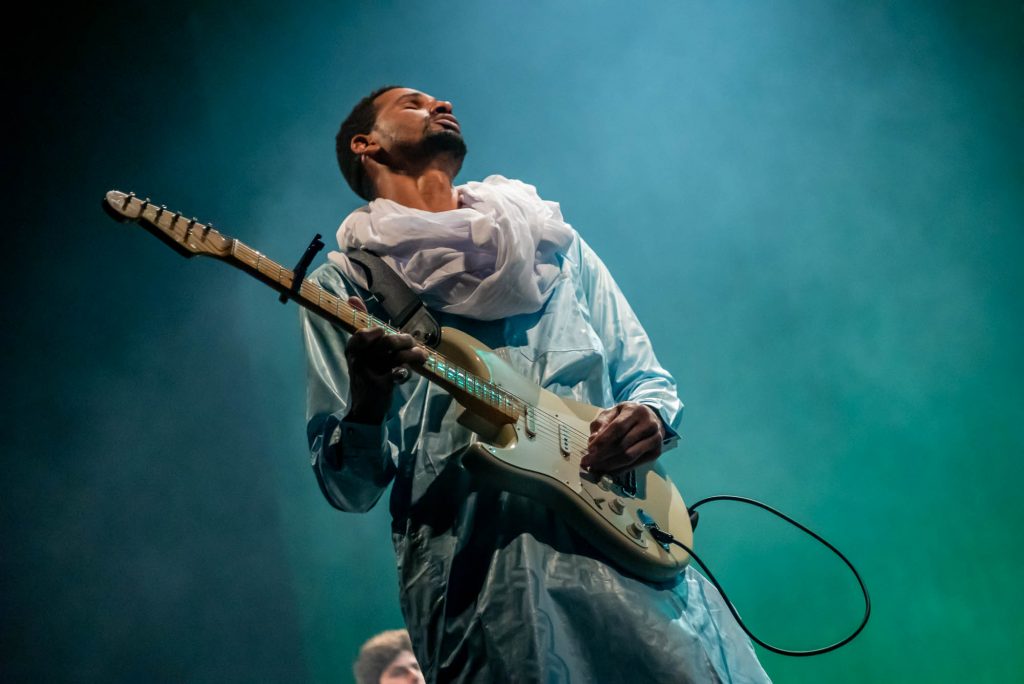 From listening to his iconic album, Afrique Victime, one can hear his genre-smashing talent, but to witness Moctar and his band live is a transcendent experience. For someone born well after the guitar legend Jimi Hendrix was dead and gone, I felt as if I was witnessing this generation's answer to that level of legendary status.
The power of that shared experience touched Moctar so profoundly he was overwhelmed and at a loss for words. He kept repeating, "Thank you, thank you, thank you," over and over again until he had nothing left to say. With his hand on his heart, he tried to express the depth of his gratitude. "I don't have the words. Thank you isn't big enough, but I can only say I feel you in here."
After all that we've been through as a human collective, to bear witness to an artist from a desert village in Niger taking the stage to a sold-out opera house in Brooklyn to launch his global tour and barring his soul until rendered speechless felt nothing short of miraculous.
The Music at BAM Curated by Hanif Abdurraqib runs through May 22, 2022, and features genre-defying, life-giving artists-as-storytellers sharing globally-inspired sounds. The lineup includes Dawn Richards, Moses Sumney, L'Rain, Devonté Hynes, Omar Offendum, Little Simz, Amy Helm, Javon Jackson, Nikki Giovanni, and Mavis Staples with a 30th-anniversary screening of Juice starring Tupac Shakur. 
For tickets and more information visit: www.bam.org/music-at-bam