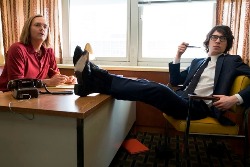 A Futile and Stupid Gesture
Netflix
Snapshot Review: Perfectly Cast
D.B. Frick, Reviewer
Very few events have made the same kind of impact on Comedy that Doug Kenney was able to do with the The National Lampoon. From 1970 to 1998. The magazine can boast an unending list of famous and influential comedy professionals that worked within its walls. The Lampoon's impact is undeniable. The magazine's incarnation started at Harvard University in 1876 when it was founded by several undergraduate students as The Harvard Lampoon. After his graduation from Harvard in 1968, Doug Kenney persuaded his possibly only friend, Henry Beard ,to start a magazine together based on what they wrote for The Harvard Lampoon. The National Lampoon soon became the industry standard for what was funny during the 1970s and 1980s and is still an industry giant and the brand continues to produce films.
The film, A Futile and Stupid Gesture, is based on the book of the same name written by Josh Karp. It's an examination of Doug Kenney's life between 1965 and 1980 and what he and The National Lampoon did to change comedy history. When I started thinking about what the film title was trying to do and provoke an old Laurel and Hardy bit came to mind, the one where they are movers pushing a piano up steps to no avail. The piano keeps falling down what seems to be an endless staircase repeatedly. It's that. You go up a hill, and you fall back down. Comedy is about failure in large part. There was no getting back up for Doug. Comedy is futile and stupid. Almost always. The title of the film is telling us nothing really matters so just have fun. Make a stupid random funny thing happen and maybe people will remember you for it. It's a great rule for life; if achieved worldwide, it could probably release the anxiety of billions.
I had the opportunity to chat via email with former Senior Editor of The National Lampoon and someone featured in the film quite a bit, Tony Hendra. He mentioned he hadn't actually seen the movie and honestly didn't seem very interested in seeing it or talking about it. Like most of the comedians portrayed in, A Futile and Stupid Gesture, Tony's character isn't really delved into much, though more than most. Tony did mention during our exchange, "I do have something to say about the Doug Kinney narrative but it's in a larger context of 80's humor and I would want to do it in a bigger forum". He didn't embellish beyond that. But what makes that comment so interesting is Martin Mull plays a mid-60's version of Doug Kenney that never existed because Doug died at 33.
The perspective of seeing someone's future self that never existed is like Will Forte says as Doug Kenney at his own funeral to his future Doug Kenney self, who never existed, "It's a choice." The movie moved so fast it was hard to see anyone for very long, almost as if all characters were obscured. It's a perfectly cast film, though. Everyone brought nuance to their role, and they usually only had seconds to do so because of the pacing. Only Will Forte as Doug Kenney really got to show off. Martin Mull even jokes about it as he narrates the movie. A list quickly runs across the screen with everything they had to leave out, which runs by so fast you can't read anything and seems to be thousands of pieces. Maybe this film should have been done as a mini series. A stellar cast though. Thomas Lennon as Michael O'Donoghue was particularly good. Joel Mchale obviously had a lot of time to study up on Chevy Chase while working on the set of "Community" for several years. Lonny Ross of "30 Rock" was the spitting image of Ivan Reitman.
One would think the release of this movie would have been timed better since Lorne Michaels recently bought the rights to and produce "Lemmings" for Broadway to coincide with the 50th anniversary of Woodstock. Christopher Guest will be directing the John Belushi Tribute. Lemmings was originally directed by Tony Hendra Off-Broadway.
Though a lot of people associate The National Lampoon these days with mediocre hackey movies, as with any great thing, it faltered over time. But the cavalcade of comedy and influence Doug Kenney left behind will be forever imprinted in the history of comedy. With the world's interest in magazines declining and the growth of the internet in the 1990's, The National Lampoon Magazine jumped ship and in 1998 closed its magazine doors. One could argue the internet killed comedy. Though I believe it was social media. If you like comedy history see, "Futile and Stupid Gesture".
Run Time: 1 hour 45 minutes
To be viewed only on Netflix.
© Copyright 2018 by Jeff Myhre, PhD, Editor. No part of this publication may be reproduced without written consent. Produced using Ubuntu Linux.