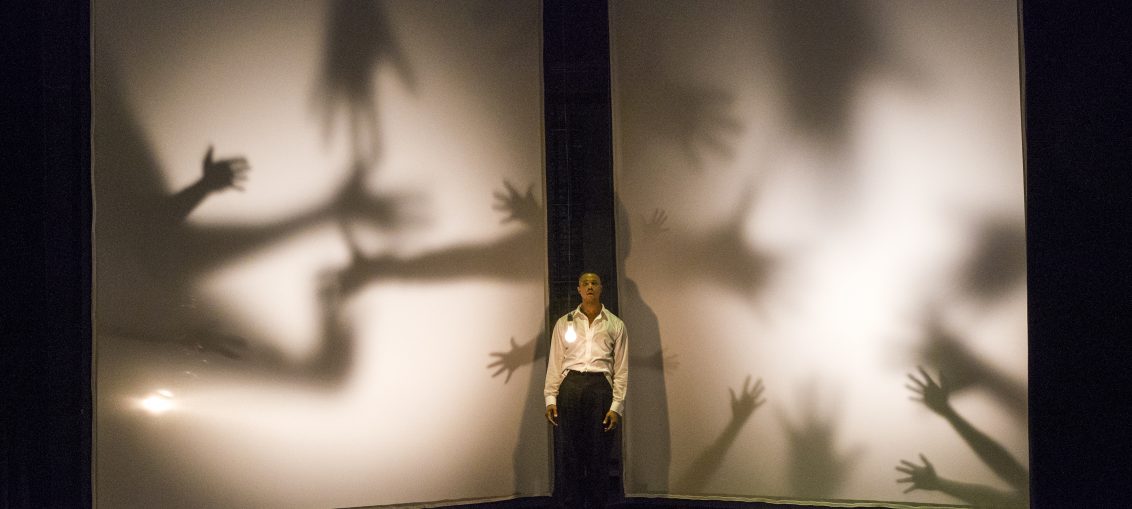 The triumphant, masterful production of The Black Clown—that performed its New York City premiere from July 24-27th as part of the 2019 annual Lincoln Center's Mostly Mozart Festival—offered a theatricalized glimpse into the journey and experiences of a Black person in America.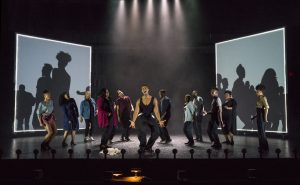 When I encountered what bass-baritone Davóne Tines—who performed the title role and adapted the piece along with composer Michael Schachter from Langston Hughes' poem about a Black man's resilience against a legacy of oppression—said about The Black Clown, I knew had to witness it firsthand: "When I first read The Black Clown it was like receiving a revelation that gave name to the experience of my existence as a Black man in America that I had never been able to articulate. I identified with this clown whose forced role represents a wholesale relegation of Black existence to something less than human, a farce of a being, a fool only playing at being real. Hughes names this existence, then situates it within the larger context of history to show that the oppression of the present is inextricably linked to the failures of the past. Hughes' clown is able to transcend his oppression by calling on the strength and spirit of his entire ancestry. He connects to a greater mandate from all of time and the universe that humanity is inexorably his to claim. This was a story I knew I needed to live and relive and share."
As I had mentioned in my recent feature on Michael R. Jackson's A Strange Loop—a similarly groundbreaking, mind-blowing production also about the struggles of Black Americans that featured an all-Black cast—while good art might educate, entertain and inform, truly great art forces the observer to engage in and share the experience of the characters onstage. But it cannot be presented with an agenda of eliciting guilt, blame, teaching or preaching (unless it's to the choir, but that accomplishes not much more than a masterbatory, self-congratulatory exercise) because such intentions cause immediate defensiveness within the observer. It must be felt in a visceral, personal way. Great art is transformative; it changes you on a deeper level, sinks into the subconscious and DNA. Additionally, great art tends to be a bit dangerous or controversial. This show came with a warning: Please Note: The production contains racial slurs and stylized representations of violence—particularly related to slavery. The truth of suffering and wrongdoing is not an easy pill to swallow, but its bitter medicine is intended to promote healing.
Tines and Schachter's vision for The Black Clown morphed into a multidimensional theatrical voyage that utilized myriad aspects of vaudeville, gospel, opera, jazz, New Orleans brass band, and spirituals to breathe vivid and haunting life into Hughes' poem. In the introduction to his own words, Hughes gives the directive: "A dramatic monologue to be spoken by a pure-blooded Negro in the white suit and hat of a clown, to the music of a piano, or an orchestra." Lucky for the listeners, Hughes' decree was honored, and from the pit came resplendent sounds of trumpets, trombones, keys, reeds, bass, percussion, banjo and guitar that authentically carried forth the manifold expressions and styles of Black music while the conductor, music director and keyboardist, Jaret Landon, flipped his long dreadlocks with panache. The song cycle was performed by Tines with his low, rich voice—both somber and enveloping like midnight velvet—plus an ensemble of twelve extraordinary singers and dancers who embodied the whole spectrum of human emotion, from exuberant joy to all-consuming grief and desolate despair. Schachter reflected about the piece, "The Black Clown is striking both for its subject matter—a redemptive tale of a black minstrel discarding his clown costume and asserting his basic humanity—and its natural inclination towards performance. The musical language dwells in the nexus between early-20th-century jazz and ragtime, African-American spirituals, and opera/art song, all refracted through my own idiosyncratic compositional voice."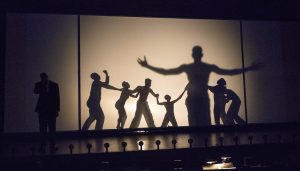 A heightened sense of theatricality was key as the audience was taken on a relentless 70 minute unpredictable thrill ride as The Clown articulated a rollercoaster of emotions and experiences that ranged from resentment of being labeled and laughed at; to playing his role with bemusement; the painful and shameful blood-stained memories of slavery; and the momentary relief and glee that comes from being freed, only to suddenly realize that he is unwelcomed and unaccepted, "Trying to climb up, forever pushed down." The are several stylings and characteristics that are akin to the 2010 Kander and Ebb Broadway musical "of social critique"—The Scottsboro Boys—based on the infamous trial of nine falsely-accused African American teenagers in Alabama, and presented in the framework of a minstrel show. The Black Clown felt equally powerful, if not even more authentic and resonant. Perhaps it's due to the evolution and urgency of the times (with a willingness to listen) or that The Scottsboro Boys focused on one appalling incident as opposed to an overview of the systematic issues, what created and continues to enforce them.
Director Zack Winokur was informed by Hughes' stage direction-like corresponding descriptions referred to as "The Mood" of the poem, and dramatically toyed with classic vaudevillian attributes such as flashing light bulbs surrounding the proscenium stage, the use of shadows (also aided by lighting designer, John Torres) and circus absurdity such as the towering, looming figure of Abraham Lincoln in a sky-high top hat and stilts waving an oversized Emancipation Proclamation or a neon-lit ladder that The Clown cannot climb. Chanel DaSilva's compelling genre-bending and time-spanning choreography propelled the emotion and pulse of the experience kinetically and made references to Harlem's swinging heyday, a "Freedom" kickline, a funeral march, the backbreaking labor of the cotton fields (presented in harrowing silhouette), a parasol dance and even a modern day block party. With all of these elements—music, dance, spoken word and arresting visuals—superbly combined, The Black Clown takes the viewer on an engaging, compelling, often unsettling and ultimately triumphant exploration of Blacks in America.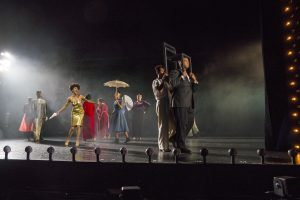 In one of the most heartbreaking yet victorious moments, following the realization that freedom comes with a price, offers no guarantees and acts as another, more subtle form of slavery, there is a funeral procession where The Clown and his cohorts of color finally cracked and became reborn and redeemed. Bellowing with his soulful bass-baritone, Tines proclaimed like a preacher on the pulpit to both man and God: "Here are my hands that can really make me free. Suffer and struggle, work, pray and fight. Smash my way through to Manhood's true right." He asserts that he will "tear off the garments that make me a clown" and "rise from the bottom out of the slime." With the orchestra hitting a crescendo, the ensemble calling out shouts of encouragement and the rapt audience at the edges of their seats, he proclaims true ownership of his humanity, rights and equality: "Cry to the world that all might understand: I was once a black clown, but now—I'm a man!" And at that moment, the entire audience rose to its feet spontaneously, as if pulled by invisible heartstrings, in rapturous applause and howls of concurrence honoring the truth and power of that statement. Because regardless of age, gender or race, we had all been on that journey with him and were no longer clowns, but men.
The Black Clown performed July 24-27th, 2019 at Lincoln Center's Mostly Mozart Festival. For more information about the production and the festival, please visit: www.mostlymozart.org or call 212-721-6500.