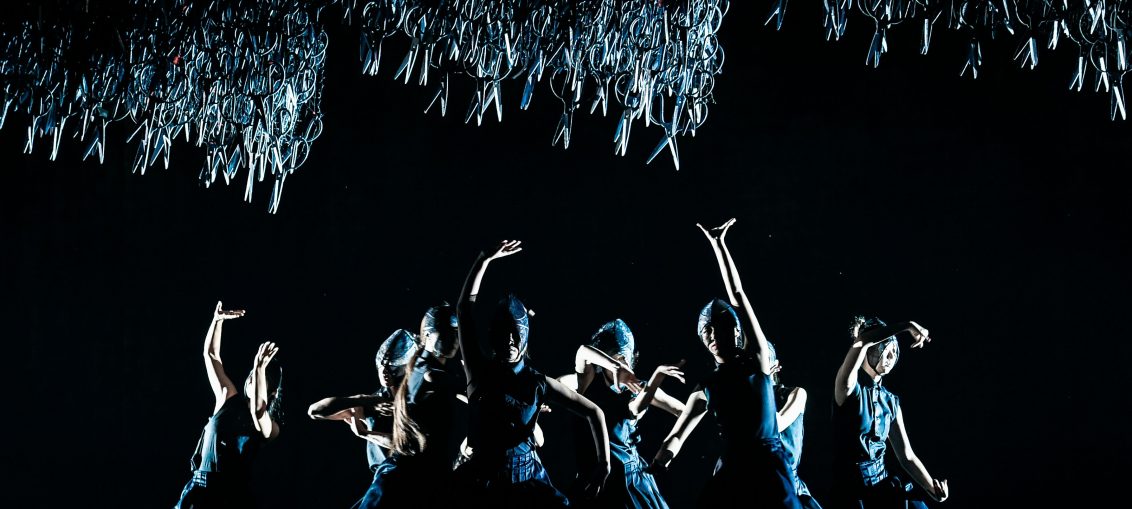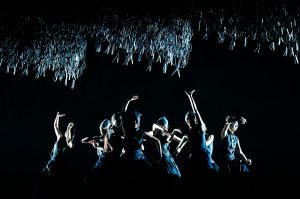 Since there is no longer a Lincoln Center Festival (the moral being never hire a former college president who believed locals could summer in Salzburg or other pricey European festivals just like ex-colleagues and students/alums can), Mostly Mozart successfully transitioned to a more inclusive schedule.  Choreographer/Director Yang Liping's Under Siege, an entertaining retelling of the Ancient Chinese Chu-Han Contention may seem a bit of a stretch, but at its conclusion when pieces of red paper symbolizing dead warriors and one fiercely loyal maiden fell,  its message is very clear: a world without harmony.is dangerous.
Audiences filing in to the Koch Theater saw the stage curtains pulled back revealing a large shiny set.  Whether sitting upstairs or downstairs, it was soon apparent that thousands of scissors were hanging off this ominous bendable object.  Designed by Academy Award winner Tim Yip, the scissors had dual purpose: cut to harm and cut away excess to understand.  Their prominence was further established by the Paper Cutter (Wang Yan) sitting at the edge of the stage creating the placards introducing each scene.
Naturally, Under Siege's two protagonists are opposites who never acknowledge their commonality.  Xiang Yu (Ge Junyi) and Liu Bang (Zhu Fengwei) are both ambitious and not entirely evil.  The younger Liu Bang is a showoff moves faster and leaps across the stage higher.  Xiang Yu personifies the gravitas of the ongoing conflict and inevitable catastrophic defeat.  He feels something else – undying love for the concubine Yu Ji (Hu Shenyuan).
Yang borrows several diverse theatrical techniques to tell their story.  As in Peking Opera or any opera for that matter, main characters are introduced individuality with their own musical and physical theme.  They dance but never speak or sing.  That is done for them by Xiao He (Tong Mingguang), a ghostly Master of Ceremonies who was a statesman in his previous life.  Traditional Chinese music is played by two pipa (a long stringed instruments plucked like a guitar) players and drummer, while contemporary music is on tape.
Though she had no formal dance training (something alleged experts may not appreciate), Yang's choreography is an impressive balance of traditional Chinese, gymnastics, martial arts, Martha Graham torment, Pina Bausch group movement and, specifically for Yu Ji, ballet.  Since Under Siege is at the Koch, NYC Ballet's home stage, her references to George Balanchine's Serenade and the Rubies pas de deux from Jewels were easy to spot and endearing.  Xiang Yu and Yu Ji's pas de duex was sexy; the two men (who play all the leading roles in Peking Opera) molded their sweat-soaked bodies into one.  Many styles are contributing to Yang's own unique one.
In Henry V, Chorus implores audience members to "Piece out our imperfections with your thoughts/Into a thousand parts divide on man/And make imaginary puissance."  For the Battle of Giaxia, Yang's ensemble of 11 helmeted male and female dancers/acrobats fought, tussled and pulled at each other through smoke and confusion, more than making up for the lack of thousands.  They weren't needed.
Under Siege's last performance is Saturday, August 10.  Stay for the curtain calls.