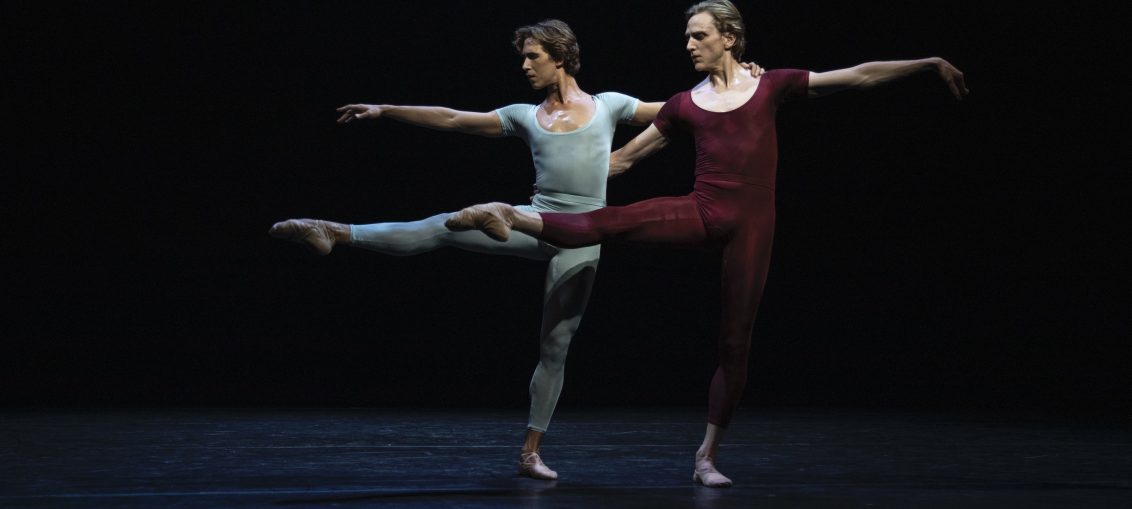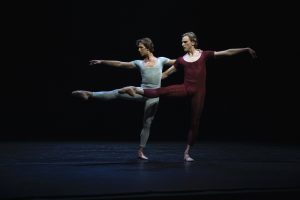 Arabesque: "One of the basic poses in ballet, arabesque takes its name from a form of Moorish ornament. In ballet it is a position of the body, in profile, supported on one leg, which can be straight or demi-plié, with the other leg extended behind and at right angles to it, and the arms held in various harmonious positions creating the longest possible line from the fingertips to the toes. The shoulders must be held square to the line of direction. The forms of arabesque are varied to infinity…Arabesques are generally used to conclude a phrase of steps, both in the slow movements of adagio and the brisk, gay movements of allégro."  ABT's Ballet Dictionary
Simply put, the step is a statement of purpose and creation of character.
Initially, Program C  of The Joyce's second and final week of its Ballet Festival seemed random.  The two older works were first seen in NYC when international companies made routine summer stops at Lincoln Center, while the newest was seen at the Joyce's 2017 Ballet Festival.  Nevertheless, eclecticism made for a rich 90 minutes with stillness accented by long, gorgeous perfect arabesques at the heart of each ballet.
For Then and Again, choreographer Gemma Bond  provides her former ABT colleagues (Zimmi Coker, Thomas Forster, Anabel Katsnelson, Betsy McBride, Courtney Shealy,  Cassandra Trenary and Stephanie Williams plus Erez Milatin from NY Theatre Ballet) with a timeless summer day, dressed with Ruby Canner's flattering short, loose and sleeveless costumes that would make perfect offstage heatwave ware.  The female ensemble isn't the expected ethereal type but strong, making their arabesques statements ("I'm not going anywhere," "I'm my own person")  and pirouetting with their arms bent and upward like warrior women,  But their true strength derives from Alfredo Piatti's 12 Caprices for solo Cello, Op.25.  Influenced by J.S. Bach's Cello Suites, the music inspires moving forward in every way.
Gemma Bond starting making dances when she was a student at The Royal Ballet School and while performing for The Royal Ballet and subsequently ABT, which is where her new ballet premieres during their Fall Season at Lincoln Center's Koch Theatre.
Sir Kenneth MacMillan (1929–92)'s ballets form the repertories of both The Royal Ballet and ABT.  His  Elite Syncopations (1974) is performed in London in it's entirety.  Here, as it was on this program, the 35-minute ballet is excerpted.  The cast and audience had a good time that ABT should consider doing the whole thing.
The Royal Ballet's Sarah Lamb, Romany Pajdak, Calvin Richardson, Marcelino Sambé, Joseph Sissens and ABT's Cassandra Trenary paired off in duets and solos set to Scott Joplin's score of the same name.  The choreography is appropriately ragtime without over exaggeration – that comes from Ian Spurling's over-the-top accessorized unitards.  The pointe work incorporates step and drag, with arabesques accented with a lot of attitude.
Gustav Mahler's music is heard in two ballet masterpieces, Antony Tudor's Dark Elegies (1937) and Eliot Feld's At Midnight (1967).Maurice Béjart (1927-1947) whose work is now seldom seen outside of Europe, made a male duet out of Mahler's Songs of a Wayfarer.  One of the original 1971 cast members was Rudolf Nureyev.  While it's arguable about "best" and "greatest," the Joyce casting of ABT's David Hallberg and NYC Ballet's Joseph Gordon couldn't be better.
Béjart's choreography is a pure response to the music – outstretched hands, jumps for joy, physical struggle – so there are several possible scenarios; they may be two sides of one personality, life and death, or lovers at various relationship stages.  Hallberg and Gordon were so electrifying that any of these or others were plausible and believable.  Despite their height difference, their arabesques and arm gestures were level.  They truly moved as one.
For once it was okay that there was no live music.  The voice on tape was baritone Dietrich Fischer-Dieskau, who was unarguably great..