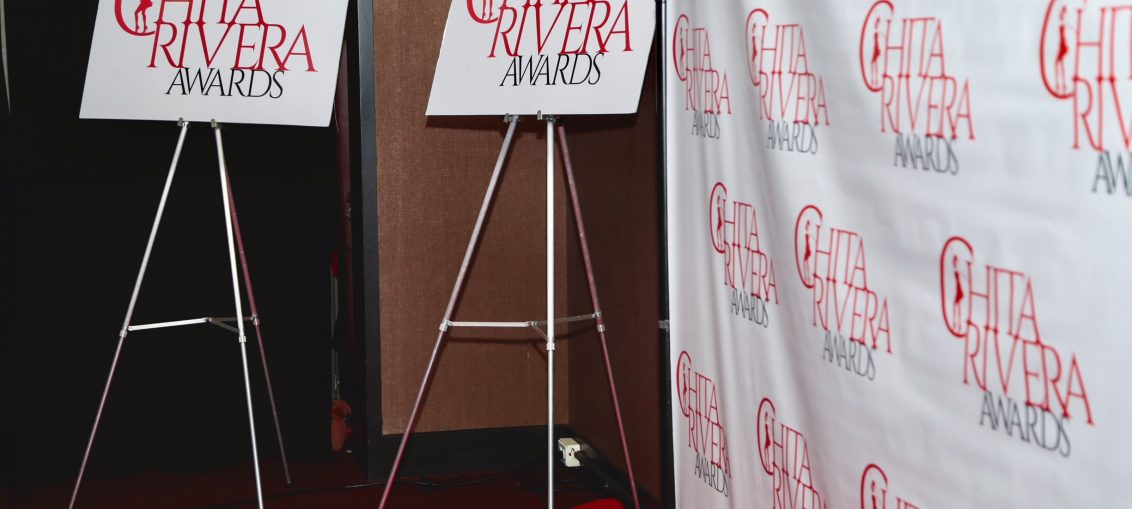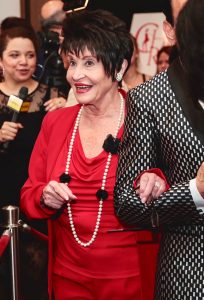 At the Chita Rivera Awards on Sunday, Tony Yazbeck, winner of Outstanding Male Dancer in a Broadway Show (for Prince of Broadway), a gentleman onstage and off, modern-day mensch of movement, and the Gene Kelly or Fred Astaire (for whom the Awards were previously named) of this era, recalled his journey to becoming a true triple threat: "Dance has been part of my soul since I was four. I was a dancer first and foremost, and when I was a kid I never wanted to do anything else. Then I did Gypsy and saw Tyne Daly, through song, dance and story do it all. From then on I was determined to be an actor first and foremost, to be the best dancer I could be. Anything I do dance-wise has to come from a place of storytelling. I learned that from the best people."
The significance of dance as a storytelling vehicle without words is what the annual Chita Rivera Awards, which celebrates and honors choreographic excellence, dance history and promotes high standards in dance for the past, present and future, are all about. It is hard to conceive of a living legend who embodies that more that Chita Rivera herself, who strutted the red carpet with a pantsuit to match! The first performance was a tribute to one of her most iconic, Tony-Award winning roles, Aurora in Kiss of the Spider Woman. While Chita's credits and awards are far to numerous to name and continue to accumulate (she will be honored with a Lifetime Achievement Special Tony Award this June), it is sufficient to say that she revolutionized dance on Broadway and worked with the best of the best for more that six decades and shows no signs of stopping.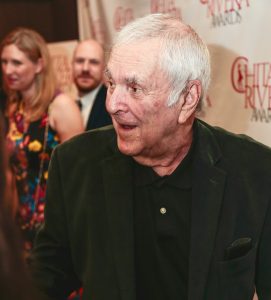 Some of these "bests" were in attendance to be honored themselves for their contributions to the dance world: Rivera's longtime collaborator and friend, John Kander, whom she first met as a rehearsal pianist for West Side Story in 1975, was introduced by another friend and collaborator, Joel Grey, the original "Emcee" in Kander and Ebb's Cabaret, noted when presenting Kander with the Award for Outstanding Contribution to Musical Theater as a Composer, "When you find good people to work with, you work with them over and over and over again… for 60 years!" Another constant colleague of Rivera, Kander, and most of Broadway, Hal Prince, was honored with The SDC Director Award for Exemplary Collaboration with Choreographers, which he accepted with his usual understated, regal demeanor by simply listing their names. The attendees got a particular treat with three selections from Prince of Broadway (which are cherry-picked from Prince's extraordinary career) including: Phantom of the Opera (performed by current Phantom, Ben Crawford), Cabaret (performed by Bryonha Parham, whose soulful pipes earned her a standing ovation) and the incomparable Broadway treasure, Harvey Fierstein, whose rendition of "If I Were A Rich Man" from Fiddler On The Roof was so rousing that he shook his clip-on microphone off when he shimmied!
Dynamic and creative choreographer, Steven Hoggart, was given the Douglas and Ethel Watt Critic's Choice Award for his astounding use of storytelling through non-traditional dance and movement in plays for Harry Potter and the Cursed Child and Angels in America, both on Broadway and also nominated for Tony's.
Cinematic choreography was not forgotten and the awards for Theatrical Release went deservingly to The Greatest Showman and for Documentaries to Anatomy of a Male Ballet Dancer.
Recognition for exemplary Off-Broadway achievements in dance went to: Monica Bill Barnes for One Night Only, who shared her Award with fellow nominee and partner, Anna Bass; Robert Fairchild for Mary Shelley's Frankenstein (his first venture without of ABT or Christopher Wheeldon at the helm); and Zach Morris and Jennine Willett (the visionaries of Third Rail Projects, responsible for acclaimed productions such as And Then She Fell) for Ghost Light, in which they thanked Lincoln Center for taking a risk on a show where "the audience only sits for about 7 minutes."
A surprise occurred when the winner for Outstanding Ensemble in a Broadway Show was announced — it was a tie! The youthful casts of starkly contrasting Mean Girls and Carousel shrieked with glee as dozens of them rushed the stage to accept the award as collective representatives of their shows.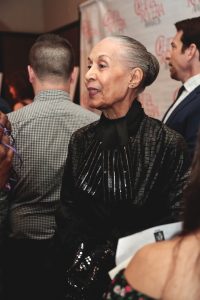 But the real belle of the ball was Lifetime Achievement recipient, Carmen de Lavallade. Maurice Hines introduced the unparalleled performer, choreographer and teacher, who, like Chita, broke rules and boundaries and paved the way for generations to follow. She danced on the stages of the Metropolitan Opera and Broadway, acted on film and television and performed alongside other legends such as Dorothy Dandridge, Harry Belafonte, Alvin Ailey, Duke Ellington and Josephine Baker. The audience was delighted by two distinctly different dances created for Lavallade by her late husband, Geoffrey Holder: "Songs of Auvergne," an enchanting, balletic piece "as light as air" (as she has been described), and a raucous, sexy Harlem heyday groove, "Dear Quincy," set to "Soul Bossa Nova" by Quincy Jones. Lavallade, who is renowned for inspiring and uplifting all ages to follow their dreams, observed the incredible diversity represented by the honorees, nominees and attendees (not since Hamilton has there been such a rich mix of talent in one place). As a trailblazing woman of color who has personally experienced and gone beyond prejudices and discrimination, she noted that the current and future generations ought to remember their history, be grateful for the vast opportunities now available and look to their mentors from past generations for guidance and support. She ended her articulate, elegant speech by proclaiming, "Grandma has spoken!" and then proceeded to prove that she could dance the "Dear Quincy" piece just as vibrantly and energetically as New York City Ballet dancer, Georgina Pazcogiun, decades her junior, showing that Grandma can also boogie!
Charming, comedic husband and wife duo, Andy Karl and Orfeh, both of whom starred or will star in Broadway musical adaptations of blockbuster films from the 1990's (Groundhog Day and Pretty Woman), were the evening's hosts and shared the stage with the many glitzy presenters from Lea Salonga to Ben Vereen, all of whom held the stage with ease — these are theatre people after all! But the best asset of the hosts and presenters (as well as the winners) is that they all knew how to get out of the way and let the dancing take center stage.
Some other highlights included: "Nil Desperandum" from Bastard Jones, in which disabled nominee Evan Ruggiero showed no lack of ability as he performed an unbelievable one legged tap dance, proving the invalidity of the excuse of having "two left feet" — he doesn't even have one! Award-winner, Ariana Debose (Outstanding Female Dancer in a Broadway Show) and the cast of Summer: The Donna Summer Musical brought the disco days alive again in complex choreography both inspired by the era and beyond it! The gender-bending androgyny of the dancers further enhanced the thrills crafted by Outstanding Choreography in a Broadway Show winner, Sergio Trujillo, who Debose thanked for asking her to audition and giving her a chance to embody the icon. When accepting his honor, Trujillo recognized his fellow nominees and Chita Rivera herself, all of whom he has worked with (he toured with Chita in Kiss of the Spiderwoman 20 years ago), showing just what a tiny but incredibly supportive world the dance community is.
The showstopper to end the night was a performance of Benny Goodman's "Sing, Sing, Sing," (from the Fosse Broadway Cast recording), choreographed by Valerie Harman and featuring the most talented young dancers from The Art of Dance studio in Chester, NJ. Seeing living legends such as Chita Rivera and Carmen De Lavallade share the stage with dance stars currently in shows and in the making, all honored at an awards ceremony that puts dance front and center, not waiting in the wings, proves that the future for dance is very bright indeed!