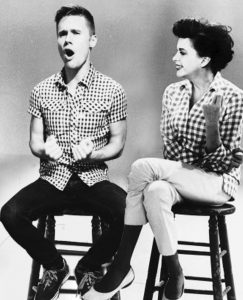 Photo by Jason Lee Courson
I adore theater in all it's forms. From musicals, to plays to comedians doing stand up, sketch and improvisational comedy, to one person shows, dance and nights of monologues, I could go on, it's somewhat endless. Every year I get to see many different types of entertainment. Though it's very rare that I get to see Cabaret acts. Which is peculiar because it's one of the most engaging genres and also just happens to be the opportunity for a great date night. I guess I'd need a date to make that happen though.  It takes some serious talent to pull off a show of this variety. A great cabaret performer needs to be a host, a comedian, a singer, an actor and must have the ability to move fluidly through the work at hand while at the same time making the audience feel like they are in their own home watching a friend perform.  On Wednesday May 16th I got just that. I had the opportunity to see Seth Sikes: Songs The Got Away. A retrospect of the works of Judy Garland and some songs she didn't sing that maybe she should have. Nobody brings people together like Judy Garland can. She is just about about the most famous performer ever and along with her daughter Liza Minnelli created a dynasty that stems back almost as far as the inception of Hollywood itself and lasts through today.  Everyone knows Judy Garland, but not everyone knows how extensive her work is. Everyone knows The Wizard of Oz. Not everyone knows the endless amount of other work Judy did. Songs That Got Away teaches about just that work. Combined with the venue, Feinstein's/54 Below located at 254 West 54th Street is the perfect setting for a production of this quality. Since June 3rd 2012 Feinstein's/54 Below has boasted three shows a night to the heart of the most important city in the world for music and entertainment. When I first entered Feinstein's/54 Below I was struck by the Decorative Bronze Tin on the wall and ceilings which make you feel like you're being pulled into a time machine and you just landed in what seems like a mid 20th century entertainment experience. This night I saw what may be the most enchanting evening of music I've heard live in a while.
I went into this production knowing very little about Seth Sikes and what to expect. I did know Seth Sikes, "has played to consistently sold-out houses with his critically-acclaimed tributes to Judy Garland (which won a Broadway World Award)". It was also my understanding the piece was Directed by Eric Gilliland, former producer and one of the great comedic minds behind ABC's, Roseanne, which is having a pop culture resurgence as I write this. Eric gave the surface and the depth of the production a smooth inside and out and created fun, love fueled feel which brought the entire patronage in the room to a very special place in each of their own hearts. Assuming everyone in the audience has one. Seth has a familiarity about his presence that makes one feel like they've watched him for years. I'd imagine he'd play Mickey Rooney in a film perfectly. Seth would also make a great late night talk show host or day time talk show host for that matter.  Seth is so funny and extraordinarily comfortable with himself and the audience. Seth opened with some self deprecating humor about how he pines for his days as a twink, but is really a "twas" as his friend told him.  After some humor and introductions we were on our way. Seth opened with, "Gotta Have Me Go With You", by Harold Arlen & Ira Gershwin. A great fun piece that led into many other titanic torch songs, lively loves songs as well as some great musical theater pieces. From Cole Porter, to Steve Allen to Richard Rodgers and Stephen Sondheim. It was like taking a ride through early American Music history and really gave any Judy fan a new take on their understanding of how many greats Judy worked with and the extensiveness of her own work. The show was not unlike a tour through a prolific museum or a ride at Disneyworld. One piece that stood out was, "As If We Never Said Goodbye" from Sunset Blvd by Andrew Lloyd Webber. One of my personal favorites and would have been a perfect song for Judy Garland to belt to the heavens in her day. Seth did the song more then justice, I'm pretty sure I was crying by that point but it could have been the Talisker I was drinking.
Seth was backed by a full band which was on point with the best bands in the world. An incredibly talented array of seasoned performers. With Musical Director, Jesse Kissel, (MD/Piano) at the helm, Lloyd Kikoller (Bass), Alex Wyatt (Drums), Alex Bender (Trumpet), Charley Gordon (Trombone), Steve Leon (Reeds) Chris Biesterfeldt (Guitar). Together they filled this majestic room with a sound so sweet and thick in the air I could lick it off my lips. I think I can still taste it days later. Might also be the Talisker. If I could watch this show again right now, I would and without hesitation. Now you can too! Seth Sikes will be performing on a cruise. Starting in late July you can attend Seth Sikes shows with 54 Below at Sea on the Azamara Cruise or check him out July 24th in Providence, Massachusetts at the Crown & Anchor. A perfect chance to spend some time with loved ones and meet and mingle with this great talent who we're all going to start hearing a lot more about. 
Run Time: 75 minutes
Check out upcoming shows at Feinsteins/54 Below: www.54below.com
Book Your Cruise Go to: https://54below.com/azama
Check Seth Sikes out on Twitter: https://twitter.com/sethsikes?lang=en
Check out Scott Gorenstein Publicity on Twitter: https://twitter.com/scottgorenstein?lang=en