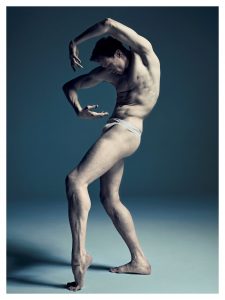 My first reaction to Good Morning America anchor Lara Spencer's insensitive remarks about young Prince George taking ballet lessons was primal outrage.  Ballet is one of my "things" – despite the entitlement and snobbery I still encounter because, well, someone from a suburban working class home doesn't belong.
That she and her GMA audience think ballet is laughable is something else.  Mocking a six-year-old's participation in an activity combining physical fitness and aesthetics or anything else  is alarming.  Is it okay for girls to rightly emulate the world champion U.S. Women's Soccer team but boys can't aspire performing The Nutcracker Prince?  Are role models valuable only when they're not artistic and/or outside of what is considered an "acceptable" career choice?
Whether George continues taking class is impossible to predict.  it's the men and boys lacking the heir to the throne's support system that continue living with this ancient stereotype who matter.
Since this offensive behavior went viral, many male dance students, danseurs and many loving parents wrote heartbreaking open letters, tweets and blog posts about being bullied for dancing.  Former NYCB Principal and Tony nominee Robbie Fairchild, who a week ago danced Javier de Frutoswith 's loving duet 3 With D with Edward Watson at the Joyce, comforted young men struggling with this latest public slur that, "it is the greatest privilege to be a dancer. Wear the badge with honor,"  Social media seldom represents the performing arts fairly – where celebrity moms, "Influencers"  and fashionistas are considered "experts" and coddled by dance companies to attend and post about them – but these posts are potent reminders about how much more there is to ballet besides performing.  Ninety percent is spent out of the public eye in classes and rehearsals.   If a young man is serious about ballet that process begins in childhood – where kids, parents and teachers don't always measure their words or actions because ballet is…too many hateful slurs to chose from.
Ms. Spencer and others unaware of how dangerous it is for ballet boys should read David Hallberg's 2017 memoir A Body of Work.  The ABT/Bolshoi Principal (and bibliophile) devotes half of the book to the injury nearly ending his career (spoiler alert: it didn't) and the other detailing relentless bullying.  Not easy reading but living it was way harder.
A tired defense claiming knowledge about ballet is having taken class.  Lara Spencer said she did as a child.  But why would an ex-bunhead say such things?  Ratings?  "Likes" on Twitter?  Getting a charge from the live audience?  Very few real cultural (as in the performing arts) topics receive air, print or internet time during his never-ending angry news cycle.  Let's remember that Alvin Ailey founded his company on the basis of inclusion and Arthur Mitchell founded The Dance Theatre of Harlem in the aftermath of Dr. King's assassination.
It's rare when the British Royal Family isn't news.  Spencer's remarks were not only spontaneously stupid but  misleading about the connection between the Royals and dance, which goes back as far as Elizabeth I. England's most prominent ballet company – The Royal Ballet – graciously shared Watson and the American-born Sarah Lamb (who danced with powerful stillness to Elvis's Are You Lonesome Tonight? during Laila Diallowith's solo All My Song) with NYC audiences during  The Joyce Ballet Festival).   George's grandfather Charles, an knowledgeable theatergoer, is the Royal Ballet's President.  Then, there is George's grandmother Diana, who loved ballet and danced with Baryshnikov at a Reagan-era White House State Dinner.  So, whether George performs Sir Frederick Ashton's suite of dances from Benjamin Britten's Gloriana or not, ballet already is part of his life.
I don't know how Lara Spencer and the haters in her audience will ever understand how damaging dismissing a ballet boy and ballet itself.  Current media "best practices" include having on-air journalists/talent make themselves part of a story, which happened all over this particular news cycle.  I'm sure there will be invitations for Ms. Spencer and her family to attend classes, rehearsals and performances…photo-ops where all will be forgiven because publicity and celebrity count much more than what's on stage and who is performing it.
After what was said shared and shredded, I thought about Dick Button.  The two-time consecutive Olympic Men's Figure Staking Gold Medalist (1948 and 1952, a record that stood until Yuzuru Hanyu broke it in 2014 and 2018) appeared in Gene Kelly's 1958 television special  Dancing: A Man's Game.  Kelly demonstrated the shared difficulties, athleticism and beauty of dance by splitting the screen between Button and the legendary New York City Ballet's legendary Edward Villella.  Putting 1950s patriarchy aside, it's an affirmation of grace watching them.
For decades, Button covered figure staking with unapologetic intelligence and a dry sense of humor for Wide World of Sports (the template for ESPN) and when his network televised the Winter Olympics.  He worked for ABC, the same network that airs Good Morning America.