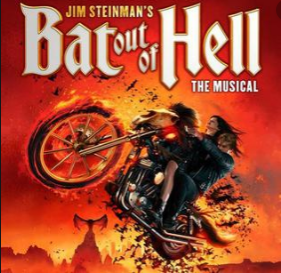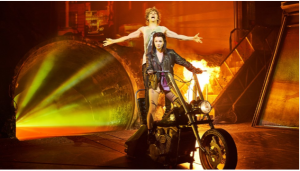 Andrew Polec, Christina Bennington ride into hellfire in Bat Out of Hell from August 1st to Sept 8th at The New York City Center.
Photo By: Playbill.com
The 1970's were a profoundly prolific time in American history. Whether it be politically, through fashion or musically, that time in history will stay saturated in the minds of those who were alive during it. 1977 specifically gave us many important historical moments and unforgettable events. It was the year Jimmy Carter was sworn in as President. 1977 boasts the release of Star Wars which changed the world of film forever. Also, just as important as those events was the release of Jim Steinman's  Rock Opera, Bat Out Of Hell, which also made its debut in 1977. As a child of 1977 myself, I missed a first hand memory and the history of the time, but the repercussions of that time growing up throughout the 1980's resonated in my mind and still does today. I remember as a child my mother was constantly trying to introduce me to great music. Mostly because she was tired of hearing Raffi records ad nauseam. By 1985 at the age of 8 I was on a steady diet of The Beatles, Simon and Garfunkel, Led Zeppelin and of course Bat Out Of Hell. In 1977, The Guinness Book of World Records, Called Bat Out Of The Hell, "The loudest studio recorded album in history". I would assume it pales in comparison to some of today's "noise". Bat Out Of Hell had a fast rise in the charts, sold over 43 million copies and spawned some of the most beloved songs in history sung by Meatloaf. What Meatloaf brought to the piece is truly something that one could never think could be out done by its own self. I truly wasn't completely sold on these songs not being sung by him. Well, the show out did itself.
Bat Out Of Hell The Musical first opened February 17, 2017 at the Manchester Opera House in Manchester, England. Andrew Polec and Christina Bennington are cast as leads and bring so much heart to this story. Andrew plays Strat a boy stuck in his teen years who is followed by a merry gang of pranksters. Sound familiar? Strat falls for a young beauty queen named, Raven, but her father won't have it and does his best to keep them apart. Even murder. Bat Out Of Hell is Peter Pan meets Rebel Without A Cause meets American Idiot. For without the popularity of, American Idiot, a show of this nature could never happen. I'd like to say the musical soars but the story reflects going into hell and I would be remiss to not suggest viewing this show is one "hell" of a journey.
Jim Steinman wrote many song beyond Bat Out Of Hell that he utilizes within his libretto. "For Crying Out Loud" stood out among an array of great songs. What was a somewhat small stage was utilized and angled in such a way that the audience gets a view into several different worlds. Raven's World, Strat's World and in between. The size allowed for some very claustrophobic movement all choreography by Emma Portner who did a superb job. The movement was very reminiscent of choreography from Janet Jackson's iconic 90's album, "Rhythm Nation". Which much like Bat Out Of Hell had a post apocalyptic feel. The musical was wonderfully directed by Jay Scheib and produced by David Sonenberg, Mishael Cohl, Randy Lennox and Tony Smith.
If you pine for the 1970's, if you loved the album or if you just adore a great love story this is the show for you. There are currently six days of shows for the remainder of the run. Go!!!! Now!!!
Runtime: 2 hours 15 minutes – One 15 minute intermission
For Tickets and Future Venues: https://batoutofhellmusical.com/