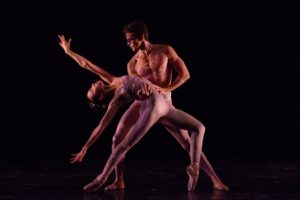 The annual Joyce Ballet Festival showcases the incredibly high level and high-energy of American ballet.  This is a time of reflection, renewal and reconfiguration in ballet, and the two companies described here are conduits of that positive change.
Dimensions Dance Theatre of Miami (June 26-27)
Ballet may never rate as high as Disneyland, but Miami now has two major dance companies  Dimensions Dance Theatre, founded in 2016 by former Miami City Ballet married principles Carlos Guerra and Jennifer Kronenberg, opened The Festival on June 26.  Founded in 2016, the company's gifted, personable dancers have already mastered an eclectic repertory.
Guerra and Kronenberg themselves demonstrated their willingness to mix it up in Tara Lee's Stepping Into Blue.  The duet commissioned by the Joyce Theater Foundation began with familiar Impressionistic touches: two figures dressed in white, soft lighting, a paint roller.  Not long after it started husband and wife started tussling for the roller, with Kronenberg "erasing" Guerra.  A roller isn't "ballet" – though the ribbons are the two lovebirds keep entwining each other with in Ashton's La fille mal gardée are, and they lose their charm after two acts – yet it perfectly symbolized new artistic beginnings.  A good subtitle for Stepping Into Blue is, "I paint my own reality."
Revivals of larger-scale ballets that opened and closed the program.  Gerald Arpino's Light Rain (1981) was a signature piece for his Joffrey Ballet.  That company has the permanent home in Chicago that he and partner Robert Joffrey struggled so hard for seldom perform Arpino's ballets.  Over the next year, Dimensions Dance Theatre and other U.S. companies are marking the tenth anniversary of Arpino's death.by reminding and introducing the joy he brought onstage.
Like Arpino's other ballets, Light Rain celebrates women, with sinewy Gabriela Mesa as their goddess.  Douglas Adamz and Russ Gauthier's score and Nan Possemato's costumes (modeled after A. Christina Gianni's originals) suggest Bali, but this is not a field study.  What matters is that the dancers communicate that they like what they're doing by shaking their hips and slowing rolling their torsos to pseudo-gamelan accompaniment and wearing "Look at me!" facial expressions.  The chief ritual of the love fest is a sensuous pas de deux between Mesa and Fabian Morales, who melted into each other.
Septime Webre choreographed Juanita y Alicia in 2000 while director of The Washington Ballet.  It had not previously been danced in NYC before; which s to Dimensions Dance Theatre's advantage because the moving ballet can become their signature piece; the closing number making audiences want to come back for more.
Against a painted backdrop of a multi-generational family photograph, Jusue Justiz (Juanita) and Choloe Freytag (Alicia) search for…something.  As the dancers move from childhood when they shyly dance together, through adolescence and adulthood where clothing loosens and the steps tighten, the two find each other gaining immortality, for they and their followers will never stop dancing.
Webre tells their story – and those of other Cuban/Miami immigrants – in less than a half hour.  Time passes subtly  His combination of classical ballet and Latin dance is never uncomfortable.  Enhancing those transitions are traditional Cuban Boleros arranged by Alain Garcia, who along with The Latin Power played live to a cheering sold-out audience.
Juanita y Alicia's celebration of Cuban culture, immigration and dance is exactly the kind of piece that merits a White House performance.  One day he current administration will be gone.  Dimensions Dance Theatre of Miami will not.
Ashley Bouder Project (July 2, 3 and 5)
New York City Ballet co-founder/chief choreographer George Balanchine died in 1983, the same year Ashley Bouder was born.  She is one of greatest interpreters of his work – recently adding the sassy dual role of Swanhilda/Coppélia  to her repertory – and unafraid to question his "Ballet is woman" philosophy.  Few women choreographers created ballets (one who did, former NYCB dancer Melissa Barak, now has her own company and closes the Joyce Ballet Festival) for them.  Then there's the recent abuse charges against former director Peter Martins, lack of ethnicity and idealized body image.  Institutionalized shortsightedness prevails even in the greatest ballet company of them all.
Her confidence and strength is also the hallmark of the Ashley Bouder Project.  Joining Bouder were freelance dancer Damien Johnson and NYCB colleagues Devin Alberda, India Bradley, Claire Kretzschmar, Olivia MacKinnon, Roman Mejia, Taylor Stanley and Andres Zuniga.  The dancers were listed alphabetically instead of by company rank.  Not that it mattered because they're all really. really good.
Bouder's egalitarianism provides another way of watching  and learning from NYCB.  That she is willing to look beyond fame to become a more fulfilled artist and citizen is admirable and encouraging..  Her choreography for  In Pursuit Of… confirms that she practices what she preaches in social media and program notes.  There is no back row and all six performers (Bouder was not among them) get to dance front and center to Miho Hazama's let-it-loose music.
The two pas de deuxs, Liz Gerring's non-gender specific Duet withf Damian Johnson and Taylor Stanley and Annabelle Lopez-Ochoa's Symbiotic Twin with Bouder and Stanley,lacked the expected romance and/or confrontation.  Instead, they provided bold-faced looks at how  dance is put together.  There is nothing boring about seeing the process in action.
Ashley Bouder's own project, the solo Red Spotted Purple, was the evening's highlight.  Set on her by NYCB Principle Lauren Lovette with a commissioned score by Stephanie Ann Boyd, Bouder moved so freely that it looked like she was improvising.  Ballet isn't always like that.  Maybe that will change too.
The New York Jazzharmonic were onstage as part of the stage picture continuing a NYCB tradition that includes traditional Japanese musicians, Ray Charles, Wynton Marsalis and Doc Severinsen with the Tonight Show Orchestra.
Running times for both Dimensions Dance Theatre of Miami and Ashley Bouder Project was one hour 40 minuets with one 15-minute intermission.
Information on the Joyce Ballet Festival and other Joyce events and performances are posted on the Joyce's website.  Both Dimensions Dance Theatre of Miami  and The Ashley Bouder Project have their own websites.  To learn  more about Gerald Arpino, Robert Joffrey and the Joffrey Ballet, visit  The Gerald Arpino Foundation