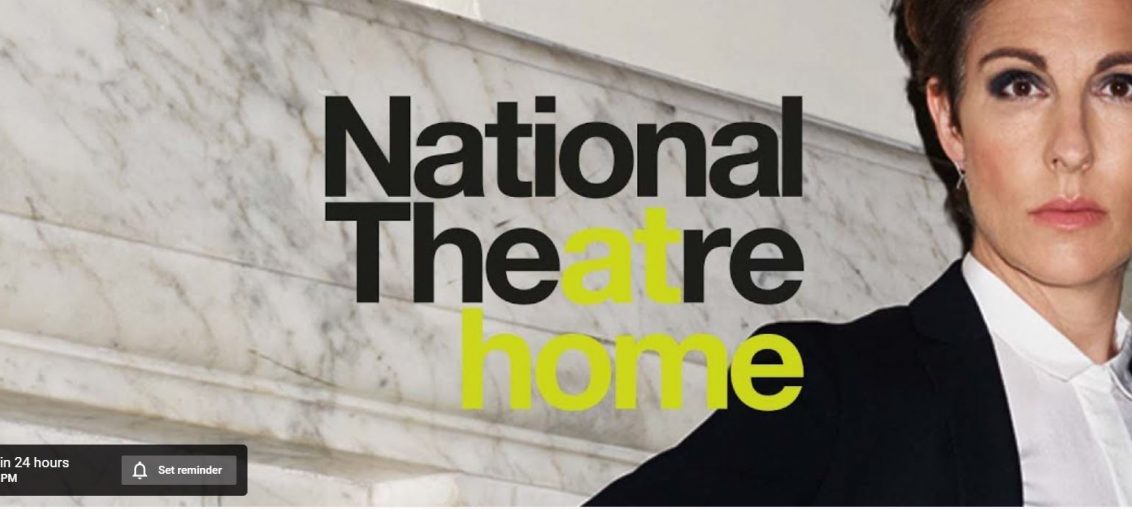 The constrictions the theater community has faced in the wake of the COVID-19 coronavirus pandemic are unlike anything we have had to face in our lifetime. And while there is no way of knowing when traditional theaters will reopen, technology has offered fans a wealth of options to remain sated: Professionally recorded productions are being released online and live performances are being broadcast from actors' homes, keeping the artform alive in a different way.
Preserved for Posterity
The National Theatre has been releasing previously recorded productions on YouTube each week for limited "runs" of several days, encouraging viewers to donate to the theater and keep it functioning while its doors remain closed.
The first recording to be released was One Man, Two Guvnors, recorded in London before the production transferred to Broadway and James Cordon won a Tony Award and became a household name. The opportunity to see a celebrated television star before he became famous was almost as enjoyable as the production itself, shot largely from far enough away to let us see the actors' full bodies and their every movement. While farce almost always works better live than on screen, the recording captures enough of the sense of a live performance to maintain the fun. Other available productions (for a time, at least) include Treasure Island, Jane Eyre and Twelfth Night.
Several professionally recorded Andrew Lloyd Webber productions have also been released on YouTube, including Joseph and the Amazing Technicolor Dreamcoat, Jesus Christ Superstar, The Phantom of the Opera and its sequel Love Never Dies.
American companies are also airing professional recordings of their productions. Roundabout Theatre Company's production of Hilary Bettis' 72 Miles to Go…, a timely drama about a family living on the border (in multiple senses of the word) closed prematurely in March, but not before it was recorded. The play can be viewed on the theater's website for $20 through Friday. Repertorio Espanol, meanwhile, is streaming its production of 17th-century Spanish playwright Ana Caro's Valor, Agravio y Mujer on the theater's Vimeo channel for free with the password VALOR2020. The play is performed in Spanish without subtitles.
Natasha, Pierre & The Great Comet of 1812 (and recent Drama Desk nominee for Octet) creator Dave Malloy posted a full-length recording of the 2015 mounting of his musical Ghost Quartet on YouTube and the original 2011 Shotgun Players production of Beardo on Vimeo.
The Actors Theatre of Louisville has posted a recording of Jeff Augustin's Where the Mountain Meets the Sea, a play commissioned by the theater for its Humana Festival of New American Plays, on its website for $20.
The fact that these companies can share these recordings publicly to raise funds for the artists involved prove the need to have as many productions as possible recorded professionally. Whatever the costs may be to make a high-quality recording, the benefits are decidedly worth it.
Stage to Small Screen
For a more intimate experience, actors have been turning their apartments into professional performance spaces, recording readings and full performances of existing plays over Zoom and Skype.
Broadway.com has been organizing several web productions as fundraisers for Broadway Cares/Equity Fights AIDS. A reading of Terrence McNally's 1991 comic drama Lips Together, Teeth Apart and a full performance of Jonathan Tolins' 2013 one-person play Buyer & Cellar collectively raised hundreds of thousands for the charity.
The reading of McNally's play aired in early April was directed by Trip Cullman and livestream directed by Paul Wontorek. The production, starring Celia Keenan-Bolger, Zachary Quinto, Jesse Tyler Ferguson and Ari Graynor, had the vibe of a classic radio play. While some of the performers—particularly Graynor—moved around in their apartments as they would onstage, much of the action was left to the imagination. The result was a haunting examination of what people say and don't say to one another, the thoughts they speak aloud and those they keep to themselves—with everyone involved in separate rooms and homes. While obviously challenging to execute, the reading felt deceptively simple—the play stripped down to its elements and performed by a starry cast of veterans who know how to convey complex emotions while sitting at tables and staring into cameras.
The latter production was a full performance of the one-man play, directed by Nic Cory (based on Stephen Bracket's original direction) and bringing original star Michael Urie back to the role he created at off-Broadway's Rattlestick Playwrights Theater in 2013. Using two cameras in his own living room and some EarPods as a microphone, Urie spun Tolins' viciously funny story in what may well be the ideal environment—a largely empty room with just a table, a few chairs and a bell on the wall that indicates a door opening and closing. By addressing the two cameras at 90-degree angles to one another in the room, Urie seemed to be giving a private performance for each audience attendee, creating a wonderfully intimate and emotional experience.
And at 2 p.m. today, Stars in the House will present a live reading of Douglas Carter Beane's The Little Dog Laughed, the comedy that won Julie White her long-deserved Tony Award, on the YouTube channel of the Actors Fund. White will return to her role as a foul-mouthed talent agent while Johnny Galecki will likewise return to play a sympathetic hustler caught up in the machinations of the Hollywood machine. On Saturday, Stars in the House will air a reading of George Bernard Shaw's comedy Arms and the Man, starring Daniel Davis, Santino Fontana, Alison Fraser, Tom Hewitt, Daniel Jenkins, Lauren Molina, and Phillipa Soo.
While nothing can compare to sitting in an audience and watching actors on a real stage, technology is providing the theater community with new ways to reach audiences and redefine what a live performance can be. We can hope that when the crisis is behind us and the theaters reopen again, companies will continue to broadcast recordings and to host live readings that make top-quality theater available to fans everywhere.
With thanks to TDF for information on some productions.