---
---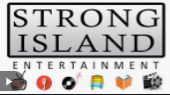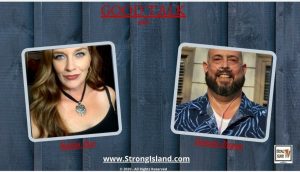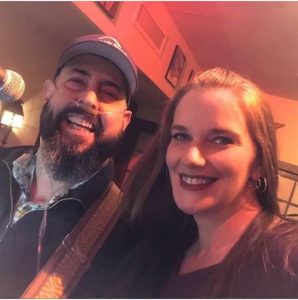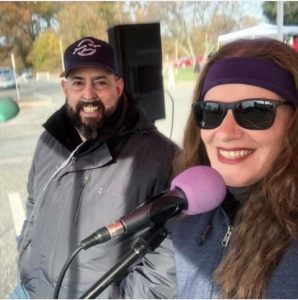 Picture : Robin Eve, Donnie Vapor
Photo By:
                    Being Americas largest suburb, Long Island allows for an unending litany of opportunities in music, acting, writing, producing and anything you want to do in the world of entertainment. If it exists, its possible on Long Island. Even being 20 miles from the worlds most important city in the world, Long Island still manages to set itself apart from the mainstream of it all and still be relevant and consistent. One of those mainstream production companies that set themselves apart on Long Island is Strong Island TV.  Run by Producer Bobby LaSerra, Strong Island Television aka Paradise Studios is a TV/Podcast studio run out of Massapequa at 20 Broadway near Sunrise Highway and boasts 4 studios. Bobby assists on each and every one of the shows produced on Strong Island TV. adding a personal touch that is undeniable and rarely found. His pre and post production efforts know few comparisons in this realm. There are not a lot of studios that do the professional level of productions of this nature on Long Island. Strong Island Television has consistently shown itself to be a cut above the rest as its fan base is continually growing everyday and boasts over 20 productions currently in all genres. I've even been lucky enough to be a guest on several shows myself over the past couple of years and let me tell you, it's always a top notch production.
                   One of the newer additions to the production line up at Paradise Studios is, Good Talk, which has proved to be particularly inventive during quarantine. Long Island musicians Robin Eve and Donnie Vapor host. These two first met when they both attended Amityville High School in the 1980's and fast became life long friends. For those of you too young to remember the 1980's was right before the 1990's. The show had just begun it's production in the weeks before the lockdown. Like many productions across the U.S., hosts questioned whether they should continue their perspective productions. Thankfully they trudged on and have since helped fill a void for many during very difficult times.
                    Robin and Donnie experimented with several angles in which direction they would take the production during the last couple of months. Good Talk, is coming up on their 15th episode in the coming weeks and has shown it's going to take a lot more than a Pandemic to put this show to rest. Good Talk is largely musical though with Donnie's following, "vapor Nation" and segments like "How It's Done, A Tribute To Tributes", "Life Hacks", "Ask Momma Robin" , "Artist of the Week" along with dozens of interviews, Good Talk, has its own voice and goes beyond music alone. "Good Talk" comes off like a adult version of "Mister Rogers Neighborhood" (without the puppets) meets "Prairie Home Companion" meets "Good Morning America", though I'd imagine a puppet would fit in great on this weekly variety extravaganza. I want to see a visit to a Local Brewery not unlike Fred rogers would do. Though I don't remember Fred going to Budweiser at any point. I got to chat with Robin recently and asked what first got her started with guitar.
 "Mom bought my first guitar for me when I was 21. Hurt my fingers, hated it. (laughs) l turned 30, was hanging with friends at a community house in Lindenhurst who all played. Two friends offered to teach me and I wanted to join the fun so did. No formal training. Wrote my first song pretty quickly. Within about 5 months went to my first open mic.Three months later I was hosting it and that started everything."
                 Robin and Donnie truly are great, smart, fun, talented souls whose energy can be felt a mile away. Together they pull off a tremdous weekly show. The product is truly special.
                                                                                                                                                                                                                               Here's a link to the first song Robin wrote,
"All My Yesterdays" from her album "Remembrance"
https://www.youtube.com/watch?v=zhuWJtRZQlc&feature=youtu.be
                                                                                                                                                                                                                                  A piece both Robin and Donnie produced together as the group County Line Road
                                                                                                                                                                                                                            Good Talk can be seen weekly on Sundays at 8pm on Strong Island TV. Check it out. They've got so many things coming up, you're bound to find something you like.
                                                                                                                                                                                                              Check out Strong Island studios at these links.
www.strongisland.com
http://www.paradisestudiosny.com/
https://www.facebook.com/strongislandtelevision/
They are also are available on Roku at
https://myroku.com/add/9XKGXJ5
Checkout Robin and Donnie on Goodtalk on Facebook
Bios
Donnie Vapor – Host
                  After receiving a terminal lung disease diagnosis , instead of just giving up I completely flipped the script  of my life! I live everyday trying to inspire people to live their best meaningful life despite what curveballs life may have thrown at them ! I do Facebook Live shows 4 to 5 nights a week in which I play and sing my original music while wearing Oxygen  and answer questions and share stories with people all over the world ! I am on a mission to spread awareness of Idiopathic Pulmonary Fibrosis (IPF) which kills as many people as breast cancer yet because we don't have pink ribbon campaigns and star power is virtually unknown! My 2nd mission is to spread inspiration laughter and fun around the world through my music and openly sharing the stories of my life.
                                                                                                                                                                                                 Robin Eve – Host
                   A Singer / Songwriter/Gardener from Long Island, NY, USA. Robin has been a fixture in Long Island Music Scene and has gained a fan base that stretches across the U.S. and beyond. Her voice is powerful, subtle and unique. Her lyrics are clever, thoughtful and honest. Her stage presence is natural and captivating. She is also a Marriage Officiant and Photographer. Her journey is ongoing.
                                                                                                                                                                                                                                   Bobby La Serra – Owner/Producer- Strong Island Television
                    Born and raised on Long Island New York, Bobby La Serra got his start in the music business as a DJ at the the young age of 13 years old. After working private parties and the club scene La Serra developed his own creative skills and eventually began writing, remixing, and overseeing the production of over 100 music releases for some of the most popular labels in New York like Tommy Boy, Nervous, ZYX, and more. La Serra's catalog eventually resulted in not only 7 Billboard charting singles, but also an RIAA Certified Platinum sales award for a remake / remix of the Gwen Stefani / No Doubt hit song "Don't Speak", which was featured on one of the biggest selling dance compilations in history, selling almost 2 million copies worldwide. La Serra is the mastermind and creator of the internationally celebrated Strong Island Records imprint having signed artists and original compositions to this trend setting operation which now enjoys distribution via Sony / The Orchard, and just earned the status of an iTunes preferred distributor. In the on going arc of his now historic career La Serra predicted the advent and success of digital distribution and early on was active in the birth of internet radio, creating and maintaining one of the very first online radio operations in the Long Island market. La Serra expanded his focus of programming options to include video as well as radio components, which led to the development of a state-of-the-art broadcasting facility which he now oversees in his hometown of Massapequa New York.
                                                                                                                                                                                                                                                        Today La Serra continues his music career producing his own music and just recently landed one of his own original songs in the finale of Alex Palanco's well received off Broadway play "The Illusion of Love". You can find La Serra today not only writing and producing music at his Paradise Studios facility, but also producing and broadcasting radio and television shows for his twin entertainment networks, which consist of the fast growing Strong Island Radio & Television, and his newly formed faith-based network Day3 Broadcasting. The programming boasts a variety of shows consisting of music, talk, comedy, sports, education, business, pop culture, and more worldwide via the internet, and on cable networks nationwide including ROKU smart televisions. Those looking for advice and assistance in the field of independent music, radio, or television, La Serra is the man to know. For more information or to get in contact with La Serra he can be reached at 
bobby@strongisland.com
 or (516) 581-4315.