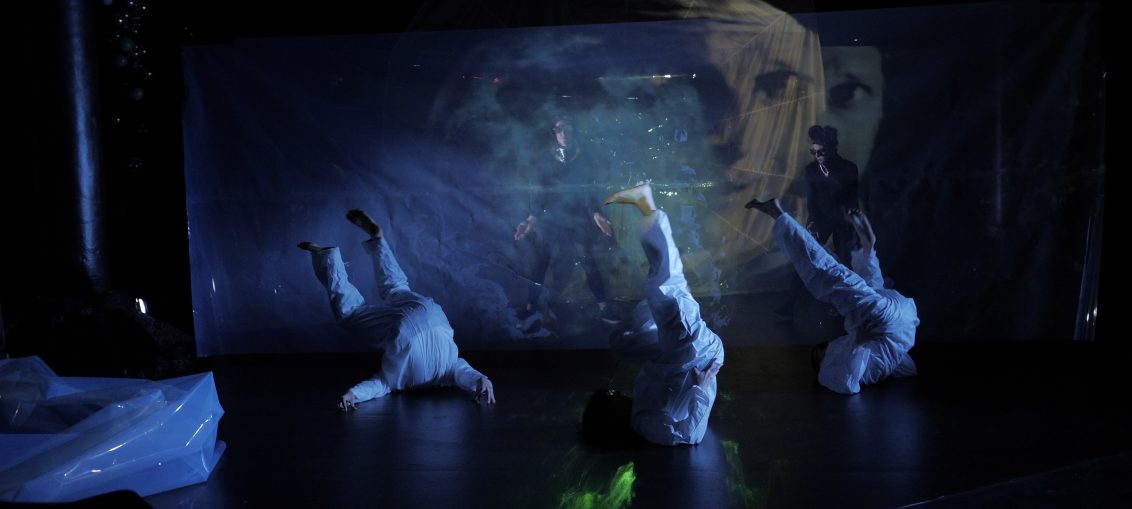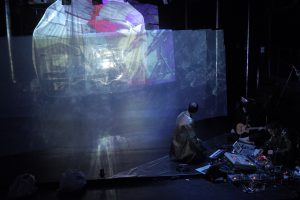 One Small Step…is a giant star jump through the sixth dimension and into an alternative reality where history is reworded. It's an ode to otherness, to our desire to expand beyond the confines of our three dimensional universe and sniff at the possibility of realms beyond the known. Einstein's theory of special relativity tickles our imaginations with the probability of higher dimensions and so the Saint Fortune company takes us on a space-time trial run. While there is doubt that our brains would be able to recognize 4D if it sat on our laps, One Small Step is all that is required to slip through secret fissures and into the great beyond. Your frequency gets retuned with the help of a mind-altering soundscape and a sensorium of visual cacophony. It's a production drenched in creativity and the quirk of the absurd. I found it hilarious and supreme eye candy for my tech addicted retinas.
The production was created by the hugely talented Saint Fortune company members comprising John Gaspar, Gavin Price, Natalie Mack, Emily Craver and Emily Pacilio. They have crafted a real "trip" for the 21st century –no psychedelics required. Their blurb says that they will be travelling back in time to the 1969 Apollo 11 Moon Landing to change the course of alternate history forever. So it's really spacey. You feel like you have been beamed somewhere else but all your parts haven't quite caught up into one whole. Different aspects of the story seem to be speaking to different aspects of ones being. At times you become totally fixated with the visual masterpiece in front of you, then you get pulled into the soundtrack for an aural "ear-gasm" and then the physicality on stage makes you want to start moon walking. You leave completely over stimulated. It's an immersive experience where you feel like an alien might tap you on the shoulder at any moment. There is a point where you think you have actually been wearing VR glasses because the "reality" has been so vividly augmented with artistry.
Big back slapping to Gavin Price who co-created the piece, directed it and did both the set and sound design. You want this guy on tap – he oozes other worldly originality and is a stunning performer as well. The set, oh the glorious set. I loved the clever way we entered into each new dimension and the way it seemed like it depicted space and an ocean and my mind and us all – a constantly shifting gyroscope of angles and perspective. It made me yearn for zero gravity. John Gasper as co-creator, video and sound designer as well as epic performer is a master of his craft. His visuals transported me to worlds as yet unknown. I was fundamentally spellbound by his image wizardry.
Then Natalie Mack starts to sing and you slide on moonbeams and feel a supernova explode in your solar plexus. She conjures shadows and invigorates your inner-space. I would have liked to hear a few more songs from her. Her voice penetrates your defenses and leaves your heart open.
Dancers and choreographers, Emily Craver and Emily Pacilio give the work its unusual "alien-ness". Their lunacy made me think of Cocoon Central's "Snowy Bing Bongs Across the North Star Combat Zone" – a feast of unique, playful and tongue in cheek physical theater.
Jack Frederick as "The Moon" turned in a delicious digital cameo. The man in the moon is a crooner and it will be his face that I see when I look skywards at full moon, howling with laughter. When the whole cast sang harmonies I got gooseflesh. I wanted more. I was a total junkie for their heap of band mess where instruments seemed to miraculously appear out of the morass of cables and hardware.
Evan Andersen's lighting design was tantalizing and contributed to the overall effect of being "lost in space" –melancholic blues and impossible shadows made for an awesome creepy feeling. Parron Allen's costume design was runway perfect. Haute Couture for the stage where costuming wasn't an afterthought or assembled from a willing cupboard. It was another key member of the company telling a glamorous story.
One Small Step was curated for the 25th Anniversary of the Ice Factory festival by previous alumni -Elevator Repair Service. It will take a few minutes to find your feet again after the show as your center is off balance from all the galactic travel –like you stepped off a boat after being at sea for a week. Just lovely! (But it could have been longer).
Running time: 60 minutes with no intermission.
One Small Step runs July 4 – 7, at The New Ohio Theatre (154 Christopher Street between Washington and Greenwich Street) For more information and tickets visit http://newohiotheatre.org/onesmallstep.htm