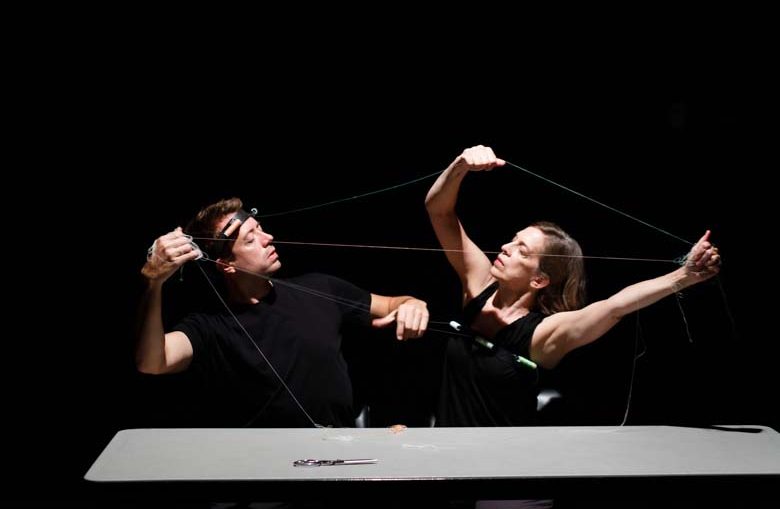 Prototypes – a dozen divine dances. Susan Marshall & Company present a collection of short form works that are mini explosions of intense creativity. Each piece is a stand alone expression of human straining for connection, yet the 12 pieces seem to be talking to one another creating an entangled vine of cross pollinated conversation fragments. It is incredibly satisfying to watch as your brain makes its own connections between storylines, intentions and investigations of behavioral systems. Susan Marshall's creative vision for the show ensures a seamless melding of the pieces so that you aren't sure where one ends and the other begins. You are just carried along with the tide – moving into different states with a meditative, introspective inner pleasure.
Susan Marshall choreographed the bulk of the dance pieces with additional collaborations by Raven White, Denisa Musilova, Luke Miller, Sophie Andreassi and Jeremy Olson. Each offering is saturated with inventiveness, lush emotionality and relational complexity. One of the most powerful elements of the show was the live underscore created by Matt Evans. He was breathing with the performers and augmenting their subtext with jarring dissonance and at other times rhythmic harmony. I particularly enjoyed his playing of the "flowerpots". I always love the energy of a live soundtrack especially when it is being created by an exceptional musician with acute sensitivity to performers in motion.
In #3, choreographed by Susan Marshall with choreographic assistance from Sophie Andreassi, Omri Drumlevich extends himself, pushing past his own boundaries, testing his limits with a sense of playfulness and extreme focus.
Christopher Adams and Bryn Hlava created a riveting tension line in #4 as they moved between rigidity and release in a relationship at snapping point (delightfully choreography by Susan Marshall, Sophie Andreassi and Jeremy Olson)
One of my favorite pieces of the evening was #5 with Eileen Thomas and Luke Miller where the "ties that bind" us was explored through the use of thread. The interconnectedness of a couple and their methodical choices that intertwine them, made for compulsive viewing. Sensational choreography married with superb precision by the performers made me feel like I was watching an ancient ritual made barely visible in the halogen lights of the theater.
#6 was a quirky evaluation of an every day habit (laying a table) that was elevated to an epic Olympian feat that required specific timing to overcome new challenges. Tymberly Canale and Sophie Andreassi were the adroit athletes attempting to beat their own domestic chore clocks.
In #7 and #7v2 Darrin Wright, Bryn Hlava and Shala Vie Jenkins commanded the stage with their rhythmic march through society. The trio were a pack that were sometimes in step and sometimes they fell out of line as their individuality overcame them. I adored the energy that pulsated through this piece. There was a sense of urgency that was reigned in with soldier like formations and floor patterns of their own creation. It was like they were pounding the pavement, stamping away self doubt.
One of the reasons I came to see this enthralling production was my particular admiration of the work of performer/choreographer – Denisa Musilova. I have reviewed her work many times and I get soul nourishment from watching the expansion of her artistry with every new project she tackles. In #8 Susan Marshall, along with Musilova, crafted heartbreaking choreography that excavated our inner dialogue with the different parts of ourselves that fight for prominence. In the repetition of specific phrases, she seeks different outcomes for the self she is deconstructing. A deeply introspective and fulfilling analysis of our archetypes at play.
Going into interval we were treated to #9 – an intense social commentary on trying to connect with the world through the limited vehicle of emoji's. The composition, Oscillation, was created by David Lang and performed by Sō Percussion. Marshall found a physical language that was seemingly simple, yet packed a hectic sucker punch. Tymberly Canale expertly captured the anxiety and angst of modern day empty, technological communication.
Luke Miller's Bundle of Sticks boldly opened the second act with an aria by Hugo Wolf gloriously sung by tenor Timothy Stoddard and sensitively accompanied by Daniel Lepek on piano. The text was by Goethe, Kennst du das Land, translated by Emily Ezust. Guillermo Alonso Contreras beautifully epitomized the vulnerability inherent in getting to know the landscape of one's body. I found the iconic imagery of the "piercing" of the body of "Christ" quite moving as sound, sticks and the sensuality of the naked body formed complex layers of meaning.
Christopher Adams and Denisa Musilova followed with a tactile wrestling of power within intimate relationships in #11. There was a highly physicalized blocking of one another, a sense of desire for escape as well as an impossible need to stay connected. The bodies were in a vice grip and then see-sawed between desire and repulsion.
Raven White choreographed #12 – a soothing, meditative dance of longing and giving into another person. Bryn Hlava and Mitchell Christie blissfully melted into each other and floor. It was deliciously soporific inducing a feeling on deep calm. Their dancing was making everything right with the world and sucking out any tension spots in the audience with their love lullaby. It was my plus one's favorite piece.
A highlight was #13, a masculine pas de deux, where Barbie dolls slid in to watch and objectify the male form in movement.  Denisa Musilova's choreography was saucy, cheeky and relevant. I enjoyed the way she played with gaze patterns and loved observing the piece through the eyes of a seated, splayed Barbie. Mark DeChiazza and Luke Miller moved around each other like contortionists on a stripper's pole. Two mighty forces constrained by the circle of plastic onlookers.
Eric Southern and Cheyenne Sykes' lighting design was mesmerizing and kept us in the darkened space of the 'bedroom', or intimate area, where the subconscious has the freedom to make itself heard. The perfect "everyman" costumes were designed by Kasia Walicka Maimone with evocative sound design by Matt Evans.
These 12 unique moments were such a total joy to witness. I just wish the run had been longer for more people to plug in.
Running time: 75 minutes with one 15-min intermission. Prototypes runs June 27 – 28, at The Downstairs, La MaMa (66 E 4th Street) For more information and tickets visit http://lamama.org/prototypes/