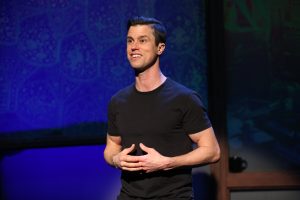 Border People is an exquisite ode to the determination of the human being to survive and thrive in spite of curve balls, challenges, deserts and high walls that block the "easy" road. It is crammed full of wonderful people whose life stories gently play your heart strings – all of them expertly introduced and embodied by Dan Hoyle. This writer, actor, journalist, conversationalist, joy wielder, wordsmith is a gifted theatrical magus – a wise man bringing the myrrh to the birth of new perspectives.
Dan is like the theater version of X-Men's "Mystique" effortlessly  transforming into a completely new person in mere seconds. Without costume or make-up changes he weaves different characters out of the ether with skill, humility and honesty that is riveting to watch. Border People must be one of the most special, enlightening, heart warming and informative evenings I have spent at the theater in ages.
What we get to witness is a series of people living in liminal spaces – in transit, in terror, in contemplation. All characters are in motion looking to traverse boundaries and borders – some enforced, others perceived. Some people have escaped horror, others are in the interstitial spaces between past and future realities. Hoyle has created a definitive piece of journalistic theater that has been crafted from "interviews and conversations with immigrants, refugees, asylum seekers and border crossers of all kinds". As he puts on the "jacket" of each new character – he wears their life stories with respect and a strong sense of responsibility to be true to their spirit.
This is not verbatim theater instead the interviews form the trampoline from which he leaps into creativity. He is aided in this process by co-collaborator Charlie Varon who acts as the outside eye, the narrative extractor, that can slice away the excess content to find the heart beat of each character. Together they have workshopped these people into being in front of an audience. For Border People this process took a year and a half. The long gestation period has ensured a production that is based on a bedrock of truth and is deeply moving. It also has many moments of humor -tapping into our shared humanity. It's a masterful performance and text. A  nourishing meditation on what trials we need to overcome in order to see each other beyond our distorted/inherited bias.
Director Nicole A. Watson has powerfully taken the reigns for this off Broadway run (the show played to a sold -out run with four extensions at the The Marsh in San Francisco). She has birthed a seamless production where the transitions between characters are simply perfect. Each mini-monologue has been meticulously constructed so that every gesture, breath and inflection lands authentically on the ear and we can bask in the glow of watching a consummate performer held safely in the hands of a director with phenomenal attention to detail.
Yana Birÿkova's evocative video design vividly sets the scene for every new geographic landscape, setting the perfect tone for the myriad of engaging personalities. Jorge Olivo's sound design was great at underscoring the emotionality of each piece and contributed to cleverly defining the environment. The lighting design by Jimmy Lawlor was like another character on stage, working in tandem with Hoyle to shape the space – allowing for the reveal of different moods and shades. Frank Oliva has pared down the scenic design to match the essentialism of the piece. A backdrop and a bench and we have magic.
Border People is a refresher towel after a long flight, it wakes you up, detoxes the stagnant parts of yourself and reminds you that there is still a bit of journey ahead before you reach "home". I particularly loved that he did not characterize the aggressor, he didn't give stage time to the "monster". It is everywhere implied against the backdrop of beautiful human beings aiming for better lives, freedom, hope and love. I sincerely wish this show is extended way beyond it's Feb 22 close date. It's a sensational piece of theater.
Running time: 75 minutes.
Border People runs January 25 – February 22 at A.R.T./ New York Theatre's Gural Theater (502 W. 53rd Street) in Manhattan. 
The production will tour throughout the five boroughs after its Off-Broadway run. Scheduled March 3 – 14, 2020.
Tickets are $30 – $40 (discounts for students, seniors, union members and groups up to 30% off) and are on sale now at www.theworkingtheater.org