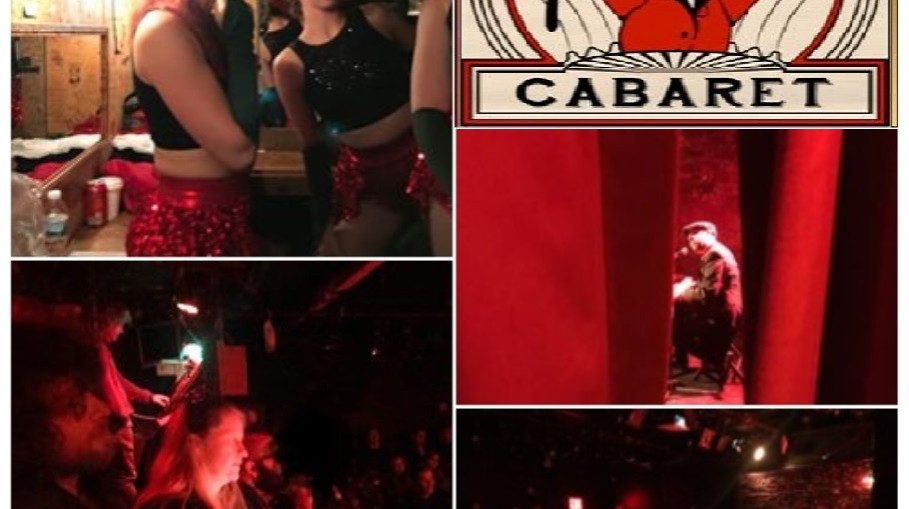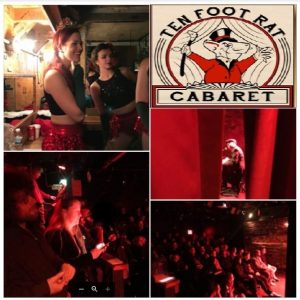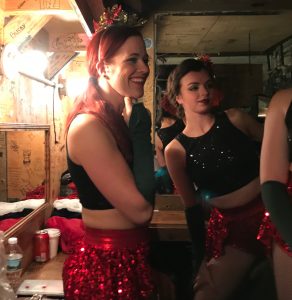 Photography by Gregory Levine – Pictured Dancer Andrea Palesh
I truly believe to understand the heart of a production you must understand the theater the production is in first. Since the 1970's Under St. Marks Theater has been home to an abundance of experimental and mainstream productions. I've been very lucky to have attended several events at this venue over the years. Even having had the opportunity to produce a piece through the theater for a weekend of plays and pieces about Donald Trump back in 2016. Located on St Marks Place between 1st Avenue and Avenue A in the heart of what has always been one of the most happening districts in New York City, this tiny theater boasts so much talent. As a side note, very often in theater one has to miss a portion of the show to garner a refreshment. Not at Under St marks which boasts a bar in the theater and allows the patron the opportunity at an uninterrupted production. And oh what a stupendous production Ten Foot Rat Cabaret put on. I was first introduced to Ten Foot Rat Productions in the Winter of 2018 when I was lucky to partake of a Christmas Burlesque piece produced by Guilty Pleasures Cabaret and Gregory Levine. A set of pieces that truly showed off a sexiness I definitely don't get enough of. But enough about me.
Our show opened with Canadian native and comedian, which sounds redundant, Jillian Thomas. I knew she'd be funny because she's from Canada. It's a rule, written in ancient Arameic and can only be read under a full moon. Jillian kept the production going at a great pace and had the audience captivated with her humor and stories and biting jocularity. A great energy and vitality that shines through when she brings her smile and quick wit to the stage.
We got a visit from Gregor of Berlin or Ich Bin. A pretencious German Character whose self importance knows no bounds. How often does someone get to say,  "it was Andrea Merkle meets David Hasselhoff meets Hitler meets Sigmund Freud". I'm quoting myself here. Am I even allowed to write Hitlers name anymore? Played by producer Gregory Levine his portrayal of Ich Bin was laughs all the way. If you want to check out Gregor hit the link below.
Samantha Echo who did two sets, one to close the show out, is an amazing opera singer. She filled the very tiny theatre up with her voice like there were a thousand people singing. Her sound comes on like a tsunami. Most notably Samantha played on her guitar which read W.B. Yeats in bold sparkly lettering, at least Id like to remember it being sparkly. I knew then I was in for someone special. She sang two songs both "Wedesday Guy" and "O Mio Babbino"). You can check her out at her website and performances via the links here. So good. So talented.
Alex Payne. Brought the funny and left us in stiches which is good considering his last name is Payne. I promised myself before I started to write this piece that I wasn't going to make a joke about how he "Brings The Payne", but I essentially just did. Alex is a truly Funny guy and one can see he is well liked by his peers and has his hands in many areas of entertainment. He showed off his casting chops after the show by casting Gregory Levine as Peter Lorre in a production he is working on. Perfect casting if you ask me.
Leesa Liquidsteel brought the capacity crowd some very avante garde dance. All eyes were on Leesa, as I'm sure she used to that. With the lights, her top painted blue, and blue flashlights, Leesa brought some very special movement to the evening. McKenzie Dreher also brought some amazing movement to the evening. A yoga influenced dance mixed with some overwhelming contortion. This lady literally folded like a napkin. Check out her Instagram in the below links.
Moe & Mary a favorite from the evening had some serious frenetic energy. Amazing that they are both speaking at the same time during their entire set and one can somehow hear each word and distinguish what they are saying. They just make sense. The rhythm. The timing. You really have to experience them to understand it. They have a weekly cable access show on MNN Network and MNN.org Fridays at 6pm.
A tremendous evening of variety. Check out what ten Foot Rat and everybody else has coming up with the links below.
Run Time: 80 Minutes
Event pages for Ten Foot Rat
https://samanthaechomusic.com
McKenzie Dreher also brought some amazing movement to the evening. A yoga influenced dance mixed with some serious contortion. This lady literally folded like a napkin. Check out her Instagram at