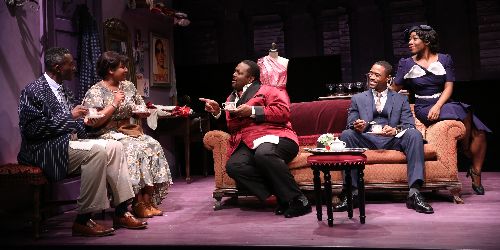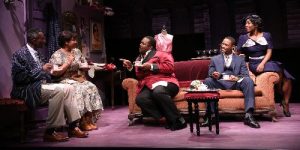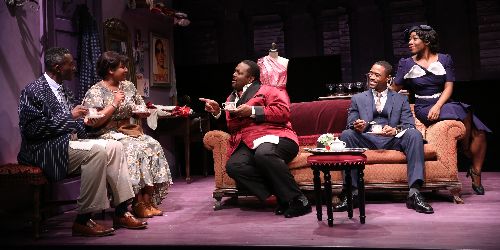 Pearl Cleage wrote "Blues for an Alabama Sky" in the mid-1990s, and it is astonishing that it has taken so long for a play set at the cusp of the Harlem Renaissance and the Great Depression to make it to New York. Thanks to the Keen Company, the wait is over, and this production makes the wait worthwhile.
Angel (Alfie Fuller) is a singer living with Guy (John-Andrew Morrison), a flamboyant costume designer and unapologetic gay man whose ambition is to design costumes in Paris for Josephine Baker. Across the hall lives Delia (Jasminn Johnson), who campaigns for reproductive rights and is smitten with the Reverend Adam Clayton Powell. Sam (Sheldon Woodley) is a friend of Angel and Guy's and an ob/gyn. Rounding out the plays is Leland (Khiry Walker), a recent arrival from Tuskegee, Alabama. The play begins with Guy helped a very drunk Angel home, assisted by Leland as the Good Samaritan. Her Italian gangster boyfriend just got married and she just lost her job.
Cleage then gives us two-and-a-half hours (which fly by) of the turmoil, passions and dreams both shattered and realized of these five very real characters. She writes dialogue not as it is taught in MFA programs where every word needs to drive plot, reveal character or enhance the emotional tension. Instead, she writes as real people speak while at the same time achieving those objectives. August Wilson and David Mamet work in the same way.
In previous productions, women like Jasmine Guy, Robin Givens and our national treasure who is Phylicia Rashad have played Angel. It is a rare role that gives a woman of color four-dimensions in which to shine center stage. In the Keen production, Fuller is up to the challenge, and delivers a performance that is both powerful and vulnerable in equal measure.
She needs to bring that kind of magic because otherwise, Morrison would steal the show. Sometimes an actor gets a role that fits as if it were a tailor-made suit, and Morrison wears Guy comfortably. Essentially a happy-go-lucky fellow, there is a steel in his soul when tested that comes out most believably.
Johnson and Woodley play foils to the leads with intelligence and charm while developing their sub-plot romance with the kind of awkwardness that we have all suffered through to a happy ending. Indeed, there is another play to be written about them.
As for Walker, the young actor has taken to heart the adage that acting is about re-acting. While Angel is speaking lines that make her part what it is, the infatuated Leland is hanging on her every word, taking it all in. His body language and expressions when the lines are not his suggest a maturity beyond his years.
Director LA Williams has taken all these fine performances and melded them into a coherent whole. That whole is even greater than the sum of its parts.
Finally, You-Shin Chen's set and Asa Benally's costumes are wonderful. The set is the front-room of two apartments facing each other with a hall way in between. No need for anything more, and it works wonderfully for both the cast and the audience. I must confess a certain weakness for 1920s fashions, perhaps the last time men really dressed up. Guy's vests and shoes are outrageously perfect, and Sam's pinstripes fit the character to a tee.
If I have one complaint, Cleage lost me at the end. Without spoiling the plot, I just don't understand the outcome for Angel. Given how carefully crafted this is, the problem might be with me missing something more than anything else.
The economics of the theatre are difficult, but you have to hope that this production is either extended or gets a chance to move to Broadway.
Running Time: 2 hours 45 minutes including a 15-minute intermission.
Blues for an Alabama Sky is playing though March 14 at Theatre Row, 410 West 42nd Street, New York City. For tickets and more information, visit the Keen Company website.