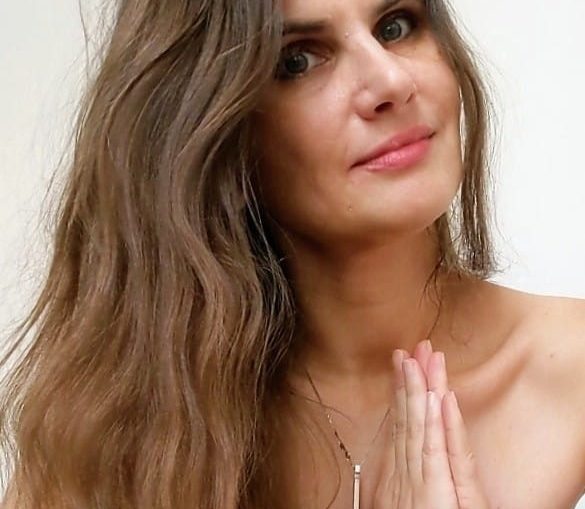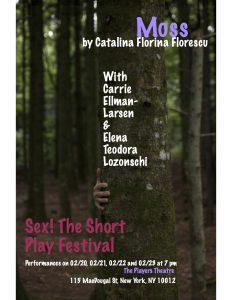 Catalina Florina Florescu
Catalina Florina Florescu is a Romanian born academic, playwright, teacher, curator, wordsmith, dreamer, seeker… She holds a PhD in Comparative Theater and Medical Humanities conferred by Purdue University. Currently, she teaches courses in theater, literature, cinema, and writing at Pace University in NYC. She is also the New Play Development Curator and Dramaturg at Jersey City Theater Center. A multi winning theatre practitioner, Florescu has published a number of books that has established her as a powerful voice in the community.
Her short play,
Moss
was selected as one of the 15 new works chosen for The Players Theatre Short Play & Musical Festival: Sex! taking place in February 2020. Submissions were gathered from across the US and the judging panel chose a selection of the best short plays and musicals entries for the festival. Catalina shares her inspiration for the creation of her new work, Moss, and the impact she hopes to make with her work in general…
Tell me how you came to be involved in The Players Theater's Short Play Festival: Sex! taking place in February 2020? 
My friends have encouraged me to submit my pieces to local festivals. I was also fascinated by the theme, Sex!, a theme I like to explore in my writing. I am also fortunate enough to have the performers Carrie Ellman-Larsen and Elena Theodora Lozonschi on the adventure with me.
What was the main impetus for choosing to create this work? Where did you get your inspiration?
The whole piece started with the first line, "I could have been a great lesbian," which came to me one morning. That quite unusual line stayed with me for months, until one day it found its character. Thus, my piece came to exist. First, as a short story, then, revised, as a one-act.
 What do you want the audience to leave with after seeing your work?
I was raised in a country that did not believe in any forms of freedom, so, naturally, for me it is important to show my audience how much we hurt ourselves and others when we can't speak up. Moss is particularly relevant for me because a few years ago, the Romanian government wanted to change a phrase in the Constitution validating a marriage if and only if a union was based between a man and a woman. That referendum did not pass. But the hatred towards this community is still present and, point in fact, only heterosexual marriages are legal. As a cisgender white woman I have learned a lot from the LGBTQ community. I have learned to love fully.
What are the biggest challenges when writing short plays?
Personally, I find editing to be such a rewarding part of the writing process because it's about me facing my own ideas and I like the thrill I get by being my own censor. I have a friend who writes effectively using only a few words. I think of that technique when I edit. Furthermore, because I published scholarly books and essays, I am grateful I have come to my senses and returned to the freedom to speak from the heart, use foul language, and dream along with my characters.
What is your most favorite moment of your show "Moss" and why?
In Moss, when the grandmother gets rid of the last piece from her traumatic secret that's a moment when she has finally freed herself. I like to see other people be as frank as she is because for whatever reason we seem to be our own executioners when it comes to living freely.
 If you could imagine your work being performed anywhere in NYC where would it be?
I'd like my work to be performed in venues that are open to people with low income. I write with the underdog in mind because I find the underdog's story to be more vibrant than any transitory glitter.
 How do you wield your own brand of femininity in the piece?
That's a powerful question. I can't stand artifice. This is why this female character, who suffered a lot, must be free.
Would you say that your work is feminist in its expression? if yes, how so?
I prefer to call myself a womanist and thus try to write from a more inclusive angle. Intersectionality is extremely important for me. I also want to believe that what I create, even if it may be betrayed by my take on English, can be easily played by thespians everywhere.
Who are your primary female mentors/role models/inspirers and why?
Hard working women who do not give up. My own motto is, pardon my bluntness, "Walk through shit and laugh."
A compilation of some of your plays was recently published. Congratulations, where can we get hold of a copy? How would you describe the genre of your plays? 
The Rebelled Body Plays was published last year at NoPassport Press and edited by Obie-award winner Caridad Svich. The volume of three plays can be bought online at Barnes and Noble and Amazon.
My doctoral degree is in Medical Humanities and Comparative Theater, so my plays have an interdisciplinary approach, more exactly most of them focus on what hurts and how deep that hurt is, if it is personal and/or collective, if politics of health are universally attainable, if human and environmental rights should be reevaluated, etc.
When my mother died because of breast cancer, I found a lot of comfort in theater. I hope it's my turn to share my own characters who, like me, are beautifully resilient, despite the heavy load longing and suffering typically bring.
Why are you drawn to the medium of theatre?
Theater is freedom. Because I am an introvert, I need time to make my characters break free out of me.
What recent shows in NYC or beyond have inspired you?
It could be literally anything from an art exhibit, a piece of music, a poem, to a film. Speaking of that, Parasite is the film of the moment because it shows, without sparing anyone's feelings, humanity at its lowest point. Will we be able to make it work again? Will we be able to laugh again? ​
What is your next big adventure?
I want to teach in places that have been affected by wars and poverty. I want to teach those kids how to make stories out of their misfortunes; I want to teach them stories in my accented English; I want to bring back their foreign sounds — if I have not already said this implicitly, then I will do it irrefutably at the end: anything that is foreign is resplendent with infinite dreams.
More about my world premieres soon — I promise.
The Players Theater's Short Play Festival: Sex! takes place at The Steve & Marie Sgouros Theatre at The Players Theatre 115 MacDougal Street, New York, NY 10012
For more information and tickets go to:  https://shortplaynyc.com/
If you would like to get to know Catalina's body of work go to:  http://www.catalinaflorescu.com/  ​www.linkedin.com/in/drflorescu/
The Program
Week 1 – Feb 13 -16th
By the Foot by Genny Yosco
Jack & Jill by CB Murray – WINNER
Spinning the Record by Amanda J. Bermudez
Sleep Here by Michael Long
Bachelorette by Amanda Murphy
Week 2 – Feb 20 -23rd
Moss by Catalina Florina Florescu
Ole! By Joseph Sexton
Doing It by Leonard D Goodisman
Date Show the Game Show by Carina Torres
The Gift by Lawrence Kessenich
Week 3 – Feb 27 – March 1st
A Matter of Taste by Amy Drake
John & Eleanor by Serah Bennett
The Story of Oh (Revised and Abridged) by James Colgan
What to Expect When You're Expecting Our Lord and Savior by Bailey Jordan Garcia
The 5 Minute Pill by Richard Roy