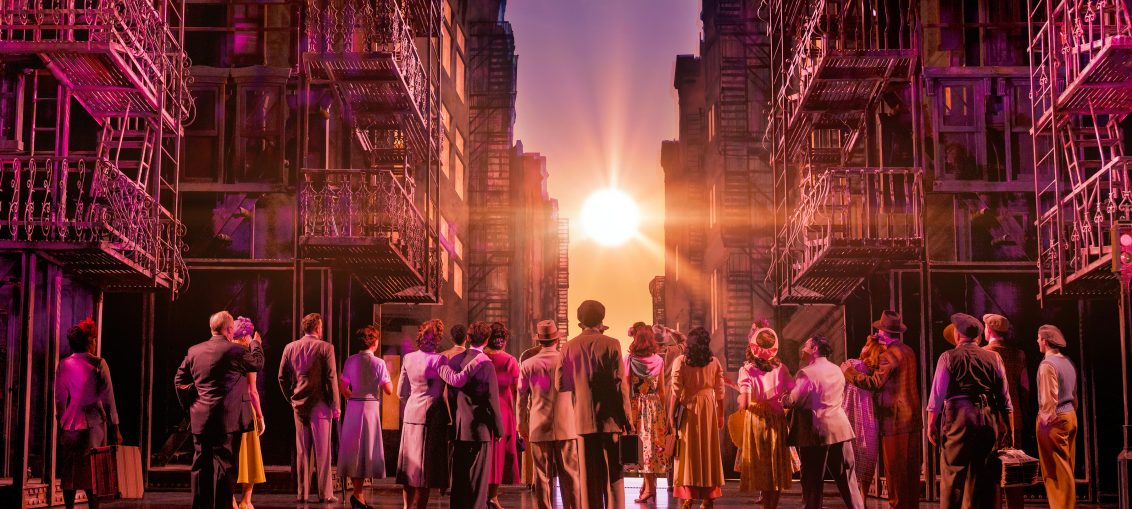 Sometimes, all the elements for an excellent musical come together and the sparks simply don't fly. Such is the case with New York, New York, a new musical based on a 1977 romantic movie. With songs by John Kander and the late Fred Ebb as well as new songs Kander wrote with Lin-Manuel Miranda, a book by David Thompson and Sharon Washington and direction and choreography by Susan Stroman, the show has all the makings of a hit, but the whole is not greater than the sum of its parts.
The story, inspired by the classic film that gave New York City its unofficial anthem, follows a group of aspiring musicians in post-World War II New York City. While the original film only focused on up-and-coming singer Francine and saxophonist Jimmy Doyle, the stage adaptation adds a number of other people who love and create music, including a Black trumpeter named Jesse who wants the respect his white peers get, a Cuban drummer named Mateo who may be Gay and a Jewish violinist named Alex who studies under Madame Veltri.
If that seems like a lot to remember, it is. By turning the story into an ensemble piece, Thompson and Washington remove the complexity from the tumultuous relationship at the heart of the film. We're no longer focused on the charismatic main couple or their volatile relationships; now, we have to follow any number of storylines and find the emotion in all of their hopes and dreams. Just as a moment starts to achieve emotional depth, the scene ends and we're following another character and another story. By the time the band plays the triumphant title song, it's hard to muster up much enthusiasm for any of the characters, much less whether or not they achieve their dreams.
The flat book is matched by a hodge-podge score of songs cobbled together from less-famous Kander and Ebb musicals like Flora the Red Menace and The Rink as well as some original numbers with music by Kander and lyrics by Miranda. Susan Stroman's direction evokes the Golden Age of Hollywood musicals, but that includes the corniness and unsubtle emotions. (Her choreography, of course, is excellent, although several moments get elaborate dances that do little to advance the plot.)
The cast works valiantly to rise above the weak material to give some truly excellent performances. As the main couple, Anna Uzele and Colton Ryan are charming and winsome, but the conflicts in their relationship remain too shallow to be dramatic. (Fortunately, Uzele and Ryan have enough charisma to still be compelling, but one must wonder what they could have accomplished with a more nuanced and complex storyline.)
John Clay III gets far too little to do as Jesse, and it's a real pity, because his character is one of the most compelling in the show. Angel Sigala does some very nice work as Mateo, and has some truly lovely moments with Janet Dacal as his mother. (Dacal, for her part, is given even less to do than the men are. She needs a new musical to show off her formidable voice and stage presence.) Oliver Prose has just one real moment as violinist Alex, and gets almost no opportunity to make his character three-dimensional. Emily Skinner is in much the same situation as Madame Veltri—her character could be fascinating if she were given more to do.
Ken Billington's lights and Beowulf Boritt's set are both fantastic and work together to excellent effect, especially in a gorgeous moment that recreates Manhattanhenge on the stage. Borrit and Chrisopher Ash's projections look like traditional, old-fashioned drops instead of realistic photos, evoking the Golden Age of Broadway. Donna Zakowska's costumes nicely evoke the different milieux the characters inhabit and Sam Davis' arrangements are a lovely tribute to both the Big Band era and Broadway's Golden Age.
There are a lot of elements that work in New York, New York, but when the book and the score don't, the whole production struggles. Instead of a wonderful celebration of how music unites us, the show is a jumble of too many stories that ultimately don't reach a satisfying conclusion.