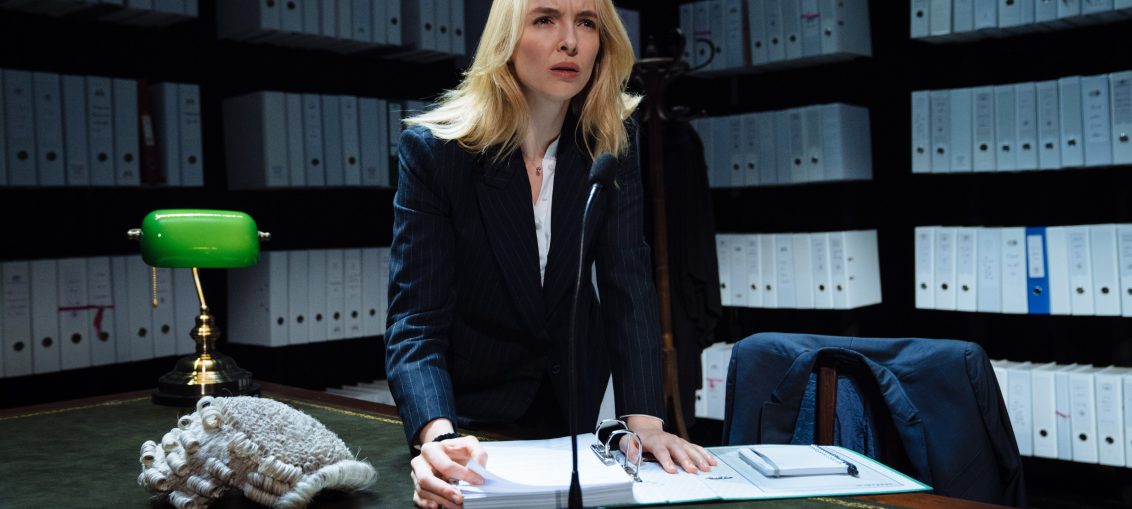 Madeleine Albright once said that there is a special place in hell for women who don't help other women. That quote could be at the heart of Prima Facie, a new one-woman play by Suzie Miller about a woman forced to confront her legal defense of rapists—and the legal system's treatment of survivors—once she is sexually assaulted herself.
The 90-minute play follows Tessa, a criminal defense barrister in London who uses peoples' prejudices and misconceptions to ensnare them on the witness stand and who firmly believes that whoever builds the best case will win. Justice is incidental: "If a few guilty people get off then it's because the job was not done well enough by the prosecutor and the police," she says, early in the play. When she has to build her own case, however, she begins to see not only the flaws in this philosophy and in the legal system itself, but her own complicity in hurting other victims. She certainly hasn't helped other women—but is she in a hell of her own making, or is she merely a part of a larger, more insidious system designed to protect violent men?
In her notes on the play, Miller writes that the legal system is "shaped by the male experience, its cases decided by generations of male judges and its statutes legislated by generations of male politicians." As such, she argues, "sexual assault law does not fit the lived experience of women." (The play, it should be noted, does not discuss the sexual abuse of men.) Focusing on one woman's experience, Miller examines the misogyny behind the treatment of women who have survived sexual assault, and emphasizes how little justice they can expect from laws created to help men.
But while Miller's script is a cri de coeur for changes to the legal system, she offers no suggestions on what specific changes should be implemented to ensure justice for survivors. As it goes on, the play becomes less a character study and more of an examination of how a policy of "innocent until proven guilty" and placing the burden of proof on the accuser hurts victims. It makes Tessa's character arc rather predictable and formulaic.
Miller's use of language, however, is wonderfully effective—a staccato rhythm that hits like bullets, especially as delivered by Jodie Comer in her stage debut. Comer's visceral performance elevates the play above its adequate script, bringing Tessa from confident to confused to enraged in short order and making each transition seem completely natural. Comer's energy in the opening scenes is kinetic and riveting, and it is truly thrilling to watch her leap around the stage in joy as she takes down her adversaries. Later, as she becomes a different cog in the proverbial wheel, we see how the broken pieces of the system cut her down into shreds of her former self.
Miriam Buether's set—walls of white books that disappear midway through to become a frightening void—also does a nice job of conveying the order that descends into rage and fear. Natasha Chivers' lighting and Ben and Max Ringham's sound design amplify the emotions, growing more complex as Tessa wrestles with her situation.
At face value, Prima Facie is predictable, but Comer's performance is nothing less than thrilling and should not be missed. And perhaps post-show discussions can begin working out how to protect victims in court while maintaining a presumption of innocence for the accused.
Prima Facie runs through July 2 at the Golden Theater