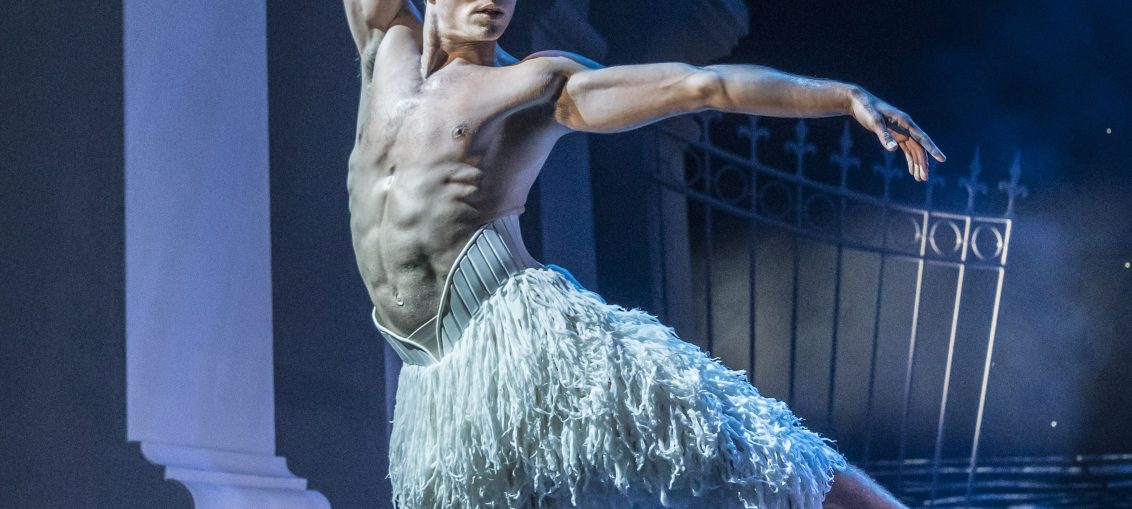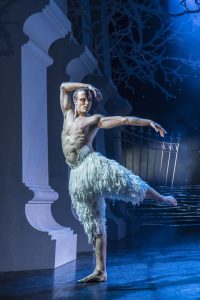 "DO NOT FEED THE SWANS" reads the sign posted at the edge of the lake The Prince (James Lovell) staggers towards.  Drunk, unhappy and unloved, he's ready to end it all when The Swan (Matthew Ball) who has haunted his dreams appears.  Like a real swan, he and his flock are beautiful.  Further defining their species and most unlike the traditional ballet kind, they are aggressive.  This flock will bite off whole hands of those daring feeding them.  Guided by the moonlight, Tchaikovsky's music and Sir Matthew Bourne's spectacular choreography, the Prince and Swan form an unbreakable union defying both their clans.  Now 25 years old,  Bourne and his New/Adventures troupe bring Swan Lake back to NYC and City Center through February 9.
Widely known thanks to Billy Elliot, Bourne's Swan Lake is more than another movie turned musical.  His version is a tragic love story.  Attraction turns into genuine love when the the two protagonists start dancing together doing the same steps.  Bourne's equality of movement and partnership is both physical and spiritual; something that doesn't always happen in standard male/female stagings (Russian interpretations of the lovers' fate border on camp).  Lovell's shy Prince and Ball's bad boy Swan complete and save each other.  While available on DVD and all over YouTube, it's worth seeing Bourne's version in person to see how the relationship is expressed in movement.
The other and best reason, to see this version of Swan Lake are the swans.  Barefoot, bare-chested, their black beaks their war paint and wearing costumer Lez Brotherston's iconic feather pants, they move big.  Bourne's style is balletic, modern, sophisticated Broadway and athletic.  He gives his swans something else.  In the photo above, Matthew Ball is standing in a position associated with Vaslav Nijinsky, the first great male ballet dancer.  These swans continue what he started.
The swans appear en masse only twice.  They may wear the feathers, but female dancers too are part of Bourne's Neo-Con, potentially post-Brexit kingdom.  Court life and official duties are stiffly and hilariously performed.  The Prince likes to hang out at The Swank Club, where subjects let loose in an intricate group number.  Paparazzi follow the royals…but never to the lake.
The Prince's problems begin and end with his mother.  The Queen (Nicole Kabera) is a cold bitch costumed in stuffy outfits partially inspired by young Queen Elizabeth II.  When the leather-clad Swan disguised as The Stranger attends an awkward party, he has no problem seducing her.  Why he does (Bourne cuts the sorcerer and the back story) is wide open to interpretation, but the duet between Ball and Kabera is a lovely Fred and Ginger moment (literally, from Carefree) before impending disaster.
Also falling hard for the hot guy with the big jumps is The Prince's Girlfriend (Katrina Lyndon), a ditzy scene-stealing commoner.  She is the only one of the royal party who enjoys the brief ballet-within-the-ballet, Bourne's sweet send-up ballet's fascination between humans and feathered creatures.
Running Time:  Two hours and thirty minutes with one intermission.
Matthew Bourne's Swan Lake opened on January 30, 2020 and runs through February 9, 2020 at New York City Center (131 West 55th Street, NYC).  Ticket information can be found here,and on Sir Matthew' Bourne's New/Adventures website.