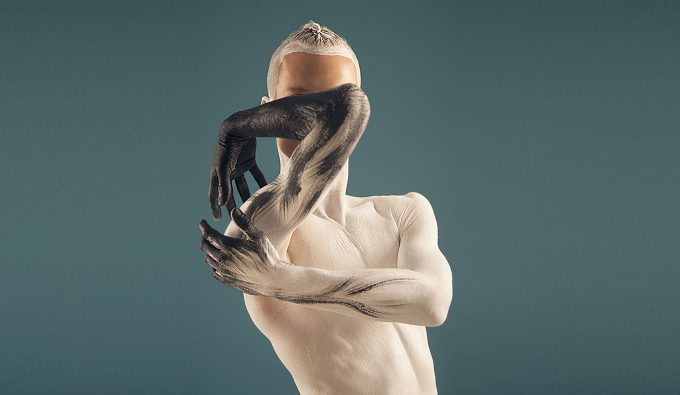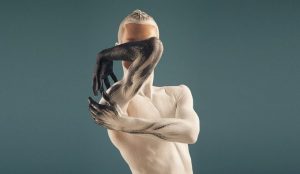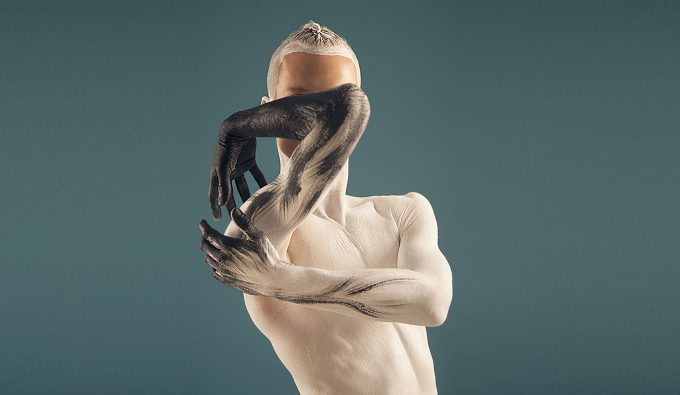 If your idea of dance is the Rockettes or a big Broadway show-stopper, Sidra Bell Dance New York is probably not for you. The choreographer, composer and company seem comfortable just on the other side of the cutting edge. The performances at New York Live Arts of "Friction" and "garment" (lower case in the title) illustrated this nicely.
To begin with, the company is diversity itself. Sebastaian Abarbanell is a former Berliner, Tushrik Fredricks is from Johannesburg, Drew Lewis learned to dance in Chicago, Misa Kinno Lucyshyn is from Eugene, Oregon by way of Vancouver, Madison Wada is a Californian, and Leal Zielinska is from Gdansk, Poland. Apprentice Sophia Parker comes from Berkeley, and one only knows her status as apprentice from the program – certainly not from her performance. Sidra Bell has brought them together and managed to find common artistic ground to create a team. It is not a performance of seven dancers, but of one unit composed of seven dancers.
"Friction" is a new work, a piece in five parts: constructed selves, deeper extrusion, habitat, compassion (functioning) and removal. It demands of the dancers intense isolations and deliberate motion for close to an hour as the audience is propelled through scenes of dystopia and alienation.
Juilliard-trained electronic composer and clarinetist Alexey Gorokholinsky is as diverse in sound as the company of dancers. Some of it reminds one of Brian Eno's "Ambient Music" and Bowie's "Low," other parts are straight out of a techno-rave, and still more could be an assembly line in a robotics factory breaking down. His presence upstage center in a red sports coat behind his electronics was Orwellian.
'garment" is somewhat lighter fare, although proverbially, it won't play in Peoria either. Its two parts are The Body Politic and new demon. The piece focuses on being in one's own skin despite the pressures around us. This piece has some laugh-out-loud moments that make it work – the performers are not taking the outside world seriously, and the spotlight shines all the more accurately.
The experimental nature of these pieces can mask the technical excellence of every performer. Bell has deliberately choreographed bits that are ugly, inelegant, clumsy – call it what you will, these moments are the counterpoint to the expected grace and perfection sought in mainstream dance. So let me say again, these dancers' technique is second to none.
Each piece began with a dancer already performing as the audience was looking for seats, silencing phones and unwrapping lozenges. It is a matter of taste, to be sure, and there is some artistic point being made. That said, I genuinely dislike the concept, which diminishes what the performer is doing.
I cannot say that I loved it. I can almost say I liked it. That I didn't leave walking on air is irrelevant. Sidra Bell New York Dance exists to push the envelop, and in this particular instance, they pushed it in a way that didn't click with me. The company and choreographer won my respect as artists. Sometimes, that's worth a whole lot more. They have the capacity to catch lightning in a bottle, and if they do that in some future piece, I will not be surprised in the least.
Sidra Bell New York Dance performed June 29-30 and July 1, 2018 at New York Live Arts, 219 West 19th Street, New York City.