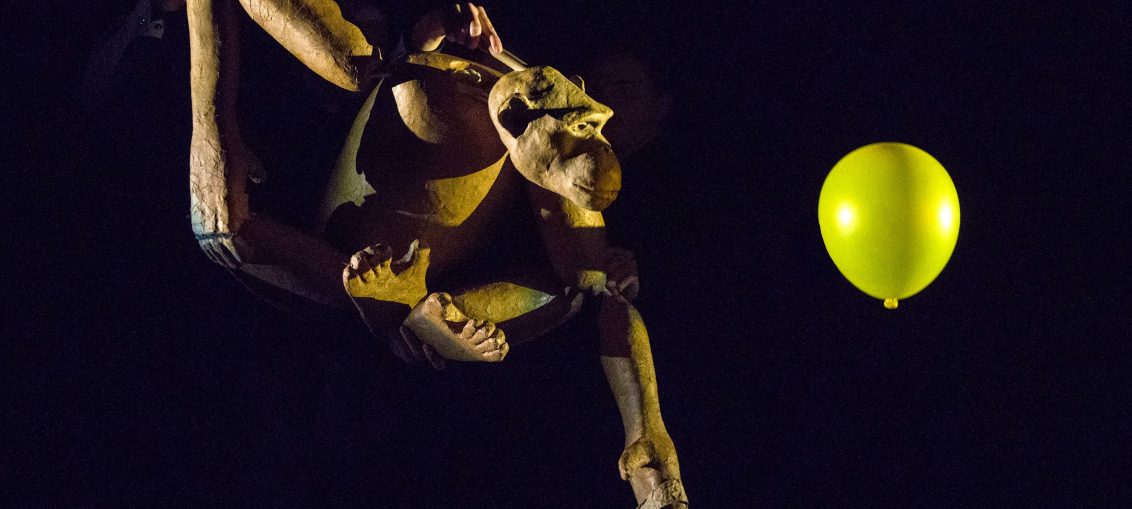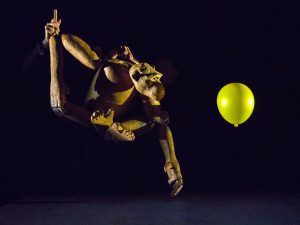 Our primate friends and relatives have been taking it on their pronounced chins lately.  The orange orangutan resemblance to the president was raucously noted in Adam McKay's brilliantly biting Vice, and Bubbles the chimp's BFF Michael Jackson was openly accused of being a predator in HBO's documentary Leaving Neverland.  Then there is the nameless solitary female chimpanzee caged in her own show at HERE.  Directed, created and designed by Nick Lehane, Chimpanzee is on exhibit through May 5 at the Dorothy B. Williams Theater.
For those who are familiar with or new to HERE's Dream Music Puppetry program, Chimpanzee personifies what they do best: use the inanimate to create reality.  Chimpanzee's story is told in little over an hour with Lehane's lifelike puppet – operated by Rowan Magee, Andy Manjuck, and Emma Wiseman – living out the rest of her life in a lab subject to electric prods and shocks.  The three puppeteers are in full view of the audience and convincingly take on the various caretaker roles.
Lehane combined several accounts of chimps subjected to life outside their natural environments.  His research on the research is effective.  The puppeteers curve their hands and body language inferring ugly machines measuring brain patterns.  Memories, too, are prodded of the human home she was raised in.  Chimpanzee likes people, a cup of tea while listening to the opera, and booze.
Whether in memory or reality, Chimpanzee never loses her instinct for freedom.  She is an intelligent, curious, sexual and socialized creature.  Her strong sense of smell is revealed when she investigates a scarf sprayed with perfume.  She can smell it.  You can't.
Please visit HERE's website for tickets, post-performance discussions and further information.