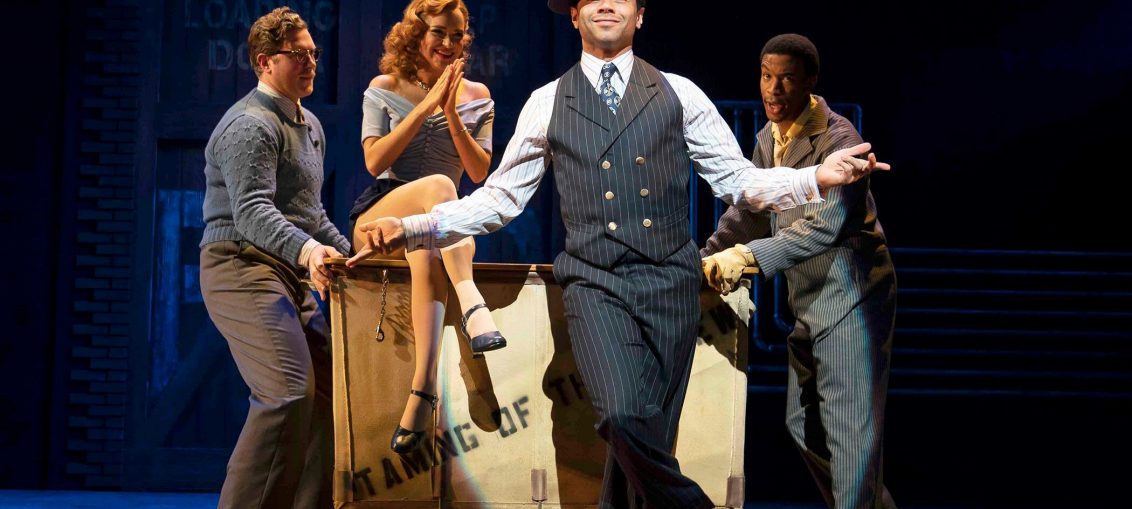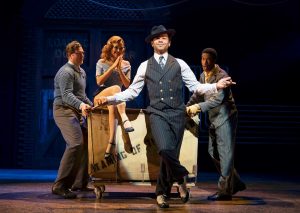 There's only one other full-size Broadway musical revival in town right now, that thing uptown about Eliza Doolittle and Henry Higgins, so fans of golden age musicals had better hie themselves to Kiss Me Kate. But on arriving, they may find the 1948 classic, with a book by Sam and Bella Spewack and a career-high score by Cole Porter, has been tampered with to an unhealthy degree.
To be sure, there's still plenty of glory for the eye and ear. That starts with Mr. Porter's fabulous work, a triumph for a composer-lyricist who had thought the then-recent revolution pioneered by Rodgers and Hammerstein had rendered him obsolete. Carefully, he absorbed their lessons of integrating song and plot, overlaying it on his patented cleverness and double endtendres. Result: Evergreens like "So in Love," "Brush Up Your Shakespeare," and "Always True to You in My Fashion," and wedded to a pretty darn solid book, too.
The score's in fine shape at Studio 54, reorchestrated for 16 pieces in svelte period style by Larry Hochman and lovingly conducted by Paul Gemigniani, who also helmed the hit 1999 revival. Also returning from that revival, and less welcome: uncredited book revisions by John Guare. These sought to balance the gender battles in the material, a backstage caper about an estranged couple starring in a musical version of The Taming of the Shrew while waging Petruchio-and-Katharine-like war. The revisions have been further revised by Amanda Green, to further equalize the battle of the sexes and keep the #MeToo generation happy. Petruchio no longer spanks Kate, and she gets in plenty of good licks herself. The slapstick, under Scott Ellis's direction, is seriously ramped up, and the staging is distractingly frenzied; it's as though, in this ADD era, Ellis were afraid a moment of stillness would put the audience to sleep.
So not only are Petruchio and Kate slap-happy, so are their real-life counterparts, actor-director Fred (Will Chase) and ex-wife-leading-lady Lilli (Kelli O'Hara). They're an odd match. Will Chase is a first-rate leading man whose presence has brightened many musicals, but the one thing Fred must be able to do is swagger, and Chase just isn't a larger-than-life swaggerer. He's also a tenor, lacking the vocal heft to project Fred's authority and ego. O'Hara's personality has always been on the frosty side, which suits the vain, temperamental Lilli, but you won't feel a great deal of chemistry between these two. She does get some of Porter's choicest gems, and she sings them beautifully.
The singing's pretty great throughout, if overamplified, by sound designer Brian Ronan. But at least all those delectable Porter lyrics are audible. And Warren Carlyle's choreography! "Too Darn Hot," the ensemble Act Two opener, got an ovation the likes of which I hadn't heard since Bette Midler paraded that passerelle at the Harmonia Gardens. (Question, though: If it's so darn hot, what's the ensemble doing in a back alley, working themselves into a terpsichorean flop sweat?) And Corbin Bleu, invaluable as Bill, half of the second couple (the other half is Stephanie Styles' Lois; she's a little too Lina Lamont-adenoidal), makes "Bianca" as much of a show-stopper as Michael Berresse made it last time around. Athletically ascending David Rockwell's excellent multilevel backstage set, tapping upside-down, and even making a very minor Porter effort sound good, he's a major talent and a delight to watch. Carlyle's choreography also has its excesses, though: For "Tom, Dick, or Harry," whose lyric naughtily goes "dick a-dick a-dick," he has Bleu, Will Burton, and Rick Faugno endlessly thrusting their pelvises. It's vulgar, and it beats the joke into the ground. He's also overthought "Always True to You in My Fashion," which is supposed to be a musical argument between Lois and Bill. The latter exits after the first chorus, leaving Lois to cavort pointlessly with several boys from the ensemble. What, is she always true to all of them in her fashion?
This isn't what you'd call a deep libretto, but it does have more substance than Ellis has wrung out of it. Most of the characters are given one emotion to play, though O'Hara does work some welcome ambivalence into "So in Love." Harrison, Lilli's Douglas MacArthur-like fiancé (part of Guare's needless rewrite; originally he was a Texas cattleman), is probably unplayable under any circumstances, but Terence Archie just blusters and harrumphs, and it's monotonous. The two comic Damon Runyonesque gangsters roaming the backstage trying to recover a gambling debt (John Pankow and Lance Coadie Williams) don't win a lot of laughs until their "Brush Up Your Shakespeare," which is artificially broken up to seem like it's being encored more than it is. (But what a joy to hear an audience actually guffaw at lyrics.) The pair are written in an antiquated vaudevillian style that's hard to bring off, but whatever they need, these two don't have it. The Shakespeare, in the onstage portions, is declaimed quite well, and Mel Johnson Jr. is an especially elegant Baptista.
A couple of Jeff Mahshie's contemporary costumes don't quite land in 1948, but his Elizabethan frocks are a colorful riot, and the all-white-threads finale is really dazzling. That's where, heavy spoiler alert, Lilli, having deserted the show with Harrison, returns in time for the finale to sing "I Am Ashamed That Women Are So Simple." Only this time, it's "people" who are so simple, for actors are no longer allowed to call women simple, even if it's Verona in 1590. Anyway, our hearts are supposed to swell—thank goodness, Lilli and Fred have finally realized they can't live without each other—and our reaction is more like, What's she doing here. It's a strange, beautiful Porter melody, though, and O'Hara sings it exquisitely. It's emblematic of a Kiss Me Kate that will beguile the visual and aural senses, but repeatedly fails to reach the funnybone or the heart.
Running Time: 2 Hours, 30 minutes with one 15-minute intermission
Kiss Me Kate is playing at Studio 54 located at 254 West 54th Street, New York City, through June 30, 2019.
Please visit the Roundabout Theatre Company's site for tickets.