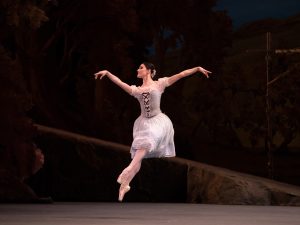 One way of defining a performance is that it is an experience of shared hopes between artists and their audience.  Sometimes the final result exceeds the good wishes and anticipation.  That's what happened during the Saturday, June 30 matinee of Don Quixote when American Ballet Theatre Principal Sarah Lane resoundingly danced her first Kitri, one of ballet's most difficult and fun roles.
What made Lane's debut memorable has a great deal to do with Marius Petipa's boisterous 1869 ballet and Alexander Gorsky's 1902 dance-as-drama re-staging of it (ABT Artistic Director Kevin McKenzie and Ballet Mistress Susan Jones based their 1995 production on both).  Cervantes' Don (character dancer/ABT Associate Director Clinton Luckett) and his sidekick Sancho Panza (Sean Stewart) are plot devices.  Upon arrival in Seville searching for the elusive Dulcinea, the aged Knight thinks he's found the perfect woman in Kitri, the Innkeeper's (Roman Zhurbin) daughter.  Her attractiveness is elevated by high jumps and higher overhead lifts from her boyfriend Basilio (Herman Cornejo).  Guided by his sense of honor and a dream lasting most of Act II, the aged Knight assists Kitri in avoiding marriage to preening aristocrat Gamache (Lane's husband Luis Ribagorda).
Famous Kitris such as Natalia Makarova, Paloma Herrera and Natalia Osipova established themselves in the role early in their careers.  Another, Maya Plisetskaya, perfected a big jump accented with one leg kicking the back of her head in the ballet that is now called the "Plisetskaya kick".  For Sarah Lane, who joined ABT in 2003 and promoted to Principal a year ago, experience is an advantage.  She's worked closely with ABT's Artist in Residence Alexi Ratmansky  creating leading roles in his Tempest, Chamber Symphony and Whipped Cream.  This successful collaboration, along with Giselle (photographed above) and Swan Lake, make her technically strong, engaging and versatile.  Her Kitri convincingly matures from a teenager to a Señora married to the town barber.
Lane's other Swan Lake association was being Natalie Portman's Black Swan dance double.  Even non-ballet fans may recall that Nina had difficulty with fouettés, the 32 whipping turns Odile the Black Swan gleefully executes after fooling the Prince.  Kitri does a lot them too after marrying Basilio , and while it's a tradition to count them, it didn't how many Lane did because she occasionally raised a fan overhead doing them.  Prior to that were also several Plisetskaya kicks and a series of fast pirouettes down a line of adoring matadors to Basilio.
Don Quixote's first act is pretty much an extended duet between Kitri and Basilio with story essentials in between.  Herman Cornejo matched Lane's exuberance; his jumps landing on one knee or others including elevated turns elicited gasps and cheers from the sold-out audience.
Their final pas de deux is the most famous part of the ballet and regularly included on mixed highlight programs and gala nights.  Lane and Cornejo were spectacular.  This section of Ludwig Minkus' pseduo-Spanish music is also a big favorite with figure skaters.  What Johnny and Tara don't tell their adoring fans that in between Kitri and Basilio's solos are ones by two Flower Girls (Skylar Brandt and Betsy McBride). Rather than slowing the pace, they added to the celebration.
Others in the large cast included Stella Abrera as Mercedes, an elegant street dancer, and Alexandre Hammoudi as Espada, her comically self-absorbed boyfriend matador.  The Don may not have found Dulcinea, but he encountered Rachel Richardson's Amour and Cassandra Trenary's Queen of the Dryads in his dream where long ruffled flamenco skirts are exchanged for shiny tunics and short tutus.
Much in Don Quixote is exaggerated.  What wasn't at this performance was the joy seeing Sarah Lane take all those tricky steps toward the next phase of her career.
Running Time:  145 minutes. Three acts with two 15-minute intermissions
The June 30, 2018 matinee performance of American Ballet Theatre's Don Quixote took place at The Metropolitan Opera House (Lincoln Center between West 62nd and 65th Streets and Columbus and Amsterdam Avenues).  The company appears at the Met through July 7, 2018 and returns to Lincoln Center's  David H. Koch Theatre October 17-28.  Scheduling, casting, touring and ticket information is available on ABT's website.