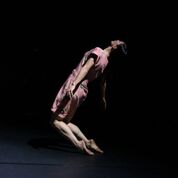 About a year from now, Anne Teresa De Keersmaeker will reach a mainstream audience when she stages the dances for Ivo van Hove's Broadway production of West Side Story.  Both she and her company Rosas frequent BAM, various Lincoln Center festivals and Baryshnikov Arts Center, which over this long weekend presented the New York premiere of the Belgian modernist's stunning Verklärte Nacht in the Jerome Robbins Theater.  There's no irony intended here.  It's BAC's largest performing space and the two choreographers are generationally, aesthetically and fundamentally different from each other.
Verklärte Nacht (Transfigured Night), originally choreographed in 1995 and reconstructed in 2014, is based on Richard Dehmel's 1896 poem of confession and forgiveness.  Two years after the German Expressionist published it, Arnold Schoenberg's composed the atmospheric tone poem that became his best-known work.  (Unless the local music director is Barenboim, Rattle, Welser-Möst or Salonen, it's the only Schoenberg that gets programmed.  Boulez's definitive recording with the NY Philharmonic was used at these performances,)  In 1942 Anthony Tudor used the music for Pillar of Fire, a bleak, ingenious variation on Dehmel's premise.  Jerome Robbins was in the original ABT cast, as was Tudor, the legendary Nora Kaye and Sono Osato, On The Town's first "Miss Turnstiles" who passed away in late December at 99.
The 40-minute work was the only one on the program with good reason: the couple (Boštjan Antončič, Cynthia Loemij)'s emotions extend into the audience.  De Keersmaeker visualizes the poem and music's uncomfortable narrative  – She is pregnant by another and He forgives her with everyday and exaggerated movement.  German Expressionists and the Second Vienna School liked to shock, and this is a masterful dance, but it's also about two ordinary people.  They walk, circle and sometimes never face each other.  Her dialogue is expressed by crouching or rolling on the stage.  She reveals her pregnancy by spreading her legs, contracting her stomach and falling to her knees.  Her dance sentences begin either with the raising of an arm or kicking a leg, resembling a twisted figure in an Egon Schiele sketch and closely adhering to Dehmel's description:
She walks with a clumsy gait,
She looks up; the moon is racing along.
Her dark gaze is drowned in light.
De Keersmaeker reads more between the lines with Him.  Initially, He's upset and runs around the dark, empty stage  The roughest thing He does is push her away with His knees.  Very soon though, the "special warmth flickers/From you into me, from me into you" is conveyed when he lifts her and gently cradles her stomach.  He then covers Her with His jacket.  Ultimately, He convinces Her to look forward to their future and walk alongside Him.
Cynthia Loemij was incredible.  Her powerful dancing never got in the way of conveying fear or vulnerability.  She made Her a complete character.  It was also perfect that her Rosas/Rudy Sabounghi costume was a loose-fitting short dress with a pink flowery Wiener Werkstätte design contrasting her dark thoughts.  Boštjan Antončič provided Loemij with a calming presence.  Igor Shyshko also made a strong impression in the silent Prologue as the indifferent hook-up/biological father.
Performances of Verklärte Nacht took place January 30- February 3, 2019 at Baryshnikov Arts Center (450 West 37th St #501, NYC).  To learn more about their Spring Season, visit the BAC website 
More information of Anne Teresa De Keersmaeker and Rosas is on their website
The complete text of Richard Dehmel's Verklärte Nacht is available here