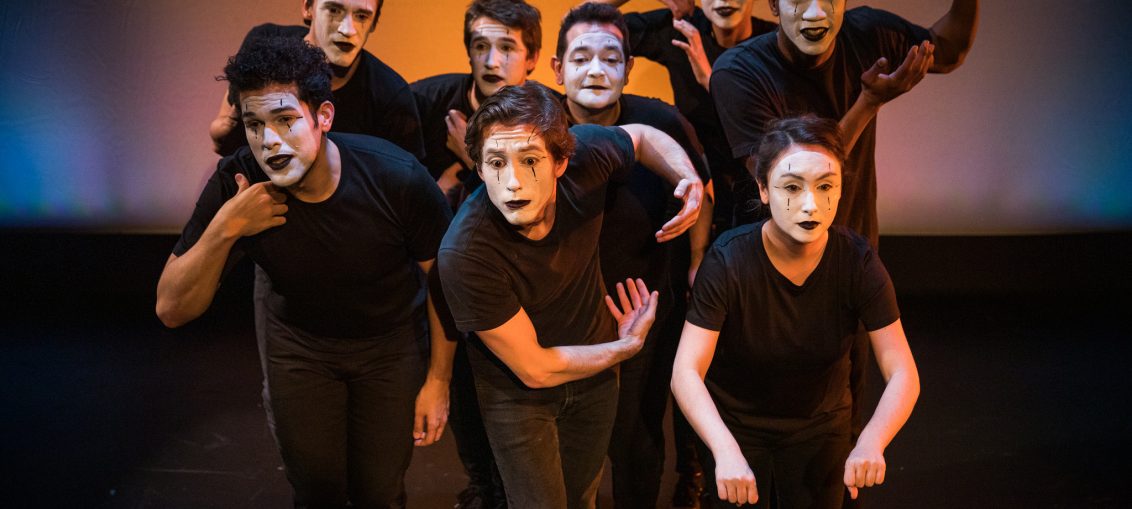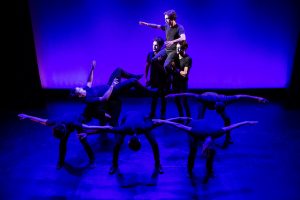 I did not know that I would love 90 minutes of traditional mime so much. But I did. Nine performers, in mime white make-up masks, performing a series of scenes and moments, managed to be both captivating and surprising, and I was amazed at how deeply I responded to this skilled and brilliantly executed performing art form.
My vocabulary for mime is not very big. I immediately default to thinking about the man in the box, the rope puller, the mime mimic performing street theatre at a tourist intersection. SKIN takes that and tosses it out the moment the lights go out, and the title of the first piece appears on the back wall – Boys Syde. Immediately we are watching the macho moves of a boy band as each member takes a turn at strutting their stuff; posing and moving, and utterly familiar and funny. We know these guys. Then things take a grisly turn as a strip becomes something more than the removal of just clothes, and the entire audience gasps at a moment of pure mime theatricality. From the very first scene the company lays the foundation of what is to follow.
The scenes are as varied in tone and subject matter as they are in length and number of performers. Some are moving duos, some are huge ensemble pieces, and there are even variations in style. All of this under a mime umbrella. Noticeable too were the particular skills and styles of the individual artists who excelled differently in humour, pathos, irony, broad comedy, deeply observed emotions, and the human condition. To add to that, some scenes were divided by tiny glimpses into the natural world, with a chameleon, jellyfish, and a pigeon love dance, just to name a few.
The result is a diverse and nuanced collection of scenes that kept me on my toes and involved, constantly surprised, delighted and charmed.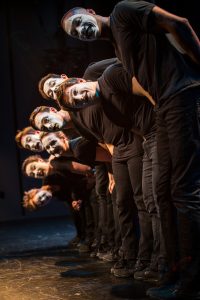 Naturally, I had my favorite favorites, even though, as I look through the program notes I remember one more that I loved. I think I loved Coming This Fall the most. It is a movie trailer for Snail Cop, a snail and his human partner who fight crime. I think the whole company is involved in this raucous romp of a scene in which a snail the size of two human hands takes down baddies, drives the streets, performs a terrifying interrogation and gets awarded cop awards for being the best snail cop. It is hilarious, fast paced mayhem mime and I laughed so hard I almost choked.
In sharp contrast a duo called Hashtag had me in tears. Here a date ending in sex is remembered differently by both people and the issue of consent is blurred by unexpressed feeling. This sensitive and emotional piece was executed with clarity and detail, both physically and emotionally, and it was a triumph. Interestingly, sex is revisited in another duo called Sunday, only here the two are so comfortable and intimate there is the gorgeous sense that we are smack bang in the middle of a long, long relationship. Delicious.
I feel bad about selecting these few scenes without saying how much I enjoyed all of the others. The 16th Annual Brooklyn Beard Awards is sketch comedy genius, and it is original and so screamingly funny. Survival Mode is a dark and sad view of teenage escapism that gave me goose bumps.
And there were more moments and scenes that I loved from the shape shifting, emotion wielding masters of micro-expressions –Nick Abeel, Duane Cooper, Blacke Habermann, David Jenkins, Mariss Molnar, Joel Perez, Regan Sims and Matt Zambrano. This ensemble is a tight knit, technically astounding, mighty conglomeration of talent in full bloom. They are utterly mesmerizing and painted powerful environments into being with their wordless, detailed physicality, focus and captivating emotionality.
Artistic director, Becky Baumwoll has crafted a delicious work that incites wonder and a sense of awe at the human body's ability to tell a story – unadorned and sans artifice. Every piece is a stand alone statement that you want to have a discussion with for hours. I was transported, transfixed and tickled.
This is a wonderfully executed, well thought out and beautifully performed program and I recommend spending this time in the theatre, waking up your whimsy.
Broken Box Mime Theater (BKBX) is the recipient of Three New York Innovative Theatre Awards including Outstanding Performance Art, Outstanding Ensemble, and Outstanding Movement/Choreography. Lighting design is by Jamie Roderick, and Esti Bernstein serves as stage manager. Additional company members of BKBX include Géraldine Dulex, Ismael Castillo, Dinah Berkeley, and Tasha Milkman.   
 This review was written by Megan Furniss and Jacquelyn Claire (but mostly by Megan)
Running time: 90 minutes with no intermission but two includes two brief "rests" to check in with your neighbor or your inner dancing cells self.
The production had its first preview Friday, January 18th and plays a limited engagement through Saturday, February 3rd at the Jeffrey and Paula Gural Theatre at the A.R.T./New York Theatres (502 West 53rd Street at 10th Avenue). For more information and to purchase tickets visit www.brokenboxmime.com or call 800-838-3006.
Relaxed performances will be offered on Sunday, January 27 and Sunday, February 3 at 2pm, providing accessibility to audience members with neurodivergence, as well as families with babies or children who may need to move and verbalize during the performance. A "visual story" is available in advance of every performance, including program notes on each piece and description of the musical soundtrack, for individuals who may need to prepare for their evening in the theatre.
FOLLOW AND LIKE
Instagram and Facebook: @brokenboxmime
 Additional events include a Singles Night on Friday, January 25 at 7pm, which includes a drink with ticket purchase and seating next to another single. The Out Loud Series, a post-show talkback with the company and community leaders, will take place after all weeknight performances on Wednesday, January 23; Thursday, January 24; Wednesday, January 30; and Thursday, January 31.