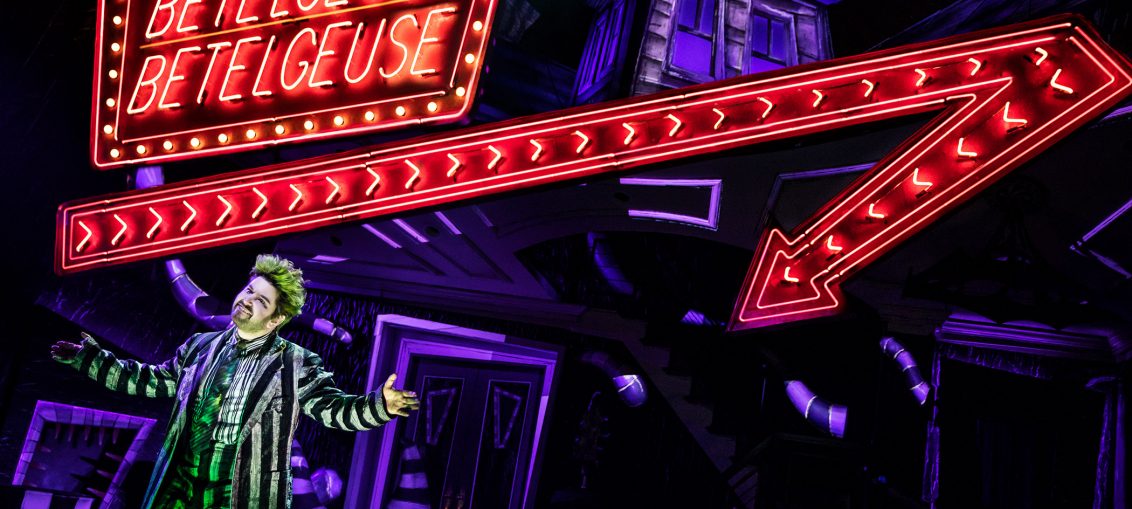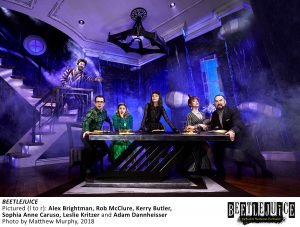 Beetlejuice, Beetlejuice, Beetlejuice! Cheering his name three times from the rafters wouldn't be nearly enough to glorify this utterly fantastic stage adaptation. Praise the dark forces that conjured such a demonic delight! Its wild antics and grotesque yet glittery depictions of the underworld have restored lightness, cheek-aching laughter (as well as glimmers of unexpected depth) and unabashed, over-the-top, go-for-broke fun back to Broadway that hasn't been this good since The Book of Mormon took over the town. It is a crowd-pleasing wonder that's as irresistible as it is playfully offensive, just like the namesake character, who could have only been played by the singular talent of one of 21st century's crown jewels performing on Broadway — the irreverent genius, Alex Brightman. The Tony-nominated actor might as well just move in to the Winter Garden Theatre because he's right back where he was when he originated another movie-to-musical role — Dewey Finn from School of Rock — a part that made the industry take serious notice of this unconventional leading man and force of theatrical nature. This time, however, the star who clearly feels very at home in the space, is joined by some new friends: most notably the always-wonderful, hysterically funny Leslie Kritzer (Delia and an emerald-skinned cameo part as Miss Argentina); the likeable, charming quirkiness of Kerry Butler and Rob McClure (as the unfortunate duo, Barbara and Adam Maitland, cursed to haunt their own home); and especially the one-to-watch seventeen year-old dynamo — Sophia Anne Caruso — who brings new gloomy glory to Lydia, the part that made Winona Ryder a celebrity at the same age in the 1980s. No stranger to dark roles and material (The Nether, Lazarus and Blackbird) and holding her own with the best, Caruso has finally been given a starring role on Broadway, no doubt the first of many to come. Visionary director Alex Timbers (who is going to have a very busy Broadway season with Moulin Rouge! coming soon) also returns to the theatre he staged Rocky the Musical — yet another film-to-stage adaptation.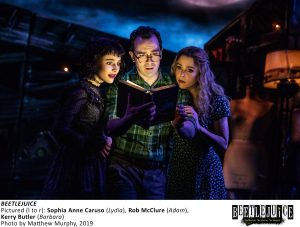 Movies being turned into musicals are rampant these days and can vary in quality. Many get a bad reputation before they even begin and are eyed with suspicion (sometimes rightfully so) from theatre snobs as a sort of cheating by resorting to utilizing pre-existing materials that are bound to at least draw in audiences seeking to spend their dollars on a familiar material, rather than chance it on a new work. But, in the case of Beetlejuice the Musical, the exceptionally assembled dream team has dug up the old bones and revived them with a new afterlife spirit by creating a movie-based musical that is entirely modern, original, stage-worthy and, in some ways, even superior to the film itself.
The experience begins when one enters the theatre, which — much like the longest-running musical at the Winter Garden, CATS — has been transformed into a nearly immersive experience, thanks to masterful lighting designs by Kenneth Posner, that trickle into the theatre bathing the audience in eerie red, purple and green luminance emanating from the chandeliers. The curtain opens to reveal a dismal setting — the funeral of Mrs. Deetz, Lydia's mom. Caruso, garbed in black, laments "You're invisible when you're sad," a mournful melody that seems a strange start to such a show. But then, of course, that was the intention and the stage was merely a setup for an interruption from the master of mayhem — Beetlejuice — who exclaims, "Holy crap! A ballad already?", then proceeds to wreak havoc as everyone was expecting and hoping for. The rowdy audience awarded the intrusion with enthusiastic applause and cheers.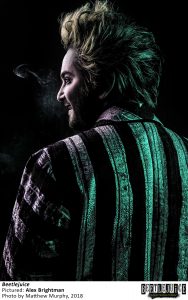 In this second-part opening number, "The Whole Being Dead Thing", the ghost with the most makes one thing clear — "This is a show about death." What follows is a rapid-fire rambling that only someone as irreverent as the late Robin Williams could have spoken but Brightman could sing. He's a phenomenal showman and on-fire with his delivery in flawless comedic timing with Eddie Perfect's outrageous lyrics. This could be the "title track" for the show and sets the tone exquisitely — this is going to be an insane roller-coaster ride, so strap yourself in tightly, leave your inhibitions and any uptight tendencies at home. Brightman as Beetlejuice tears apart all pretentious people and mundane mortals who are wannabe "woke", white wine-drinking, Lululemon-wearing, and yoga-practicing "posers" by reminding them the simple fact that we all die eventually and those things can't help you then.
The words, spoken or sung were clever, witty, whimsical, and were delivered with aplomb and loads of intensity from the completely committed cast. The tunes are catchy but not necessarily outstanding on their own, rather, they do what songs in a musical ought to — serve the story, drive the plot and reveal the inner worlds of the characters. Eddie Perfect's songs paired with Scott Brown and Anthony King's book force the cast to do textual backflips — but fortunately, this razor-sharp team is up to the task. The whole show is a visual and sonic comic circus, a big-budget Broadway showy spectacle that moves with the lightning speed and disorienting effects of an amusement park ride or funhouse. Some critics have called this "exhausting" and one could find it a bit overwhelming (no more than to the cast who appear to have an absolute blast doing it eight times a week), but I, along with the throngs of rapt and enchanted attendees, found it exhilarating — a nonstop, relentless thrill ride.
Hand-drawn stylized projections by Peter Nigrini enhanced the grave mood, while the immeasurable craftsmanship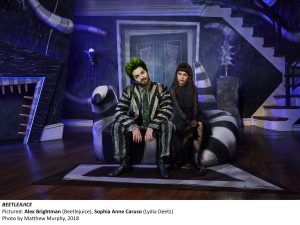 and creativity of costume designer William Ivey Long (celebrating his 75th Broadway show), along with Charles G. Lapointe's hair and wig designs, and killer makeup conceptions by Joe Dulude II, made the denizens of both the mortal plane and the underworld look lively and chic as if plucked from a nightmarish couture vision spliced with a cartoon. Scenic designer David Korins, one of the best and most ingenious in the industry, made Tim Burton's iconic images manifest in tangible form without the use of cinematic magic, but with a little help from illusion designer Michael Webber, special effects by Jeremy Chernick, and the master puppet and character designer Michael Curry, who brought some of the most terrifying and memorable creatures from the film alive onstage. The booming, ground-shaking, grave-shattering sound design was provided by Peter Hylenski. Choreographer, Connor Gallagher, who collaborated with Timbers on the raucous, rowdy romp, The Robber Bridegroom (in which another Timbers-directed alumni Kritzer stole the show), brought classic Broadway pizazz to the dancing deceased. Orchestrating it all was Alex Timbers in his most remarkable achievement to date. With so many moving parts and pressure to remain true to the original and be innovative for today's audiences must have been equal parts dream and nightmare for all involved.
The classic, iconic movie moments such as the first act finale when the dinner party gets twisted and demonic as the feast turns into a possession thanks to Lydia's thrice recitation of the forbidden name to unleash the monstrous mayhem (and intoxicating entertainment). Fans of the film will be overjoyed with the faithful recreation from the first note of Harry Belafonte's "Day-O (The Banana Boat Song)", with a few added ghoulish gems thrown in. The pre-possession interaction between the adults trying to please each other while acting like elite pompous posers (Delia's "Namaste" greeting was returned with "Tiaramisu" by Maxine Dean, Max Dean's nitwit 5th wife, inhabited by the very funny Jill Abramovitz) only makes their downfall all the more delightful.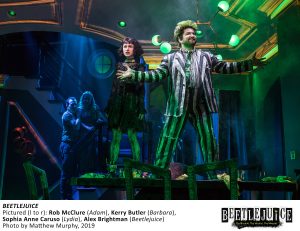 But what makes the show most magical is how the extraordinary cast embodies the beloved characters that were originated on-screen by some of the biggest names in Hollywood and shot some of the then lesser-known actors to successful, sustained careers. One can only hope the same for this creepy crew who are dripping with chemistry and project a true family dynamic onstage and off. In the end, the show is really about family — the ones you are born or married into, for better or worse, and the ones you make on your own. The brilliance of the book is its further development of the characters' backstories and how it fleshed out some gaping holes in the film, particularly in understanding Lydia and the relationship to her deceased mother. In the film, it is barely skimmed over, but in the musical it becomes Lydia's driving force, the impetus for her morbid moods and attire, fascination with the "strange and unusual", and reason for her resentment against her father, Charles Deetz (Adam Dannheisser), and life coach turned mistress then fiancee, Delia (who was an interior designer and his second wife in the film). In her emo-rock power ballad onstage alone, Caruso sang "Dead Mom" and unleashed all of her teenage angst, emotional intensity and astounding vocal ability. The unfortunate Maitlands, who died in a household accident then are immediately enlisted by the demon Beetlejuice to scare the living and do his demented biddings, got more moments where their "adorkability" was on display (their introduction song "Ready Set, Not Yet" and when Beetlejuice attempts to get them to terrify "Fright of Their Lives" and "Maitlands 2.0"). Their genuine care for and connection with Lydia is also examined more fully. Every character, dead or alive, is more fleshed out.
Leslie Kritzer's comedic charisma is in fine form with Delia — a role she can really sink her teeth into — that is perhaps the most drastically re-envisioned character, endlessly spouting quotes from her guru Otho (Kelvin Moon Loh) and trying to cheer up the gothic teenage nihilistic realist Lydia with New Age nonsense. Their try-to-be buddy song "No Reason" and various interactions are some of the best and most hilarious, nearly on par with the tempest that is Brightman's Beetlejuice.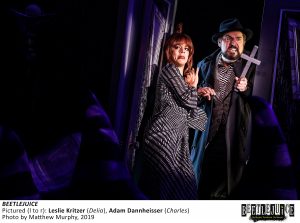 The good times really get rolling when Beetlejuice and Lydia team up to take great pleasure and relish in their reign of terrorizing the neighborhood once the pesky, odious adults have been scared away. Act Two opens with a cheerful ditty about a Girl Scout (Dana Steingold) burdened with a heart condition who, while selling cookies, naively wanders into the maniacally inhabited mansion leading into "That Beautiful Sound" — a buddy song about delighting in shrieks and screams. This number is closest to the relationship Beetlejuice and Lydia had in the animated series that followed the film's success in 1989 and continued through 1991. But precocious Lydia grows weary with the atrocious amusements quickly and resumes her quest to see her mother again.
The descent into the Netherworld occurs much later in the story and is introduced by a fabulous and feisty — despite her deceased demeanor — Miss Argentina (Kritzer) in "If I Knew Then What I Know Now" with a freshly dead ensemble (including the notorious shrunken-headed man). The character of Juno (Abramovitz), a mere caseworker in the film, now in a more powerful position, also gets an interesting twist to the her significance of her role and final fate. In the musical, the entry to the other side is crossed by humans — Lydia and Charles — after attempts to contact her mother in an exorcism turned "Life or Death" game-show gone awry with Beetlejuice at the (fully haunted) house when the Deetz family and their charlaton guru Otho attempted to cleanse the abode of spirits. Clearly, they have broken eternal law in their journey to the land of the lifeless, and are chased by zombie football players. As powerful as Caruso's performance was before, it was her heroic trip to underworld, followed by her father, still seeking her mom in the second act, that led to "Going Home", a song that best showcased the complicated emotions of grief, the irrationality that can accompany it, and, ultimately, power of blood bonds and forgiveness. This moment gave depth and dimension to an otherwise light-hearted, hysterical spectacle — this is a show about death after all — fair warning given from the get-go.
All of this also served as a premise and build-up to the walk down the aisle with Lydia all decked out in her wedding gown — multiple layers of crimson tulle, like a walking red velvet cupcake — as an underaged bride for what her groom referred to as a "Green Card wedding," in order to grant him complete visibility and presence in the human realm. Such excuses aside, this bizarre and awkward age-gap union, which was never addressed in the film, is given the full #MeToo era treatment in one of the most uproarious, elaborate and canny showstoppers — an unabashed ode to perversity — "Creepy Old Guy."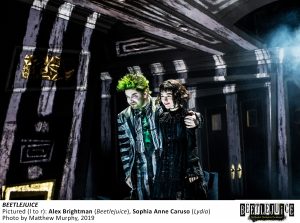 While the additional backstories gave more dimension to the outlandish, cartoonish characters by humanizing them and making their plights more relatable and sympathetic, the 21st century elements added more humor and relevance to the now decades-old material. The only one who remained one-note and never really changed his tune or experienced personal growth, revelation or transformation was Beetlejuice himself. But that felt appropriate, refreshing and true to character — he is a demon, not a human after all. For anyone seeking the most devilishly delightful and debaucherously entertaining event on Broadway, there is only one name to remember and it's worth any entry price (as long as you can find your way back from the Netherworld and avoid the sandworms).
BEETLEJUICE THE MUSICAL is now playing at Winter Garden Theatre, A Shubert Organization located at 1634 Broadway. Opening night was April 25, 2019. The show has been nominated for 8 Tony Awards including Best Musical. For tickets and more information: https://beetlejuicebroadway.com/