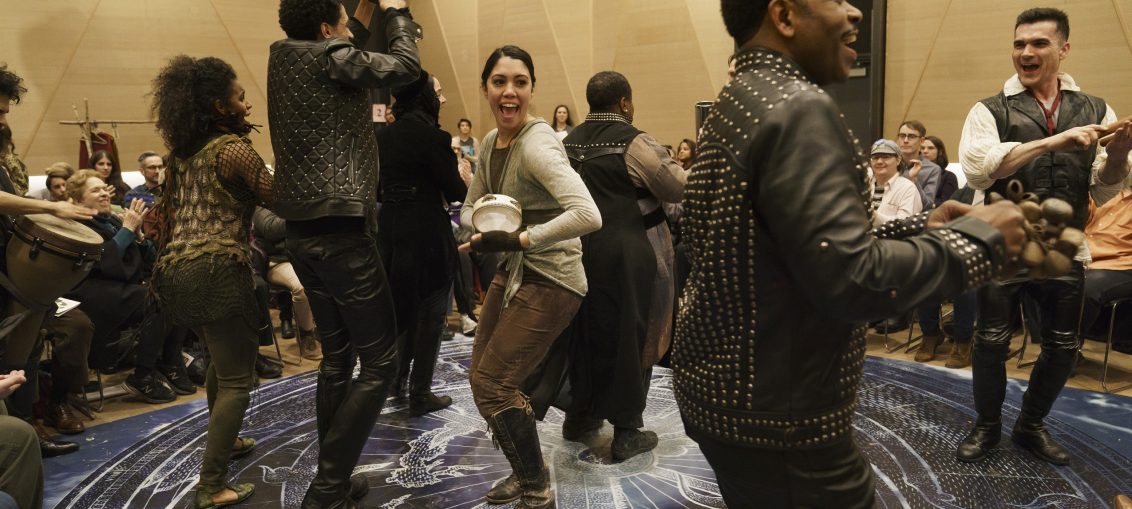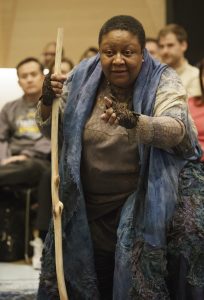 The stormy start to May has served as a fitting setting for the debut of The Public Theater's Mobile Unit production of Shakespeare's The Tempest, that washed up on its home shores near Astor Place after a three-week, 17 stop tour to correction facilities, homeless shelters, libraries and community centers across all five boroughs of New York City. The Mobile Unit really puts the "public" in The Public Theater, whose prestigious productions continue to sell out, garner audience and critical praise and conquer both the commercial (anyone heard of a little historical musical about a dead politician called Hamilton?) and non-profit sectors. But this particular initiative, with all of its humility, guilelessness, and simplicity while sacrificing none of the excellence, world-class talents and elements of exceptional theatre, does perhaps the truest honor to founder Joseph Papp who believed, "Culture belongs to everyone." At a time when theatre tickets in New York are at an all-time, often unaffordable high for most of the City's residents, it's a rare joy to encounter free theatre of such impeccable quality that is so determined to inspire and connect that they come directly to the communities that are most in need. Everyone else who happens to find themselves in New York City can mosey down to The Public Theatre at the end of the tour from April 29 (official press opening May 3) through May 19th to check out what those who tend to have less exclusive access got the privilege of the first glimpse.
This season's offering — The Tempest — is thought to be one of Shakespeare's final creative concoctions. Like a bookend to the Mobile Unit's A Midsummer Night's Dream, it is by far one of the Bard's more enchanted works, resplendent with mysterious otherworldly beings and downright witchiness through magical manipulation, conjuring, servitude of spirits and spells cast. For this and so many other reasons, it just makes more sense that Prospero — the exiled and defeated Duke and mighty sorcerer, who was callously and wrongly conspired against — be a Duchess and indeed a "witch." That word can carry a negative connotation but what more appropriate a title to claim for a woman who was perhaps too educated, worldly, aware, protective and powerful to the insecure men in control around her to handle. Therefore the only option is ostracization, banishment or death — something that history has proven to befall women who are too smart or outspoken that they become considered "dangerous" to the fragile order of the patriarchal status quo. Throw in a bit of bewitchment and all hell breaks loose. With this complicated alchemy, it only makes sense that Prospero, a fascinatingly complex and contradictory role, would be played by a woman though it was originally written for a man.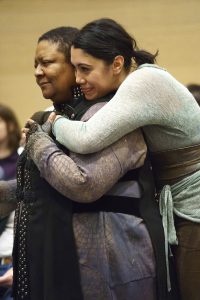 Visionary director Julie Taymor made this choice in her film version when she cast Helen Mirren in the part, though truth be told, even the Dame couldn't embody the contrarian character with as much depth, soulfulness and sincerity as Myra Lucretia Taylor whose grounded earthiness conveys her connection to the spiritual and natural realms but in a flash can turn and express volatile intensity and wrath — best not make this Earth Mother angry lest you invite her malevolent moods to cause chaos in your life. She rules in equal parts fear and love — like a witch, like Mother Nature herself. Even the audience members, far from the sway of her turbulent temperament, quivered when Taylor's Prospero transformed from lamb to lioness on her compatriots and kin as much as her enemies without so much a blink. But this kind of carefully calculated and manipulative behavior serves her plan. Despite what the monstrous human forces of (mostly male) malice would lead us to believe about the wickedness of witchcraft, the female Prospero's magic takes the form of using one's power as a force to heal, rather than to harm (but also to teach along the way).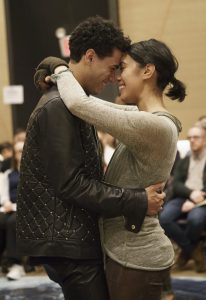 The condensed 90 minute version of the classic work is as light as a tropical breeze while losing none of the relationships, intentions or even the subtleties — just a lot of the complicated old-world jargon (while remaining faithful to the original text) and speeding up a few of the more odious soliloquies for the short-attention-spanned crowd (which is anyone who owns an iPhone or Android these days).
On the enchanted island where Prospero has raised her lovely daughter Miranda (performed with innocence and genuine sweetness by Sam Morales) after the exile, with the servitude of Ariel, a spirit indebted to its master (played by the spritely Danaya Esperanza who brought a new sensuality and substance to the sylph) and Caliban (portrayed by the always excellent comedic commitment of Christopher Ryan Grant), an island-born ogre-like man who is an unwilling slave to his cruel master/mistress, a storm was mystically brewed to wreck the ship of the Italian conspirators who had wronged Prospero.
These castaways are: Antonio, Duke of Milan and Prospero's brother who snatched the title (embodied by Dan Domingues who doubles as the darkly devious Duke and darling drunkard butler Stephano, who Caliban mistakes for a Dionysian god of wine and pleasure, so thus commits himself to the devotion of); Sebastian, a royal from Naples (played by Reza Salazar who, like Domingues, alternates between the serious conspirator and the silly jester Trinculo, who becomes the middle man in the Stephano and Caliban trio, or Three Stooges of The Tempest); Alonso, King of Naples (portrayed by the regal J.D. Webster); his counselor, the noble and honorable Gonzalo, who aided Prospero's escape (played with gentle nobility by Nancy Rodriguez, another nod to women's support of each other); and finally, Ferdinand, Prince of Naples and son of Alonso — the beautiful youth who upon seeing Miranda declares that he must be dead or dreaming for she is more glorious to gaze upon than an angel or goddess (the dashing Jasai Chase-Owens who brings genuine sensitivity to his hero and lover roles).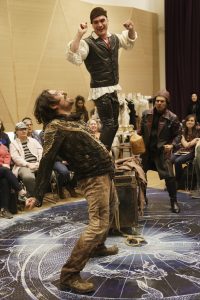 The captain of this ship steering the weary waters was no less than the Director of Public Works, Laurie Woolery, along with a team of exceptional designers. The most notable among them are Wilberth Gonzalez — who outfitted the Italians in black leather and silver studs and the island inhabitants in earthy, textured fabrics and tones — and composer Michelle J. Rodriguez who helped to provide an enchanted atmosphere with sensual sounds, potent percussion, ancient spiritual overtones, and even a bit of gospel for good measure.
Indeed, there is a strong push-pull dynamic between the European assailants (or in this case, accidental interlopers) and the inhabitants of the island — supernatural or otherwise, born of the land or adapted to it. The Italians are terrified by the feral place without their royal comforts, and even Prospero who has at least subdued and acclimated to the territory, if not somewhat conquered it, still longs for home. Only the native inhabitants, spirit or flesh, can navigate fully and comfortably, and they too wish to be rid of and free from the unwelcomed foreign presence. Caliban is referred to as a hideous monster, scorned by all, enslaved by Prospero and misled to do further bidding with promises of salvation (in this case, largely through the holy spirit water of wine) by foolish false prophets — Stephano and Trinculo. Sound uncomfortably familiar? Europeans invade an island nation with a wealth of rich resources whose inhabitants are living in harmony with nature, and immediately set out to conquer (often by killing or enslaving) and convert them, finding nothing but perversity in the indigenous occupants activities, beliefs and even their appearances.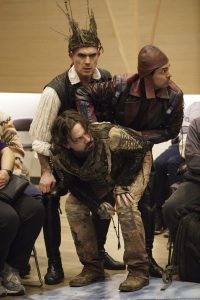 Caliban and his mother Sycorax (who Prospero defeated) are seen as savages and practitioners of a more primitive black magic, whereas Prospero's sorcery is regarded as educated, evolved and generally for good, though she certainly uses it for selfish matters and trickery too. The themes in The Tempest speak to the paranoia and, perhaps fascination with, witches and the occult, as well as the rampant colonialism of the era, where merchants and settlers were coming back to Europe recounting tales of enchanted islands and those who dwelled there. In the original casting of The Tempest, the bright and beautiful Miranda is the sole female character, further playing on the patriarchal power lust and desire to control and dominate, but in Woolery's richly re-imagined vision, tipping the scales by making Prospero, Gonzalo and Ariel female (who are, for the most part, good-natured and well-intentioned) adds balance, dimension and a completely new perspective to the centuries-old tale. It is not like color-blind casting (thought that is employed here too, as is the case, thankfully, for many productions at The Public). On the contrary, this seemingly simple choice shifts the play and all of its themes, roles, and relationships radically — bringing The Tempest and its myriad layers into the 21st century.
Though much mayhem and mischief ensued — mostly orchestrated by Prospero herself as a kind of "just desserts" justice before retribution leads to forgiveness and freedom (setting free and being freed) — this Shakespearean dramedy explores the dangers and destructiveness of power hunger, betrayal and the suffering that follows, along with the contemplation of vengeance, but ends with redemption, understanding and absolution. This kind of transformative healing of wounds from the past and uncertainty in the present are something that all five boroughs worth of nearly nine million New Yorkers are certainly seeking now. Even though the storm may not have ceased, with powerful "good magic" from works of companies like The Mobile Unit, that glimmer of hope seems possible.
THE TEMPEST begins performances at The Public Theater on Monday, April 29 and runs through Sunday, May 19 with an official press opening on Friday, May 3. The production  will have just completed a three-week tour of correctional facilities, homeless centers, social service organizations, and other community venues throughout the five boroughs. For more information: https://www.publictheater.org/